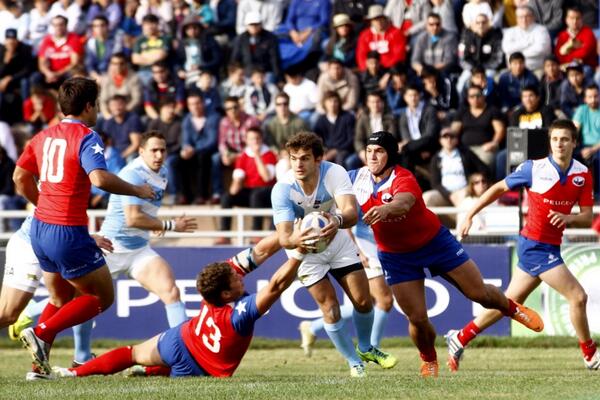 Créditos: Sebastián Miranda – UAR
The side which represented Argentina in the 2013 South American Championship was made up mainly of a combination of junior players and veteran fringe players. Indeed a number of players involved in the 2013 IRB Junior World Championship, such as Patricio Fernández, Tomás Lavanini, Santiago Iglesias Valdez, and Pablo Matera made their international debuts against one of Brazil, Chile or Uruguay.
Hourcade approached the opportunity entirely differently as he gave match time to those already back in Argentina from Europe who are playing for places in the senior squad which will face Tier One opposition this year. The difference in approaches was made clear by the backline that started against Chile. All but one player, Ramiro Moyano, had played under Hourcade in Argentina's November 2013 tour of England, Wales and Italy.
In being an official part of Argentina's preparation for the home international series in June Hourcade has been able to closely analyze the players not on reputations but on performances and attitudes. One player to have impressed against Chile was Joaquín Tuculet who scored two of Argentina's eleven tries. Also crossing were Julián Montoya, Bruno Postiglioni, Ramiro Montoya, Antonio Ahualli de Chazal, Lucas González Amorosino, Gabriel Ascárate, Lucas Ponce, Jerónimo De la Fuente and Nicolás Sánchez who also kicked nine conversions.
Chile was unable to score a try but held a 9-5 lead after twenty minutes. Los Condores did so in front of a strong crowd who will not have the opportunity of watching Chile v Argentina in 2015 due to Chile's lack of performances in the 2014 South American Championship. Chile finished fourth behind winners Uruguay, runners-up Paraguay and the third placed Brazil. The top two sides earn the right to host tests against Argentina the following year.
1 Bruno Postiglioni, 2 Julián Montoya, 3 Francisco Nahuel Tetaz Chaparro, 4 Tomás Lavanini, 5 Matías Alemanno, 6 Javier Ortega Desio, 7 Lisandro Ahualli de Chazal, 8 Antonio Ahualli de Chazal, 9 Martín Landajo, 10 Nicolás Sánchez, 11 Lucas González Amorosino, 12 Javier Rojas, 13 Gabriel Ascárate, 14 Ramiro Moyano, 15 Joaquín Tuculet.
Replacements:
50th, Santiago Iglesias for Julián Montoya, Lucas Noguera Paz for Bruno Postiglioni and Felipe Ezcurra for Martín Landajo. 58th Jerónimo De la Fuente for Gabriel Ascárate, 65th, Lucas Ponce for Tomás Lavanini, Lucas Maguire for Antonio Ahualli de Chazal and Santiago Cordero for Joaquín Tuculet, 58th, Matías Cortese for Francisco Nahuel Tetaz Chaparro.
Try: Tuculet (2), Montoya, Postiglioni, Montoya, A Ahualli de Chazal, González Amorosino, Ascárate, Ponce, De la Fuente, Sánchez.
1 Sebastián Valech, 2 Hernán Amigo, 3 Luis Sepúlveda, 4 Roberto Oyarzún, 5 Nikola Bursic, 6 Benjamín Soto, 7 Ignacio Silva, 8 Anton Petrowitsch, 9 Juan Pablo Larenas, 10 Cristian Onetto, 11 Italo Zunino, 12 Daniel Jamett, 13 Matías Nordenflycht, 14 Martín Verschae, 15 Martín Fernández.
Replacements:
16 Nicolás Venegas, 17 Felipe Burgos, 18 Ernesto Ugarte, 19 Cristobal Niedmann, 20 Juan Ignacio Frottes, 21 Jan Hassenlechner, 22 Vicente Veloso and 23 Thomas Dabovich.