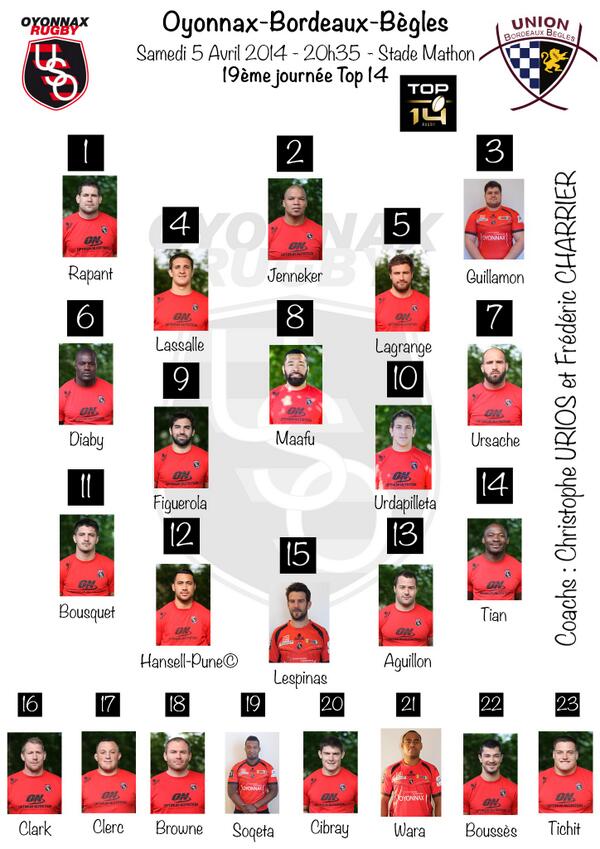 Image: Oyonnax Rugby
Two Argentine fly halves will face-off in France on Saturday as the relegation threatened Union Sportive Oyonnax Rugby plays host to Union Bordeaux-Begles in a re-scheduled Top 14 fixture. The match was to have been played in February but was called off due to the field being deemed unplayable by the referee.
Fly halves Benjamín Urdapilleta and Nicolás Sánchez have both been named to start at number ten for their respective clubs this weekend. Urdapilleta is to start his
sixteenth Top 14 match
of the season and will be paired in a halves combination with former test scrumhalf Agustín Figuerola. Sánchez, in comparison, is to start just
for the second time
in a Top 14 match this season. He is to be joined by former Pumas winger Rafael Carballo who has been named on the bench.
Sánchez is to leave Bordeaux-Begles at the end of the current season. He is yet to secure a contract for the 2014-2015 season and as such is likely to be starting for Argentina against Ireland and Scotland in June. Santiago Fernández of Bayonne is in a similar position to Sánchez and is likely to be playing inside centre. Urdapilleta is ,on the other hand, contracted to Oyonnax beyond the current season. His form in the Top 14 this season should see him named by Daniel Hourcade in the June test squad.
The fixture is a match of huge importance for both sides with the host club needing a win to escape the relegation zone and the visitors being in contention for a place in the play-offs. A win for Oyonnax willl see the club rise above Bayonne and Perpignan to claim eleventh position. Should Bordeaux-Begles win then the club would m ove into fourth position to share the spot with the 2013 champions, Castres.