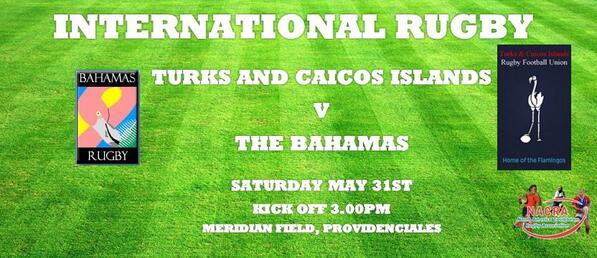 The rugby playing nation, Turks and Caicos Islands is set to play host to an international match against fellow Caribbean nation the Bahamas. It is to be an international match between the teams and also part of the 2014 NACRA Rugby Championship.
The 2014
NACRA Rugby Championship
is to be played in May and June and be divided into two groups - the North and South zones and also have two tournaments the Championship and the Cup. Both the Bahamas and Turks and Caicos Islands are to feature in the North Zone of the competition and play in the Cup category. Also included are Jamaica and Mexico.
Of the four Jamaica, Bahamas and Mexico are IRB members. The Turks and Caicos Islands dies not have IRB membership and, as such, is not listed on the IRB World Rankings. its future is likely to see this altered as it is a NACRA member and plays against official IRB members.
Photo Hukte Ajaw Rugby Store
Mexico v Bermuda
The match is to be the second in consecutive weekends for NACRA member nations. This past Saturday Mexico hosted Bermuda and impressed in completing a 59-9 victory in Mexico City. The result saw Mexico continue its climb in the
IRB World Rankings
to now sit in 66th position on 41.35 rankings points. When Mexico was added to the IRB World Rankings it entered with 30.00 points and was over twenty places lower than it is at the present. Bermuda, for its part, dropped from 52nd to 57th as a result of the loss against Mexico.
The result is notable for NACRA rugby due to Bermuda being the second highest ranked Caribbean nation in the IRB World Rankings. It is second behind Trinidad & Tobago and fourth overall in NACRA after Canada and the USA. Unlike the majority of NACRA members Mexico is both a large country and also has a large population.
There have been suggestions that Mexico could follow the pattern of Central American countries including Costa Rica, El Salvador and Guatemala in joining CONSUR to continue the emerging Latin - English distinction in the Americas. Indeed South America's only English speaking country, Guyana, is a member of NACRA not CONSUR.