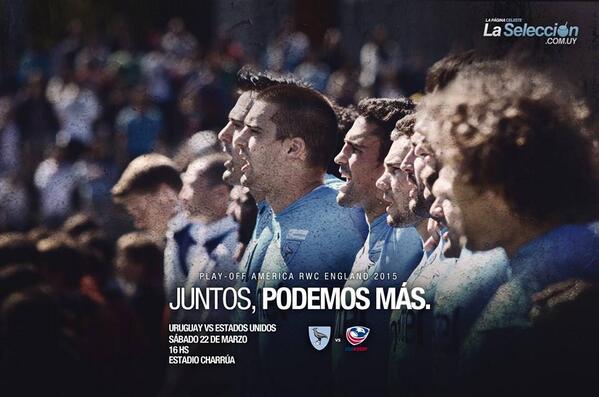 Photo URU
Los Teros headcoach Pablo Lemoine has named his team to face the USA at home on Saturday. Uruguay will play host to the USA in a Rugby World Cup 2015 qualifying match with the winner on aggreate to join South Africa, Samoa, Scotland and the top Asian qualifier in Pool B of the tournament.
The most notable Uruguayan player is Agustín Ormaechea who is to play opposite Mike Petri and should certainly out play the New Yorker. Ormaechea has been having a stand-out season for Mont de Marsan in France´s second division but is to b a lone wolf against the USA Eagles on Saturday. Missing will be Rodrigo Capó Ortega who has remained in France due to the expected birth of his daughter. Unfortunately for global rugby he will nonetheless play rugby on Saturday but for Castres against Brive.
He is to start in the second-row
.
Another area in which Uruguay can be expected to do well is the scrum. The Uruguayan front-row will expect to get the better of the North Americans and will liekly provide Ormaechea with quality ball. The strength of the backline and the back-row, though, will be severely questioned by a USA side featuring some players in red-hot form in Europe.
The match is to begin at 16:00 local time and will be
streamed live and free of charge by the IRB
. It is to be played at the Estadio Charrúa which is the home of Uruguayan rugby. Tickets for the match range from $100 Uruguayan pesos to $250. Gates are to open at 12:30pm.
Uruguay Los Teros

United States Eagles














1

ALEJO

CORRAL

1

OLIVE

KILIFI

2

ARTURO

AVALO ©

2

PHILIP

THIEL

3

OSCAR

DURAN

3

ERIC

FRY

4

MATHIAS

PALOMEQUE

4

HAYDEN

SMITH

5

SANTIAGO

VILASECA

5

SAMU

MANOA

6

JUAN

GAMINARA

6

TODD

CLEVER ©

7

DIEGO

MAGNO

7

SCOTT

LAVALLA

8

ALEJANDRO

NIETO

8

CAMERON

DOLLAN

9

AGUSTIN

ORMAECHEA

9

MIKE

PETRI

10

FELIPE

BERCHESI

10

TOBI

L'ESTRANGE

11

JERONIMO

ETCHEVERRY

11

TIM

MAUPIN

12

ANDRES

VILASECA

12

ANDREW

SUNIULA

13

JOAQUIN

PRADA

13

FOLAU

NIUA

14

LEANDRO

LEIVAS

14

BLAINE

SCULLY

15

GASTON

MIERES

15

CHRIS

WYLES

16

NICOLAS

KLAPPENBACH

16

THOMAS

COOLICAN

17

RODOLFO

DE MULA

17

NICHOLAS

WALLACE

18

MARIO

SAGARIO

18

TITI

LAMOSITELE

19

CRISTOFER

SOARES DE LIMA

19

LOUIS

STANFILL

20

FRANCO

LAMANNA

20

KYLE

SUMSION

21

JUAN

DE FREITAS

21

SHALOM

SUNIULA

22

ALEJO

DURAN

22

SEAMUS

KELLY

23

FRANCISCO

BULANTI

23

LUKE

HUME