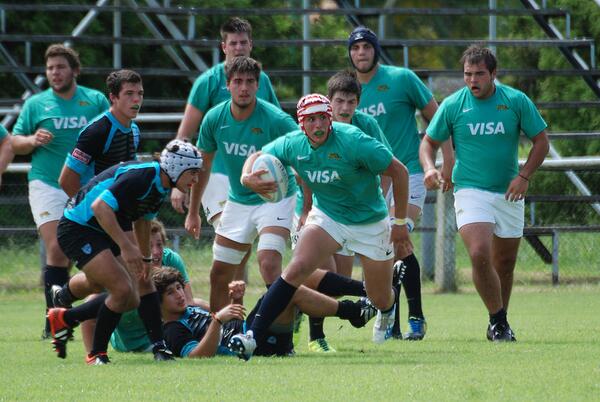 Photo UAR
Argentina´s preparation for the 2014 IRB Junior World Championship in New Zealand continues to go very well as the leading South American rugby nation completed a 28-14 victory over the senior mens team of the number two ranked side, Uruguay. The match was important for both teams as Uruguay is to face the USA later this month to determine who will join South Africa, Samoa, Scotland and the top Asian Qualifier in Pool B of Rugby World Cup 2015.
Uruguay is looking to end a decade long drought as Los Teros failed to qualify for Rugby World Cups 2007 and 2011 after it had impressed in defeating Spain in 1999 and Georgia in 2003. The junior Argentine side, Los Pumitas, is on the other hand looking to build towards glory in New Zealand. Los Pumitas have impressed in recent years with
a series win over South Africa in 201
3 and a place in the 2012 Semi Finals.
A number of noteworthy Pumas have come through the junior system in recent years including Pablo Matera while others likely to be in the test team shortly such as Patricio Fernández and Guido Petti were missing due to their involvement in the Pacific Cup in Australia. Prior to the match the Argentine Under 19 team faced Uruguay´s Under 20 side and completed a 37-26 victory.
Teams
Pumitas:
1 Facundo Gigena, 2 Juan Ignacio Sánchez 3 Enrique Pieretto, 4 Pedro Ortega, 5 Vittorio Rosti, 6 Lautaro Bavaro, 7 Tomás Lezana (captain) 8 Santiago Montagner, 9 Juan Bernardini, 10 Ignacio Albornoz, 11 Germán Schulz, 12 Bautista Ezcurra, 13 Santiago Álvarez, 14 Federico Giménez 15 Joaquín Riera.
Uruguay:
1
Alejo Corral,
2 Arturo Ávalo (captain),
3 Rodolfo De Mula,
4 Cristopher Soares,
5 Santiago Vilaseca,
6 Juan Gaminara,
7 Diego Magno,
8 Alejandro Nieto,
9 Francisco Vecino,
10 Alejo Durán,
11 Francisco Bulanti,
12 Andrés Vilaseca,
13 Joaquín Prada,
14 Santiago Gibernau,
15 Gastón Mieres