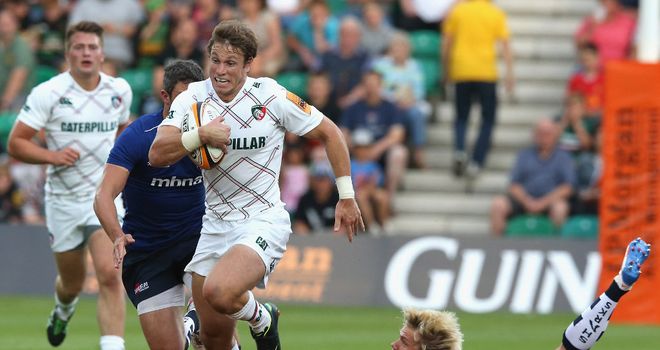 Photo Sky Sports
In just his first season of professional rugby USA international Blaine Scully has made quite an impact. The twenty-six year old winger / fullback from Sacramento, California arrived in England on a short-term contract but has had his contract extended until the completion of the current season and it is likely that there will be a new one on offer before too long.
His move to the most powerful club in the history of English rugby, the Leicester Tigers, has seen his career significantly boosted. Having been given the opportunity of playing at the top level he has proven to be a quality player and has now been acknowledged as such as he was
voted Leicester Tigers player of the month
.
Scully is currently in Montevideo preparing for the Rugby World Cup qualifying match against Uruguay. He is expected to start the match for the North Americans. Should Scully be involved in the match then he would earn his sixteenth test cap. His first came against Russia in 2011 in the now defunct Churchill Cup.
The Californian was subsequently selected in the Eagles squad for Rugby World Cup 2011 and he went on to play in all four pool matches. He started against Ireland in New Plymouth and also against Australia in Wellington whlie he featured off the bench against both Russia and Italy. With an eye to Rugby World Cup 2015 Scully is in a strong position to be starting all matches.