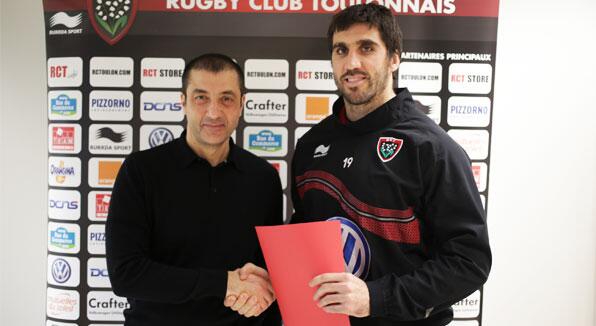 Photo: RCT Twitter
Los Pumas captain Juan Martín Fernández Lobbe will likely see out his career in France after the confirmation that he will be playing three further seasons in France for the current Heineken Cup champions. His decision to sign such a contract at his age suggests he will stop playing international rugby after Rugby World Cup 2015.
Juan Martín Fernández Lobbe has been playing for Toulon since 2009. He moved to the club from England where he had been the captain of the Sale Sharks and had initially played alongside his older brother and former Puma, Carlos Ignacio. His new contract will see him remain at Toulon until the completion of the 2016-2017 season in June 2017.
The UAR is to implement a new law for player eligibility in 2015 which will allow the union to have complete player control. The teams that have taken to the field representing Argentina in the June windows in 2012, 2013 and 2014 have all been depleted with European based professional players unable to represent their country due to them needing to be rested ahead of the Rugby Championship.
Fernández Lobbe´s new contract therefore firmly suggests that his international career will end before he plays his final season of rugby for Toulon. With there being one season remaining before the Rugby World Cup he is therefore not going to be involved in the Argentine Super Rugby team set to debut in the 2016 Super Rugby season. Fernández Lobbe is to turn 34 a month after Rugby World Cup 2015.