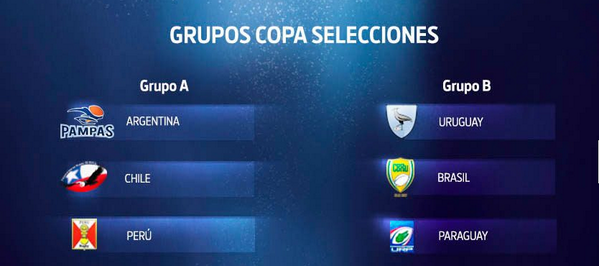 Six South American countries will compete in Viña del Mar
The most important South American Sevens competition of the year will take place this coming Saturday and Sunday in the Chilean city of Viña del Mar. With two places in the Hong Kong Sevens on the line the teams have everything to play for.
Competing will be the international Sevens teams from five South American countries in addition to Argentina being represented by Pampas Sevens. As a core team on the IRB Sevens Circuit Argentina is pre-qualified for Hong Kong and therefore two spots are up for grabs for the five other teams.
The competition though is not what it was supposed to be. Both Colombia and Venezuela were to be involved and competing but both have pulled out of the official CONSUR competition. As such there are three rather than four teams per pool in the international section of the tournament. Title favorites Argentina will play against Chile and Peru in Pool A with the top two advancing to the Semi Finals. They will face two of Brazil, Paraguay and Uruguay who make up Pool B.
Saturday January 18
4:20pm - Uruguay v Paraguay
10:30pm Argentina v Chile
Sunday January 19
3:25pm 1st A v 2nd B - Cup Round-robin
3:45pm 1st B v 2nd A - Cup Round-robin
3:40pm 1st A v 1st B - Cup Round-robin
6:pm 2nd A v 2nd B - Cup Round-robin
7:15pm 3rd A v 3rd B - 5th place
8:15pm 1st B v 2nd B - Cup Round-robin
8:35pm 1st A v 2nd A - Cup Round-robin
Arthur Bergo (SPAC); Diego Lopez (Pasteur); Erick Cogliandro "Putim" (São José); Felipe Claro "Alemão" (SPAC); Fernando Portugal (São José); Gustavo Barreiros de Albuquerque "Rambo" (Curitiba); Jose Vitor Silva Barbosa (São José); Lucas Drudi (Jacareí); Lucas Duque "Tanque" (São José); Martin Schaefer (SPAC); Moisés Duque (São José); Pedro Lopes (São José); Rodrigo Andrioli (Chapecó); Vinicius Cavalcanti Faustino (São José); Thiago Maihara (Pasteur).
Julio Romero, Pablo Espinola, Leonardo Glitz, Vicente Amigo, Diego Argaña, Eymard Brizuela, Fabricio da Rosa, Horacio Agüero, Carlos Stanley, Mateo Luraghi, Sergio Alvarenga, Gonzalo Ochipinti.
Uruguay Squad
Gabriel Puig (Old Boys); Santiago Martinez (Carrasco Polo); Nicolás Freitas (Carrasco Polo); Juan De Freitas (Champagnat); Hernán Pintos (Trébol); Germán Albanell (Old Boys); Sebastián Cuello (Trébol); Rodrigo Silva (Carrasco Polo); Federico Favaro (Old Christians); Gastón Gibernau (Old Boys); Ian Schmidt (Old Boys); Francisco López (Old Boys).
Chile Squad
Francisco Hurtado (Old Georgians), Francisco Neira (Old Johns), Tomás Ianiszewski (Old Locks), Germán Herrera (Viña), Francisco Urroz (Old Reds), Juan Pablo Larenas (Universidad Católica), Francisco Metuaze (Sporting), Ignacio Silva (Sumner, New Zealand), Pablo Metuaze (Sumner, New Zealand), Felipe Brangier (Sumner, New Zealand), Francisco González (Sumner, New Zealand), Maurício Urrutia (Sporting).
Pampas Squad
Nicolás Coronel (Estudiantes/Entre Ríos), Patricio Fosco (CRAI/Santa Fe), Matías Frias Silva (Tucumán RC/Tucumán), Federico Giménez (Liceo/Cuyo), Eduardo Gómez Naar (Champagnat/Buenos Aires), Bautista Güemes (CUBA/Buenos Aires), Máximo Ledesma (Natación y Esgrima/Tucumán), Anibal Panceyra Garrido (Tala/Córdoba), Manuel Rodríguez (Old Resian/Rosario), Germán Schulz (Tala/Córdoba), Segundo Tuculet (Los Tilos/Buenos Aires), Macario Villaluenga (Huirapuca/Tucumán).
Peru Squad