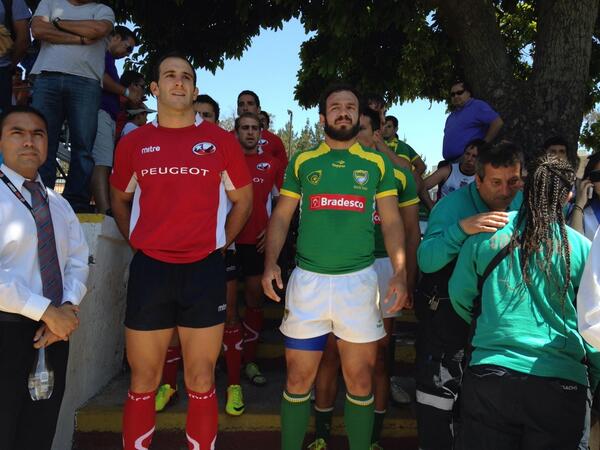 Chile and Brazil prepare to enter
Day two of the 2014 Vinã Seven in Chile saw the home nation make history by defeating Argentina twice in one Sevens tournament. Uruguay also defeated the Argentine side, which was known as Pampas 7s rather than the official team. The results mean that Chile and Uruguay sealed their places in the premier Rugby Sevens tournament of the year - the 2014 Hong Kong Sevens.
Los Condores delivered a result to further underline the
desire of FERUCHI to host a leg of the IRB Sevens World Series
next season. With CONSUR not having a leg of the IRB competition and Argentina not interested in hosting until 2016 Chile is wanting to fill the void and bring a leg of the competition to South America every year. It has the support of CONSUR and the country´s Olympic Committee.
It has also hosted the IRB Junior World Trophy twice while no other country is yet to do so. At Junior Level Chile has been a strong player in recent years but is yet to make the step up at senior level. It may be just a question of time and Rugby Sevens is a manner which could aid rugby in the country. Hosting an IRB event in addition to playing in more could see Chile develop similarly to that of Portugal in the 2004-2007 period.
Chile confirmed its place in the Hong Kong Sevens in style. Los Condores started the day with a 33-0 victory over Brazil and subsequently defeated Uruguay 19-14. It meant that a win over Argentina in the final was not required to qualify for Hong Kong but the Chileans impressed by winning 7-5 against an Argentina side which was far from being the genuine article.
Uruguay secured second place after starting the day with a 15-7 victory over Argentina and also defeating Brazil 14-7. The Brazilians failed to win a match on day two. For Brazil it was a highly unfortunate experience which raises questions over the decision which saw the leading players miss out on facing Portugal in November. With them training in New Zealand ahead of the international Sevens competition Portugal faced a severely depleted Brazilian team and romped to a
68-0 victory
in São Paulo. Paraguay finished the tournament in fifth place after defeating Peru 12-7.
Chile 33-0 Brazil
Uruguay 15-7 Argentina
Chile 19-14 Uruguay
Argentina 19-10 Brazil
Peru 7-12 Paraguay
Uruguay 14-7 Brazil
Chile 7-5 Argentina