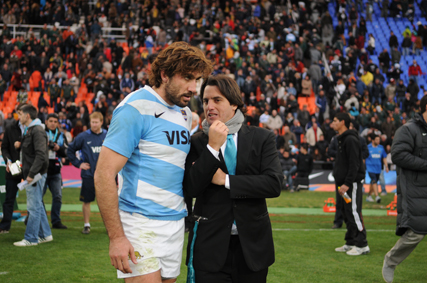 Photo El Grafico: Pichot with Juan Fernández Lobbe in Mendoza
It was made public during Rugby World Cup 2011 that Argentina wants to host a Rugby World Cup and to do so in 2023. Former captain Agustín Pichot declared that the UAR had put forward the idea of hosting a Rugby World Cup within the next twelve years.
Pichot talked about the possibility while in New Zealand several days after Argentina had defeated Scotland by a solitary point. In the two years since then a lot has changed with Argentina now in the Rugby Championship and approaching inclusion into an expanded Super Rugby competition.
Argentina has a lot going for it as a future host nation as outlined in
the book
and through critical opinion and analysis here on Argentina 2023. A question that has been asked is whether it is indeed plausible and not simply an optimistic assumption based on speculations. Like anything it begins with an idea and either grows or fades away. The argument that it is optimistic is increasingly becoming weak.
IRB Head of Competitions & Performances, Irishman Mark Egan having said twelve months ago that
Argentina has sufficient infrastructure to host the World Cup
. The next step is for Argentina to launch its first ever bid to host the Rugby World Cup and precisely when this should occur remains unclear due to the IRB not having outlined the deadlines for potential bidders.
Thus far interest has been shown by SANZAR and Five Nations unions in addition to Argentina, Italy and Russia. The Argentine option remains unique in that it is a new continent, has never hosted, has an impressive test record and the sport enjoys a notable, and growing, profile in the country. Many, though, require evidence to show that Argentina wishes to challenge the likes of Ireland and South Africa to host in 2023 and are waiting for an official union announcement.
The timing of such an announcement remains unknown but the chances of it occurring are very much real. Indeed Pichot´s statements made in 2011 were backed up this week with the Rugby World Cup 2007 Bronze Medal winning Argentine captain indirectly pointing out that what he had said in 2011 remains true.
In an
interview with Periodismo Rugby
Pichot acknowledged that he is not enthusiastic about the idea of Japan hosting in 2019 because it complicates the chances of there subsequently being a Rugby World Cup in Argentina. Pichot contends that it would be difficult for the IRB to allocate a Rugby World Cup to Argentina after Japan. With disapproval Pichot added that Europe or a SANZAR nation would likely be preferred.
The structure of voting on the IRB Council and the history involved to determine the location of previous Rugby World Cups certainly does imply that going from Asia to South America would buck the trend. Argentina, though, unlike Japan is a Tier One union and one that is becoming more involved in decision making every year. Argentina is soon to be confirmed as having a second vote on the IRB Council, giving it equal power to England.
The status of the sport in Argentina cannot be said as lacking either. Efforts to expand the game have seen the national team increasingly incorporating players from outside of the capital while test matches continue to be spread far and wide. It could be labeled as being speculative but no more so than the alternatives of a third World Cup in Ireland, France or Australia or a second in South Africa. With all options on the table well in advance there is cause to firmly believe not only that Argentina can host but that it should.