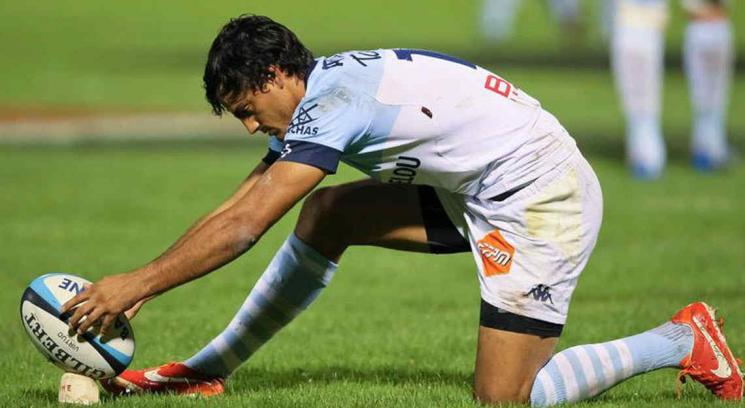 Photo Mundo La Voz: Martín Bustos Moyano impressed for Bayonne on Saturday
Although France was playing an international match against South Africa on Saturday the Top 14 took place with the 12th round of the French league producing some surprises both at the top and bottom of the standings. It did not come without controversy though as France had a full-strength lineup at the Stade de France while the likes of Argentina, Canada and the USA were both missing players who were playing in the Top 14 rather than face Italy and Russia.
One decade on from winning Rugby World Cup 2003 Jonny Wilkinson was starting at fly half for Toulon and scored all of his teams points in a tryless home match on Friday. Despite winning Toulon´s players were booed off the field. The 2013 Heineken Cup winning club remains top of the table but there are three clubs within one win of the leaders.
At the other end of the table the bottom placed Biarritz completed an important away victory and did so against a club that is one likely to be a contender for relegation this season. Brive is back in the Top 14 this season after having played in the Pro d2 and while the club remains seven points clear of the relegation zone for the time being it is in no way safe. In winning Biarritz is now nine points behind Bayonne. USA winger
Taku Ngwenya
was not selected at all in November due to Biarritz needing to get out of the relegation zone and also due to the USA currently having depth in his position. He started the match against Brive on the right wing while Argentine international
Francisco Goméz Kodela
played tight-head prop.
A home win for Bayonne sees the Basque club get out of the relegation zone and move one win ahead of Oyonnax. The win took place with
Santiago Fernández
on the bench. The Argentine international inside centre was released for the match yet did not start. In his place Daniel Hourcade started Gabriel Ascárate in a new look mid-field combination with former Brive winger Horacio Agulla. Bayonne´s win had a lot to do with another Puma as
Martín Bustos Moyano
kicked six goals. He started the match on the right wing.
A match between two big French cities on Saturday was one missing players to international duty with the likes of Argentina, France and South Africa all fielding players. Starting for Argentina were Joaquín Tuculet and Nicolás Sánchez of Bordeaux-Begles while Stade Français´ fly half was also missing as Morné Steyn played for the Springboks. Bordeaux´s third Argentine player,
Rafael Carballo
started the match playing on the right wing.
Montpellier 16-20 Castres
A notable upset saw Montpellier fall in the standings while Castres lack of consistency continued, this time for the better as the 2013 French Champions completed arguably the team´s best away win of the season. Both were missingt players to international duty but Castres nonetheless had a player from the Americas starting with long time second-rower and former Uruguayan captain
Rodrigo Capó Ortega
earning another cap for the Tarn club.
Both Toulouse and Oyonnax were also missing players to international duty but both clubs nonetheless had Pumas in their lineups. Former Argentine vice-captain
Patricio Albacete
started for the home side which arguably left Daniel Hourcade without his best forward. Testament to
Argentina´s win over Italy
therefore is required as the team was able to win despite a lack of not only form but also players. Albacete was one of ten players missing with three others playing club club and six being injured. Two unwanted players started for Oyonnax with former Pumas scrumhalf
Agustín Figuerola
and fly half
Benjamín Urdapilleta
again forming a 9-10 combination for the club.
Clermont 47-14 Racing Métro
The final match of the round saw what was expected to be a close match go the way of Clermont-Auvergne. The central French club´s invincibility at home continued and there are already questions being raised as to whether anybody can end the unbeaten run. Racing Métro was missing Juan Imhoff who scored for Argentina in Rome while other players were representing other countries. Clermont Auvergne was also missing players to international duty but Canadian
Jamie Cudmore
nonetheless started as he continues to miss out on playing for Canada outside of Rugby World Cups and qualifying matches.
Standings
7 Perpignan 29
8 Grenoble 29
9 Brive 28
10 Racing Métro 27
11 Bordeaux 25
12 Bayonne 25