Santiago Phelan coached Los Pumas from 2008-2013
2008 - Played 7 Won 2
After a memorable 2007, 2008 in total was a pretty forgettable year for the Pumas. They only scored 5 tries in their 7 games and suffered a couple bad home defeats, a complete thrashing, and two painfully dull losses to the teams they beat in the World Cup pool a year earlier.
Mario Ledesma was one of a dozen
players who was missing for
Phelan's first matches through
late Top 14 playoffs
But the circumstances were not made easy for new coach Santiago Phelan. In the June tests the selection was hampered by the late Top 14 playoffs with the finalists (Patricio Albacete, Martín Scelzo and Mario Ledesma) missing all games and the semi finalists (Juan Martín Hernandez and Rodrigo Roncero) missing the first two.
On top of that there was the retirements (Agustín Pichot, Gonzalo Longo, Lucas Ostiglia Carlos Ignacio Fernández Lobbe as well as Ignacio Corleto who was suffering what turned out to be a career curtailing injury) as well as injuries to the available players meaning not one of the World Cup team managed to play all three June games and the team was unstable and changing every game leading to the sub standard results.
Selection and preparation issues continued and the side received a 63-9 thrashing away to South Africa in Johannesburg a couple months later that was eerily similar to a result near the end of Phelan's regime as well. These games showed that despite success was still dealing like a Tier 2 side for poor preparation. It was hardly an ideal start and 4 games in Phelan had little chance to exert much influence on the team.
The injury curse on the Pumas
fly half Juan Martín Hernández
started in 2008. Phelan never
got back the superstar that
Loffreda's team had.
The side was stronger for the November tours, but fell to agonisingly dull losses against both France and Ireland (who they beat the year previously), whilst there was a win against Italy to prevent the tour being a total disaster.
One thing to note from that tour was the injury before the Ireland game to a star of the Loffreda team - Juan Martín Hernández. After that he ended up suffering several long term injuries and the player so important to the team's success in the previous regime was denied to Phelan pretty much from there onwards, he suffered numerous long term injuries after that and only won 2 caps over the next 4 years and the Hernández 10 Contepomi 12 combination was never seen again after the win over Italy in 2008.
2009 - Played 5 Won 2
Continued issues around preparation still hurt Phelan's side in his second year in charge. A coach of a 6 Nations team at the end of his second year would have had several matches to bed into the job and many training sessions.
For the June 2009 series with England availability was a continued issue. The first fixture with England was on the same day as the Top 14 final, so les Clermontois were missing and the squad had little preparation in comparison to other international sides with others just coming back from the semi finals the week before and tired after the long slog of the French season.
Also Skipper Felipe Contepomi had also suffered a long term injury that forced him out of all the Pumas games, and there was a continued struggle to find a replacement remotely near the level of Pichot. Argentina split the England series 1-1, losing away in Old Trafford by a margin but winning at home by 2 points. The opponents were a Lions effected side and the Pumas were still being hampered in performance by circumstances.
It would be pretty harsh to judge too much from Phelan's first 18 months in charge. And Argentina continued to have little preparation time for the November tour, meeting up a few days before playing England whereas their opponents had already played a game and had lots more training together.
Argentina had a side strung
together only a few days before
their test to a purple clad England.
The least amount of time than any
other Tier 1 side.
However there were nonetheless patterns of Phelan's regime coming through on this tour, the England game was to become indicative of many of the games under his charge. England played poorly and had some real dud performers in the lineup and Argentina spoiled them well at the breakdown but failed to take advantage with missed kicks whilst failing to offer much threat in attack.
In fact Argentina only got one try all tour which was from a charge down off Jonathan Davies on debut against Wales. The Pichot/Hernandez/Contepomi axis was gone and creativity in the backs had fallen with it, along with the territorial and game controlling masters at 9 and 10 who could put the pack in position to attack from close. In the end Argentina lost 33-16 to Wales in a match where the margin was flattered by an
awful refereeing performance
, before winning 9-6 against Scotland.
An additional point to note from 2009 was the Pumas only played five tests. They were still a mile off from the 6 Nations and Tri Nations despite only being 3 years from joining the latter.
2010 - Played 6 Won 2
Whereas Phelan got a raw deal in his first two years, 2010 progress was being made for the Pumas. Firstly the Argentine based players were getting better prepared playing Vodacom Cup with the new Pampas XV side along with the Jaguars sides. And also unlike his first two years the mess of availability was sorted out.
For the first time under Phelan, Argentina managed a full side with less issues for the June tests but results still continued to disappoint, losing twice at home to Scotland is not a result that any top eight team would be pleased with.
After two very disappointing losses
at home to Scotland, Felipe
Contepomi inspired probably the
standout performance of Phelan's
time in charge.
However the players redeemed themselves in spectacular fashion with a 30 point Contepomi inspired 41-13 thrashing of Grand Slam winners France. That was undoubtedly the best game along with Wales in 2012 of Phelan's six seasons in charge and really came out of nowhere, although one has to question whether the win was partly due to as much to the French under Mad Marc Lievremont, who later coached the side to capitulate 59-16 home loss to Australia and car crash losses to Italy and Tonga before nearly winning a World Cup.
That performance did happen to be against the pattern though, as Argentina struggled through the November tests again only scoring one try on the tour in another closely fought win over Italy before falling to dull losses to France and Ireland again.
The tour results was very similar to that of 2008, but in 2010 the team had finally managed a run of games together and was much more settled than the madness of 2008 selection, yet despite this progress was being slow. Argentina were still shoddy in attack and for the third tour in a row only scored one try in three games, and was not getting getting close potential of what they are capable of or the standards of the Loffreda regime. The Ireland game in particular was a low point for the Argentine backs.
Argentina's forwards scrapped
well at the RWC, but the side
missed a big opportunity to
progress further with missed
kicks against a malfunctioning
England side.
2011 - Played 6 Won 3
Despite a total of about 1 convincing performance over the four year build up to the World Cup, Phelan did achieve the minimum goal of the World Cup quarter final. Albeit perhaps undeserved in a close game with Scotland where their opponents blew it to open up a piece of magic by Amorosino to win the game.
Argentina were improved at the tournament and visibly looked better organised than before with longer together as a group in preparation. However there was also a massive opportunity missed, England were playing woefully at the tournament and the Pumas took the game to them in their opener but got the yips kicking wise.
Argentina had the worst kicking percentage of the tournament, this combined with the continued struggle for tries meant that points weren't coming even to take advantage of the poor England performance the way they would of under Loffreda with Todeschini kicking in 2006.
Contepomi's goal kicking had gone downhill over the past twelve months and entered the tournament with several misses in the warm up game with Wales, whilst Rodriguez proved himself not up to standard as an international goal kicker. Phelan left behind the most accurate kicker Martin Bustos Moyano (who had recently kicked Montpellier to the Top 14 final), whilst at the same time the game breakers who could score tries out of nowhere like Lucas González Amorosino and Juan Imhoff could only make the bench at most despite both being on great form at the time.
Amorosino's side stepping try to
beat Scotland probably saved
Phelan's job.
This was a major flaw in Phelan's selection. You can't go into a World Cup neither scoring tries nor kicking points and the opportunity to beat England was missed and although from the bench Gonzálo Amorosino saved Phelan's job in getting to the quarters, the loss to England meant that they could progress no more whereas they could have been facing France in the quarters with an opening win instead. They did in the end lose to New Zealand comfortably, but it would have been interesting to see a quarter vs France as the pack was on decent form and playing much better than in 2010.
2012 - Played 12 Won 3 Drawn 1
After a par World Cup, Phelan got a two year extension. The results of the previous seasons were nothing special, and there were some dour defeats in 2010 and missed chances in 2011, but Argentina did look like slightly improving even if they still were not reaching their best. As such it was seen as sensible to maintain the system for impending Rugby Championship.
This was new times for the Pumas, and a new rigid arrangement had been made for the June tests which meant all the European based RC squad was unavailable. Despite this Argentina counter punched a French onslaught to beat them in an astonishing upset. However the expected happened in the second game as Argentina got pummelled 49-10.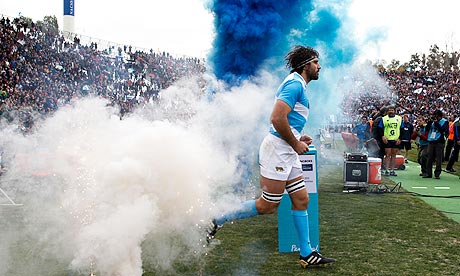 Juan Martin Fernandez Lobbe
enters the field for the Pumas
first home game of the
Rugby Championship
Into the Rugby Championship, the Pumas again had far better preparation than, and similar to the World Cup created winning opportunities but failed to capitalise.
Whilst South Africa are undoubtedly one of the top teams in the world, at the time they were vulnerable in 2012 with a large turnover of players post World Cup whereas Argentina had at this point a settled team since 2010. They had improved a bit since then, but couldn't deliver results. The 16-16 draw was a huge missed opportunity, as was the botched thirteen point lead in Gold Coast.
The defence and effort was second to none, but just like the World Cup the points problem was there. With Phelan's side neither scoring tries and still also missing kicks.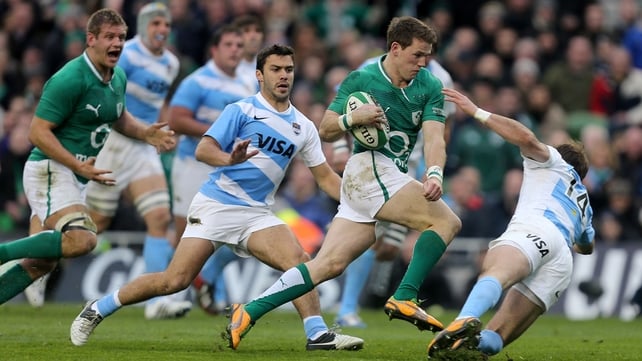 The thrashing at the hands of old
enemies Ireland saw 2012 finish
on a very low ebb.
November saw a pretty clinical win over an off form Wales though address both these, but a wide defeat to France and an even worse one against Ireland soon put paid to the optimism. The Pumas are a good enough team to expect better against an Ireland side where the coach was coming under big pressure. The year finished on a low ebb with one of the worst games of Phelan's tenure which but for a last minute Kurtley Beale try nearly knocked the Pumas into the Pool of Death at Rugby World Cup 2015.
2013 - Played 9 Won 1
There was a nasty end to 2012, but many hoped that a year in the RC would give quick improvement to the side in 2013. Unfortunately for the Pumas, after more wide defeats for the reserves in June against England, again failed to win a game.
Nigel Owens playing a bit of a
home card in Perth left the Pumas
frustrating search for a win to
remain ongoing.

Again, opportunities were missed as they failed to close out a home win over South Africa and the Pumas can see themselves as unfortunate to come the wrong side of Nigel Owens in Perth. But what was most disappointing was the way Phean's regime collapsed in Rosario in the final game.
Tipped by most as the best chance of a Pumas win, Australia were wobbly and struggling but went and put fifty points on Phelan's side.
In short, the performances remained pretty static on 2012. There was the thrashing in Johannesburg that can be put down to more of an anomaly at altitude now and again throws up (see Samoa vs Lions) and shows up ill prepared sides. The games from there were pretty similar to the previous year, but there was little improvement on the weakness of structure in attack, and even with now and better goal kicker the wins weren't coming.
The side of the Phelan era had been pretty similar and settled from 2010 to 2013. But ultimately it will be remembered as a failed era on the pitch, with little success for the top eight standards that the modern day Pumas set themselves. It also ended messily with rumours of disputes amongst the camp and Phelan left the side visibly unhappy.
In hindsight, it would have been a better idea to appoint a more experienced coach than Phelan who was only just a few years retired when appointed. The chaotic first two years of charge would have been testing for the most experienced of coaches with manic preparation they had, never mind a young inexperienced one.
The future
Although on the pitch under Phelan, Argentina have not had the greatest of success with just a win rate of 29% which is exactly half of the 58% under Loffreda, and Daniel Hourcade has now been left with a horrible caretaker job amongst a split camp. There have still been large strides taking in Argentine rugby over the 2008-2013 period.
Argentina now has a solid spot in the Rugby Championship and has been considered a success commercially for the tournament by SANZAR and the UAR got more money through the tournament as well of course elite opposition. There is now have a far better system for getting higher standard of experience for the elite Argentine based players with the Pampas XV and increased Jaguars set up. The U20's have shown a massive improvement into a major player at that level with wins over the likes of Australia, France and South Africa, and players from that level can now breakthrough into the senior setup quicker than before. And finally, Argentina looks likely to get a professional Super Rugby spot in the nearish future, which will be a monumental step forward.
Pablo Matera is one of a dozen
new youngsters coming through
There may be a bit of rebuilding to the squad to do under a new coach. Maybe not in the short term, but in the medium or longer term with the changes above kicking-in there is potential for a bright future with professionalism properly kicking in and talent to be seen from new youngsters coming through. There is little doubt but for a mass mismanagement, that Argentina will surely be in a position to be a much better side by the end of the decade leading into 2023.