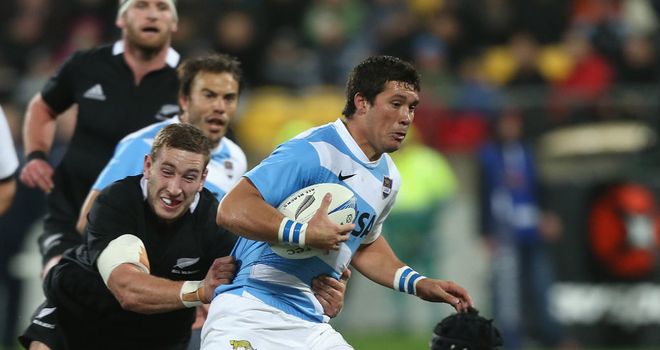 Martín Rodríguez Gurruchaga against New Zealand in the 2012 Rugby Championship
Aged 28 Martín Rodríguez Gurruchaga has played his final match for Stade Français. The centre / fullback has requested for his club contract with Stade Français to be terminated with immediate effect so that he can return home to Argentina.
Rodríguez Gurruchaga has declared that hs is leaving France for personal reasons though it has not been confirmed whether or not he will be continuing playing rugby despite his young age. he leaves the club after having been a regular starter for much of his career which goes back to 2010 after he was signed following Argentina´s first season in the Vodacom Cup. The Atlético del Rosario product made his mark in 2009 while still an amateur and was one of a number of Los Pampas XV players to be signed for the 2010-2011 season.
Before playing for Los Pampas XV Rodríguez Gurruchaga had made his mark in the early days of PladAR. He was selected for the Argentine Sevens team and was an important player for the 2009 Argentine Sevens team which
won the IRB World Sevens Leg in the USA
and finished
second in the 2009 Rugby Sevens World Cup in Dubai
. Having been a key contributor to the Argentine Sevens team Rodríguez Gurruchaga was a player being watched closely during the 2009 Argentine season due to Pumas captain Felipe Contepomi having injured his knee in the Heineken Cup Semi Final.
Contepomi would not play a test at all in 2009 while Juan Martín Hernández and Marcelo Bosch would both also require surgery which left Santiago Phelan with very limited options at fly-half and inside centre. Phelan went for two players involved in URBA competition - Santiago Fernández and Martín Rodríguez Gurruchaga. Together they formded a 10-12 combination with Rodríguez Gurruchaga being used as the goal kicker. Together they started against England, Wales and Scotland and both enhanced their reputations which saw them go on to play in France the following year.
Rodríguez Gurruchaga had a strong debut tour for an amateur player. He scored all points for Los Pumas in all three tests and won the game
against Scotland with a late drop goal
. His debut performance
against England
saw a depleted Argentine back-line perform notably better than the team that faced England this past weekend in London. As a result of his early performances he earned a lot of praise and became a permanent member of the Phelan team. He would be moved to his natural position of fullback for Argentina in 2010 and hold on to the spot in Rugby World Cup 2011 and for the start of the 2012 Rugby Championship. Phelan though, dropped Rodríguez Gurruchaga midway through the 2012 tournament and did not give him any game time at all in 2013.
While he is returning home his professional and international careers are far from being over. He has time on his side and like a number of players who have returned from England and France he could subsequently make a move back to the old continent. The club, meanwhile is
reported to be looking at finding a new mid-field player and is also interested in obtaining another player from Argentina
. Stade Français has long had a link to Argentine rugby with Agustín Pichot, Ignacio Corleto, Juan Martín Hernández and Rodrigo Roncero just a few names to have played for the Parisian club. Another is former Puma Gonzalo Quesada who is now the headcoach.