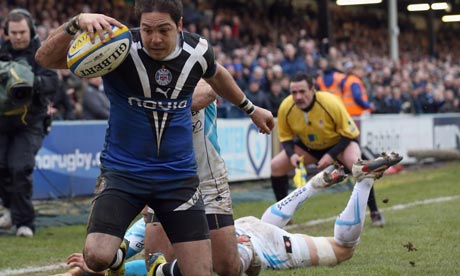 Photo Guardian: Horacio Agulla scores for Bath against Worcester
The Argentina team to face Italy this coming Saturday is yet to be confirmed but the training sessions from today indicate that the team is to be notably modified. The changes are largely to be based on the on-going problem facing the UAR, that being the lack of control over players.
There will be at least three different players starting the test match from that which was
badly defeated by Wales
at the Millennium Stadium. Patricio Albacete, Marcelo Bosch and Santiago Fernández have all left the squad to return to the clubs in England and France as has Leonardo Senatore who was on the bench in Cardiff. Replacing them are two players with Mariano Galarza coming back in exchange for clubmate Senatore while the uncapped Matías Moroni. While Galarza is set to replace Albacete Moroni is likely to be on the bench.
With Fernández and Bosch missing, Felipe Contepomi retired and Martín Rodríguez Gurruchaga unwanted the specialist options are Gabriel Ascárate and Javier Rojas, two young players well known to new coach Daniel Hourcade through the PladAR system. Moroni joins them are the third centre with him having been called up not only ahead of Rodríguez Gurruchaga but also Edinburgh centre Joaquín Domínguez and Bordeaux´s Rafael Carballo. Like Moroni, Joaquín Tuculet is another player to have risen through the ranks under Hourcade and has been used not only at fullback and wing but also at outside centre.
The mid-field options are therefore extensive in terms of quantity but there is a significant lack of experience and it would be extremely bold for Hourcade to start Ascárate and Rojas in a test match against Italy. With Argentina needing a wise head in the centres and also the teams needing to break the drought, which has seen Los Pumas tryless thus far in Europe, the time appears to have arrived for the
overdue selection of Horacio Agulla at centre
, the position he played in as a replacement against Wales in 2012.
As a winger Agulla has not been able to convert his club form for the Leicester Tigers and Bath onto the international stage. Indeed in playing his fiftieth cap last Saturday Agulla maintained his low try scoring record which has seen him not score since 2010 when he started against Uruguay at fullback. In total he has scored four test tries despite having been highly impressive in the Aviva Premiership. In this three seasons to date he has played
forty-eight matches for a return of thirteen tries
. Put differently the Pumas game plan has failed to create the same kinds of opportunities that have presented themselves in the Aviva Premiership and with Agulla now aged 29 his future ought to be re-evaluated.
The Rome test is the perfect opportunity and with Agulla offering strong go-forward as a ball carrier the option has been put to the test by Hourcade in today´s training. During part of the session Ascárate and Agulla formed the mid-field combination. On the other hand the possibility still exists for Ascárate and Rojas to play together and do so outside a third Tucumán back, Nicolás Sánchez. Should Agulla move to outside centre then either Tuculet or Lucas González Amorosino would be the starting fullback in a back-three featuring Santiago Cordero and the returning Juan Imhoff on the wings.
Imhoff appears to be likely to start in Rome but the participation of Tuculet is far from certain. Tuculet did not participate after failing to fully recover from the injury which restricted his participation in Cardiff to forty minutes. Together with Eusebio Guiñazú and Marcos Ayerza Tuculet is carrying an injury from the Wales test.