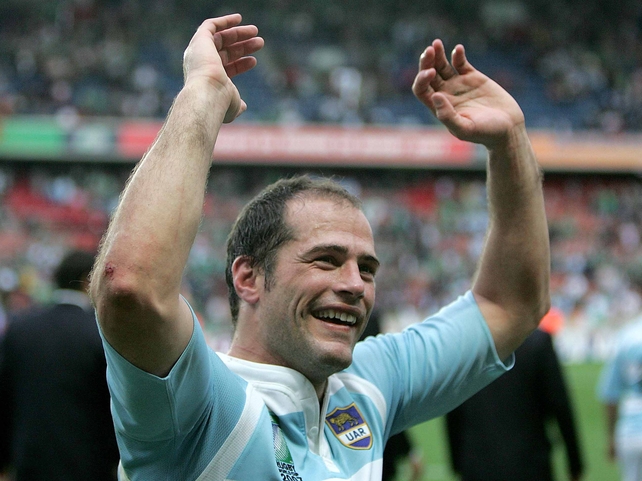 Felipe Contepomi - 15 years at the top
Here we take a look back at some of the best moments of a career of the distinguished career of one the Pumas most influential players of the professional era who's 15 year international career ended last month. He left the international scene as the Pumas all time most capped player and leading points scorer and widely regarded amongst the Argentines as probable pick at inside centre for an all time Pumas XV.
1998 - First try vs Wales
After making his debut against Chile in Santiago, a month later Contepomi made his first start against Tier 1 opposition against Wales at Stradey Park. Contepomi didn't have the greatest match of the kicking tee and his side lost, but did however score his first try and ran back to celebrate it with his twin brother Manuel Contepomi in the first game they started together.
1999 - Creative flair to thrash Wales
Playing for an Argentina A side, Felipe Contepomi showed his great playmaking ability to guide his team to thrash Wales falling only 3 shy of 50 points during a midweek game. At a time when the Pumas were not known for attacking flair, Contepomi followed on from Lisandro Arbizu's lead in bucking a trend from the Hugo Porta or Gonzalo Quesada type fly halves.
1999 - That set move match winner vs Ireland
In one of the defining matches in Pumas history, Contepomi orchestrated along with Eduardo Simone a perfectly executed double miss move with Diego Albanese going into score a famous try to win the game 28-24.
2001 - Impeccable tour of Europe
In the November tour of a year where Contepomi had the edge in the battle with Quesada for the 10 jersey throughout his early years, Felipe gave assured performances from 10 to help the side to relatively comfortable wins over Wales and Scotland where he scored a total of 45 points (including all 25 of his team's against Wales).
2002 - Pinching a try from Chabal
In the June tour with the match evenly poised, Argentina broke away with 3 quick tries the last of which was a cheeky interception from Contepomi on an unsuspecting Sebastien Chabal to give the Pumas a winning total which they held just after a French fightback. This win also started an astonishing run of success from Loffreda's Argentina against Bernard Laporte's side.
2004 - Another super performance against Wales
In the first match between the sides since 2001, history repeated itself and Contepomi again scored 25 points in a game against Wales. This time his team also did as well in a crazy game that the Pumas won 50-44, which until last year was the highest ever losing total. Contepomi scored both a superb individual try and
notably created one for his brother Manuel with a nice switch move
.
2006 - Beating Toulouse in their backyard
In an upset win, Contepomi helped Leinster beat Toulouse away from home in a surprise win in the Heineken Cup quarter final in 2006. Contepomi showed that himself as a modern fly half who could defend more than adequately throughout the match as well as creating a try with a nice pass to Brian O'Driscoll.
2006 - Leinster backline moves
Before Johnny Sexton was doing the loop move for Leinster lusciously there was Felipe Contepomi, one of which times he did it was in the bonus point win over Munster in 2006. Sexton who was previously Contepomi's understudy in Dublin cites him as influential on his young career and in his recent autobiography said he's one of the best three players he's played with.
2007 - Last minute winner vs Ireland
After Argentina lost a match they deserved to win in 2004 to a last minute drop goal, the next time they met in 2007 Contepomi returned the favour by winning one for the Pumas in a game similar to the Lions match in 2005 with the amount of players missing in the French finals.
2007 - Besting his foes
2007 - All round excellence vs France
After the Pumas were knocked out by South Africa at the World Cup with a pretty poor performance, many wrote them off as tired and done for the 3rd place playoff. As it happened, they produced a superb performance full of running rugby in what was one of the best 3rd place matches there's been at the tournament. Contepomi was at the forefront delivering one of best performances scoring 2 tries and having some lovely touches as well as great defence. He was later named a nominee for IRB player of the year.
2009 - Heineken Cup winner
Although he missed the final after suffering a serious injury in the semi final that would rule him out of all the internationals that year, Contepomi still did become a Heineken Cup winner in his last season at Leinster helping them through their group and to the semi final, where before injury he resumed his favourite pastime, running over O'Gara.
2010 - Thrashing the French
In what was one of the most surprising matches of recent times, an off form Argentina thrashed the Grand Slam winners France with a performance out of nowhere with Contepomi leading the way with 30 points and two impressive individual tries, the first of which was nominated for IRB try of the year.
2011 - The final minutes vs Scotland
Despite the Pumas goal kicking at the last Rugby World Cup in New Zealand being nothing short of dismal,
Contepomi did however slot the big pressure kick vs Scotland
to nudge the Pumas ahead by 1 point late on. But an equally important contribution to winning the match was his perfectly timed charge down attempt to deny Dan Parks a chance at a match winning drop goal, although there were some doubts as to whether he was onside or not.
2011/2012 - Shining with Stade
After a trick couple of seasons at Toulon, Contepomi rediscovered some form with Stade Français after the World Cup with some vintage performances helping his side become one of the leading try scorers and most exciting sides of the 2011/12 season. This was his last full season in the Top 14 as his game time in his final season with Stade was limited due to a serious knee injury suffered in the win over Wales in November. In one game away to Perpignan he created a hat trick of tries and played a big role in the side's exciting play
creating other great tries such as this one against Castres
.
2012 - Playing against the Pumas
Due to the UAR's inflexible agreement with the European clubs, it meant because Contepomi played in June for the Pumas unfortunately he couldn't play the inaugural Rugby Championship, which was a shame as he was in good form during the season for Stade whilst for the 2013 version he did play in he came into it after a long injury layoff and not quite as good. In August 2012 his club played two warm up games in Argentina that meant he played against his nation, where he set the field alight creating a stunning try with a skilful backhand pass.