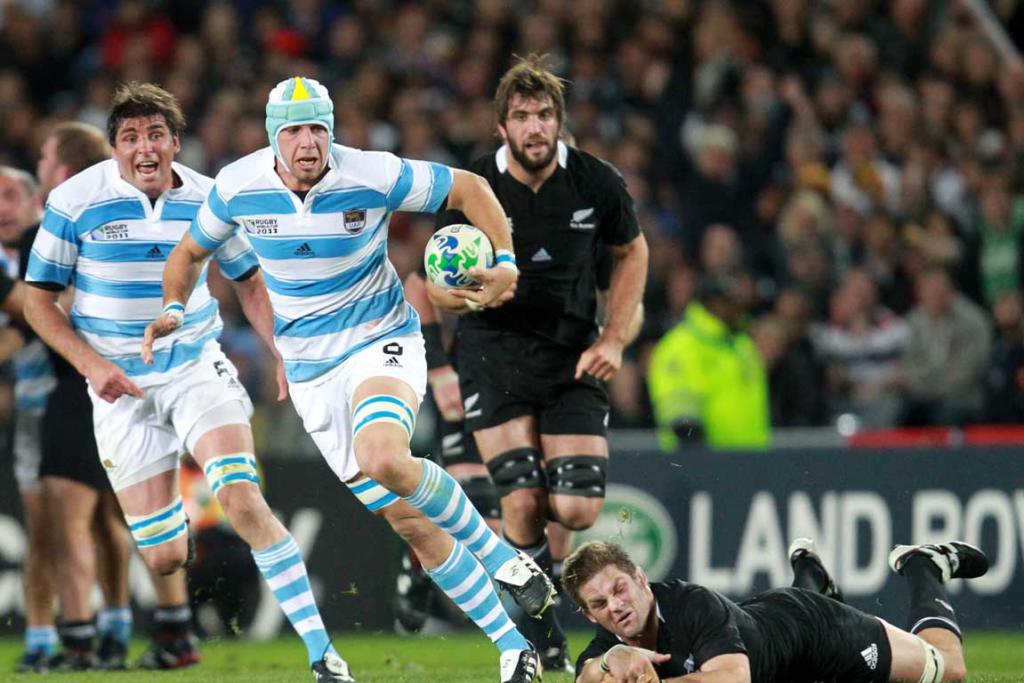 Leonardo Senatore is one of two changes to the squad to face Wales
Los Pumas headcoach Daniel Hourcade has amde changes to his squad for the second match of the current European tour. The changes see returns to the squad for Leonardo Senatore and Gabriel Ascárate while Mariano Galarza and the injured Gonzalo Tiesi are left out.
The return of Senatore mirrors the policy used for the November 2012 tour in that clubs with numerous players are able to hold on to some during the November window. In 2012 this saw the Montpellier based Lucas González Amorosino, Santiago Fernández and Maximilano Bustos miss the 2012 test against Wales while the Biarritz pair of Marcelo Bosch and Francisco Goméz Kodela were also not available. Senatore missing out on facing England continues as does Galarza returning to the Worcester camp.
In other words the loss of Juan Martín Fernández Lobbe, Juan Figallo, Gonzalo Camacho, Juan Martín Hernández and Agustín Creevy to injury is compounded by the agreement between the UAR and European clubs. But neither factor could be said to be the real reason for Argentina´s inability to win. Man for man Argentina´s fifteen starting players were not nineteen points (31-12) inferior to the English. In many positions the reputation of Pumas players is clearly better than that of those starting for England. The failure of Los Pumas at this point in time and throughout 2012 is that players have not been producing the quality of rugby required to win international matches.
With players in a host of positions not being able to deliver and it has seen Argentina lacking direction and consequently not scoring tries. Hourcade does have a reputation of making swift changes and has indeed done so previously with both Los Pampas XV and Los Jaguares. Any player, aside from the captain, could be dropped and in many instances this would not be altogether surprising.
The injury of Gonzalo Tiesi may well see Hourcade make a change at outside centre due to the lack of productivity from Santiago Fernández. Hourcade may well opt to move Bosch to inside centre and start Horacio Agulla in the midfield. Another option would be for Javier Rojas or Gabriel Ascárate to start at inside centre and Joaquín Tuculet could also play 13. Tuculet, though, is likely to start at fullback against Wales with the wingers being Santiago Cordero and Lucas González Amorosino.
With Juan Imhoff in doubt for the match he could be bracketed for the left wing position with González Amorosino who, like Agulla, was not able to break the line or be on hand to complete try scoring opportunities. Should Agulla start in Cardiff he would win his fiftieth cap. His strike rate has been extreemly low for an international winger with only four tries in forty-nine tests. He has not scored since May 2010 when he captained Los Pumas against Uruguay.
Elsewhere changes are also likely to be considered by Hourcade. Martín Landajo will push for a return to scrum-half while the back-row could possibly see Leonardo Senatore start at 8 and Juan Leguizamón at 7. Julio Farías would therefore drop to the bench with Pablo Matera playing 6. Manuel Carizza is all but certain to join Patricio Albacete in the second-row with Tomás Lavanini being called up to the bench. The starting front-row is likely to go unchanged due to the alternatives to Maximilano Bustos and Eusebio Guiñazú lacking experience. Unlike the pair Marcos Ayerza did have a good game on Saturday. Matías Díaz will likely replace Juan Pablo Orlandi on the bench as the replacement tight-head prop.
27 Man Argentina Squad in Cardiff
Forwards
Patricio Albacete (Toulouse, France)
Marcos Ayerza (Leicester, England)
Maximilano Bustos (Montpellier, France)
Manuel Carizza (Stormers, South Africa)
Matías Díaz (Highlanders, New Zealand)
Julio Farías Cabello (Tucumán RC, Tucumán)
Eusebio Guiñazú (Bath, England)
Santiago Iglesias Valdez (Uni. Tucumán, Tucumán)
Tomás Lavanini (Racing Métro, France)
Juan Manuel Leguizamón (Lyon, France)
Nahuel Lobo (Unattached)
Benjamín Macome (Tucumán RC, Tucumán)
Pablo Matera (Leicester, England)
Juan Pablo Orlandi (Bath, England)
Leonardo Senatore (Worcester, England)
Backs
Horacio Agulla (Bath, England)
Gabriel Ascárate (Glasgow, Scotland)
Marcelo Bosch (Saracens, England)
Santiago Cordero (Regatas, URBA)
Tomás Cubelli (Belgrano, URBA)
Santiago Fernández (Bayonne, France)
Lucas González Amorosino (Oyonnax, France)
Juan Imhoff (Racing Métro, France)
Martín Landajo (CASI, URBA)
Javier Rojas (Uni. Tucumán, Tucumán)
Nicolás Sánchez (Bordeaux Begles, France)
Joaquín Tuculet (Bordeaux Begles, France)