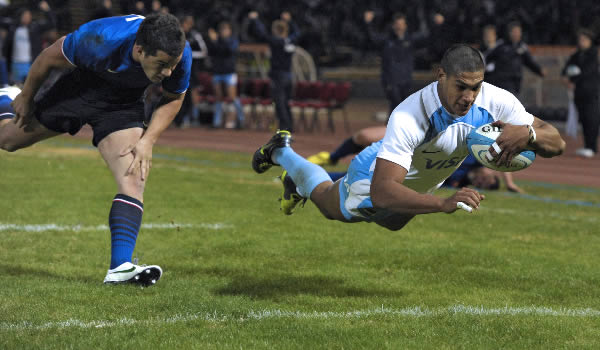 Manuel Montero scored against France as a 20 year old
The nature of rugby means injuries play a significant part in the career of indiviual players and the make-up of teams at club and international level. For Manuel Montero the 2013 season was short and painful. The 21 year old played test rugby but was not able to play in the Rugby Championship due to injury.
In his brief international career Montero has already done what many struggle to do - score tries against both England and France. The Pucurá and Los Pampas XV winger found himslef starting for the national mens team in June 2012 due to Argentina being unable to select any of Horacio Agulla, Lucas González Amorosino, Martín Bustos Moyano, Gonzalo Camacho or Juan Imhoff. He played in the three Juen tests against Italy and France and also recieved game time against Ireland from the bench in November.
Montero was included in the 2012 Rugby Championship squad but like Bustos Moyano he did not play. Argentina had wing options and Montero had only debuted in May in the South American Championship where he faced Brazil, Chile and Uruguay scoring against each team. In total he has been capped nine times and has seven tries. It is a good return for any international player, let alone an amateur.
Standing a 1.94m and weighing 102Kg Montero is no ordinary Pumas winger. For Argentine standards he is a giant. No other player to have worn an 11 or 14 shirt under Phelan has weighed over 100Kg. Indeed the fame that
Gonzalo Camacho
has earned himself for being a hard working winger in the Rugby Championship comes despite him weighing 85Kg. The bigest of the wingers,
Horacio Agulla
is also much smaller than Montero, weighing 92Kg.
But had he been fit and included as a winger in the squad then there is little chance that he would have been utilized. The matches so far in the 2013 Rugby Championship show Argentina in need of a solid ball carrying centre. The players used in the mid-field positions are all smaller, weighing around 90Kg with many being converted fly halves. Phelan has used Felipe Contepomi and Santiago Fernández at 12 and Marcelo Bosch and Gonzalo Tiesi at 13. Contepomi will soon be retired which could see Bosch moved to 12. Agulla has been used at times as a replacement 13 in the past while Joaquín Tuculet is in the squad for this reason presently.
Of them all Agulla and Tiesi are the best crash-ball runners but neither have the same impact as Montero. In other words the Montero injury cost Argentina a possible solution to the static cross field running being applied throughout the 2013 Rugby Championship. For 2014 Montero looms as the starting 13 with either Fernández being the inside centre or Bosch making the transition. Before then there is the November 2013 tour of Europe in which Argentina will face England, Italy and Wales. Argentina will have a new coach and he will certainly be looking to solve the lack of penetration from the mid-field runners. If only Montero were fit. There are alternatives with those mentioned above and the Scotland based Gabriel Ascarate all likely to be in the frame.