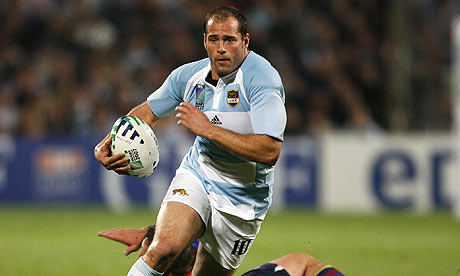 Photo The Guardian: Felipe Contepomi breaks a Namibian tackle in RWC 2007
The IRB´s weekly rugby show, Total Rugby caught up with Felipe Contepomi this past week and quizzed the Argentine centre. He answered a series of questions about his rugby history playing for Argentina at junior and senior level as well as some experiences while playing for Leinster. Contepomi will be on the bench this Saturday for Argentina. He is expected to make a second half appearance, likely coming on to play at inside centre. It will be his 86th test appearance meaning that he will become the most capped Puma of all time should he also recieve game time against Australia one week later.
The 36 year old has been playing international rugby since 1998 and is a veteran of four Rugby World Cup´s. His record is not likely to last for very long due to the changing nature of Argentine test rugby which now sees Los Pumas play twice as mnay tests per year than was the case previously. Of the side set to start against the All Blacks in La Plata three players have more than fifty caps - Juan Martín Fernández Lobbe, Patricio Albacete and Jua Manuel Leguizamón. With them all likely to play at Rugby World Cup 2015 they could all target being the first Puma to 90 caps. Younger players like Juan Figallo, Martín Landajo and Pablo Matera could aim even higher.
Contepomi is to retire from rugby at the completion of the Rugby Championship. At which time he will be a full time professional partner in Buenos Aires with his father who is also a doctor.