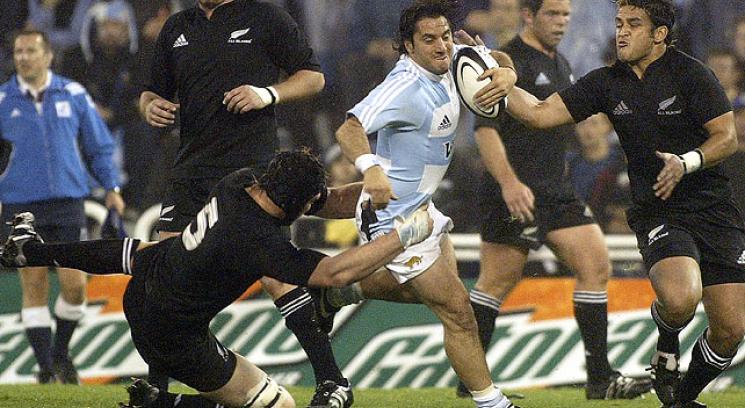 Pichot looks to get pasty Ali Williams in 2006
The campaign to have Argentina host Rugby World Cup 2023 has already been going on for well over three years and there is still a long way to go before the IRB confirms the bidding process. The campaign will continue for as long as it takes. Another project that took a long time, and too long, was getting Argentina into the former Tri Nations.
Argentina had a quality side that defeated all European sides from 2004-2007. At the helm was Agustín Pichot who, together with Marcelo Loffreda, truely took Argentina from a nervous team that could push sides to a strong side that finished third in the World Cup ahead of Australia and New Zealand in 2007. While some were showing their respect towards the quality of the Argentine test team during this period many were not as Argentina had a long and arduous battle to win the respect of rival unions and supporters.

Securing tests during this period against SANZAR nations was extremely difficult. The IRB international windows had come to determine that teams would travel south in June and north in November. This made it impossible for Argentina to host end of year tests against SANZAR nations unlike in the 2000-2002 period. Argentina, therefore, had to somehow host Australia, New Zealand and South Africa in June. It was so difficult to secure that between hosting Australia in 2002 and South Africa in 2012 there was only one test match in Argentina against a Tri Nations country.
The only test was that of Argentina v New Zealand in 2006. Argentina played the All Blacks on the same day as a 2006 FIFA World Cup match involving the Argentine national team. The Argentine soccer team faced Mexico in leipzing, Germany in a Round of 16 elimination match on the same day. Circumstances were certainly far from idea but on the pitch Argentina was a team determined to show its worth by showing it in the best possible way - winning against Tier One opposition.
Rumours circulated that Argentina was able to host the match due to an agreement between the NZRU and the UAR that had seen Argentina´s vote on the IRB Council back New Zealand rather than Japan or South Africa to host Rugby World Cup 2011. The IRB´s voting policy is such that it was never revealed who voted for who which made supporters of Japan particularly angry due to the percieved existence of an old-boys club which looked after itself more than global interests.

The Pumas team at the time of the vote in late 2005 was one that had defeated France four times in a row but Argentina remained underratedso much that many called the 2007 World Cup opening match a huge shock. In reality Argentina had been achieving strong results throughout the post 2003 World Cup period but without a competition such as the Tri Nations or Six Nations to play in it was hard to achieve recognition.

Argentina almost defeated the All Blacks in the only test between the teams during this period. In the final minute of the match at Velez Sarsfeld in Buenos Aires New Zealand had a player in the sin bin and held a six point lead. Argentina had posession and was deep in the New Zealand 22 pushing with the forwards. Surviving players from the era include Patricio Albacete, Marcos Ayerza, Felipe Contepomi, Juan Martín Hernández, Juan Manuel Leguizamón, Gonzalo Tiesi and current captain Juan Martín Fernández Lobbe. Albacete and Ayerza missed out on 2006 but both could face New Zealand in La Plata next Saturday as could the four others.