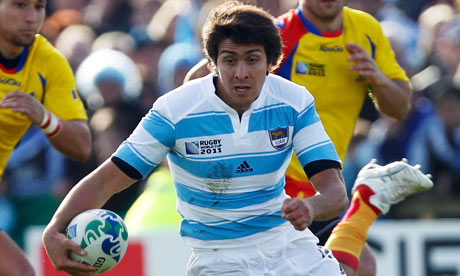 Photo: The Guardian. Lucas González Amorosino breaks against Romania
The French second division club with easily the highest budget is looking to secure its return to the Top 14. Lyon OU signed Argentine scrumhalf Nicolás Vergallo recently and now it has emerged in French and Argentine sources that the club is interested in signing others.
Lucas González Amorosino is without a club. Despite still having plenty of time remaining on his Montpellier contract the Top 14 side did not want to retain his services due to his involvement in the Rugby Championship. The Pumas fullback / winger therefore left after having agreed to a release clause and finished the 2012-2013 season unattached to any club. The club has also released Santiago Fernández who was linked to a move to Castres but remains unattached.
Many followers of Argentine rugby are wanting the players to either stay in Argentina or move to play Super Rugby not play in Europe. The reason being that the Pumas sides that played home tests bin June 2012 and 2013 were so depleted that Argentina lost matches it ought to have been able to win. Should the players be contracted to Southern Hemisphere sides then Argentina would have a much stronger side take the field for the home internationals in June 2014 against Ireland than was the case against England this year.
González Amorosino´s potential move to Lyon has been reported as being in the capacity of a medical joker. In other words it would be for a period of months or, at most, for the remainder of the 2013-2014 Pro d2 season. This being the case then he should be fine to represent Argentina in June 2014. The possibility also exists for him to play for Lyon for a period and then be back on the market to possibly join a Super Rugby franchise.
A move to Lyon would see González Amorosino play for a third European club. He played for the Leicester Tigers from 2009-2011 and then spent two years at Montpellier. The 27 year old will start against New Zealand this weekend on the right wing. Lyon´s back-rower Juan Manuel Leguizamón is also to start the match for Los Pumas.