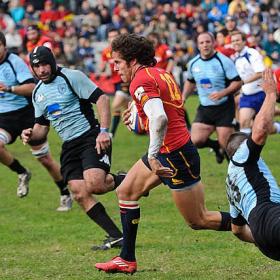 November 2013 is going to be vital for the Uruguayan mens rugby team. Los Teros will face the North American runner-up for the right to play in Rugby World Cup 2015 as Americas 2. To prepare for the home and away series it will begin with
a match against Spain
at the national rugby stadium, Estadio Charrua in Montevideo. The match will be played on November 9 which coincides with the USA facing the New Zealand Maori. Canada is to face the New Zealand Maori seven days earlier and it has been rumoured that the winner of August´s Canada v USA Rugby World Cup qualifiers will face Georgia in Tblissi on August 16 and possibly also play seven days later against another European Nations Cup team, such as Portugal, Russia or Spain.
The URU had been unable to secure similar fixtures regularly in previous years. So much no that the post Rugby World Cup 2003, and more so 2007, era was notable for Uruguay struggling to host touring sides. In 2013 alone, however, Uruguay has hosted the South American Championship in addition to the CONSUR XV v England match. The stadium is on track to continue to secure more and more fixtures as it is the property of Uruguayan rugby. It gives Uruguay the platform that it lacked in the years following Rugby World Cup 2003 to develop and push towards Tier Two status.
Uruguay and Spain have met seven times previously, including once at a Rugby World Cup.
Their match in Scotland as part of Rugby World Cup 1999
was the first ever World Cup match for both countries. The most recent match was played shortly after Rugby World Cup 2011 with Uruguay touring Spain and Portugal. Los Teros defeated the Portuguese but Spain won in Madrid 16-13. It was the third Spanish win in a row after Spain had also defeated Uruguay in 2001 and 2007. Overall Spain has won four and Uruguay three times.
After playing against Los Teros Spain will fly to Chile to
play a test match against Los Condores
. There are also plans to add a third match with Spain possibly to face Buenos Aires club side Pucurá. Before hosting Spain Uruguay will play in the Americas Rugby Championship in Canada. Chile, though remains, outside of the IRB funded initiative.