Protests surrounding the cost of the World Cup in Brazil
The soccer obsession with the concept that bigger is better has lead to devastating economic consequences for previous hosts of FIFA World Cup´s. The FIFA World Cup and White Elephants go hand in hand as host nations construct too many stadiums for the purpose of the tournament. FIFA´s requirements for World Cup stadia are extremely demanding. A host nation must have a venue seating 80,000 for the opening match and the final. The governing body of global soccer also requires all other stadiums to seat a minimum number of 40,000 people. It is a quantity that is out of touch with the needs of the tournament and results in host nations having to over invest in order to host the event.
The price tag of hosting a FIFA World Cup is such that the only way a host nation can make a profit is if it already has all the stadiums it needs upon winning the hosting rights. In other words, should it need to build new venues then it is certain to operate on a loss, and a heavy one. Japan and South Korea spent $4.6 billion on the construction of stadiums for the 2002 FIFA World Cup yet not only made far less money from the tournament than this sum but also had no use for a high number of venues after the tournament´s completion. Similarly in 2010
South Africa spent $8.6billion
on hosting the FIFA World Cup only for FIFA to take home over $2.5 billion in profits. Of the money invested by the South African government $4 billion alone went on stadiums, many of which were never needed.
The term white elephant refers to an economic investment whose cost is not consistent with its usefulness. In other words the maintenance and long term costs outweigh the profits gained from investment in its construction. The legacy of both the 2002 and 2010 FIFA World Cup´s is that there are many venues that subsequently are significantly underused. The construction of Green Point Stadium in Cape Town should never have happened given the facilities of Newlands. Similarly Moses Mabhida Stadium in Durban was constructuted despite the city having a sufficient rugby stadium seating more than 40,000. The consequence is the cities are stuck with two venues now while one would have been more than sufficient per city.
FIFA, however, had other ideas as the pressure on hosts to have each World Cup better than the previous one led to South Africa spending billions for a tournament that it needed not to. Of the six Super Rugby teams in South Africa either that year or since the home venues of four of them hosted matches - Bloemfontein, Johannesburg, Port Elizabeth and Pretoria. Of these only Port Elizabeth had a new stadium. The venues in
Bloemfontein and Johannesburg underwent adjustments as should have the Super Rugby venues in Cape Town and Durban. It was worse, however, in other cities. Such as in Polkwane which had a new stadium constructed seating 45,000 and in Nelspruit whose new stadium seated 43,0000. Neither stadium has a regular tenant, meaning they are white elephants.
While South Africans are left to fit the bill of the huge sums of money invested in the tournament FIFA profited from what was the
highed money making sporting event of all time
. Brazil is set, though, to out do South Africa as the 2014 FIFA World Cup is to be the
biggest robbery
in the history of the country. Outrage at the over spending of public money on the constuction of stadiums, many of whom will be white elephants, has left Brazilians in rage leading to the ongoing public demonstrations throughout the country which have seen more than two million take to the streets. The protests want better education, healthcare, safety and transportation systems and complain that their government has neglected all of this in favor of hosting the World Cup. The 2013 Confederations Cup has, indeed taken the government and FIFA by surprize and both need to rethink their policies.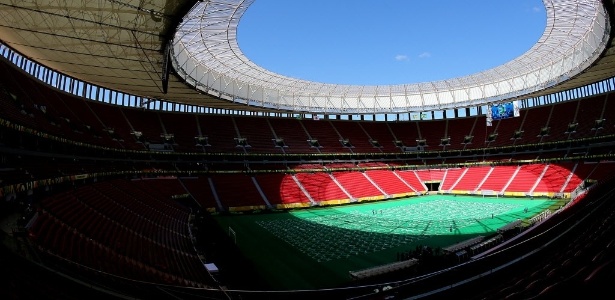 Estádio Mané Garrincha in Brasília
FIFA is responsible for two of the crucial policies which have contributed to the Brazilian crisis. Firstly stadiums constructed in the cities of Brasilia, Cuiabá, Manaus and Natal are to be white elephants for the fact that these cities lack teams of note. Of these cities none have a team in the first division. Secondly FIFA asked too much of Brazil. The home venue of São Paulo FC, for instance, was rejected by FIFA as a host venue. Brazil wanted to upgrade the existing venue to meet the requirements for the tournament. Instead the largest Brazilian and South American city will have a new stadium constructed with public money and eventually to be owned by the Corinthians club. The host of the new stadium in Brasilia made history as it became
the most expensive stadium ever constructed at a cost of over BR1.7 billion
.
Why should the third world countries of South Africa and Brazil have been made to build these new stadiums instead of upgrading existing facilities? The answer lies in a need for FIFA to pay attention to the IRB. The global rugby authority does not ask the same of its hosts as the only specified requirement is a stadium seating 60,000 for the opening match and Rugby World Cup Final. Other venues need not all seat more than 40,000 which enables the use of a variety of stadiums which, ultimately, means a host nation can spend much less on stadiums and utilize already existing venues. Of the eleven Australian venues that host Rugby World Cup matches in 2003 only five seated 40,000 or more. Seven of the twelve venues from France 2007 did while only two of the twelve New Zealand stadiums seated 40,000 or more in 2011.
While Soccer is a more popular sport and does attract larger crowds in general there is, nonetheless, no shortage of cases in which matches were far from being sold out.
32,664
attended Chile v Honduras in Nelspruit while there were
34,763
at the same venue for North Korea v Cote D´Ivoire. In other words a venue seating 30,000 - 35,000 would have been suitable. Other venues also had similar sized crowds, suggesting that the stadiums were too big.
30,325
saw Slovenia v Algeria and
34,850
attended Paraguay v New Zealand in Polkwane while
28,042
were in attendance for Switzerland v Honduras in Bloemfontein,
31,513
watched Grrece v South Korea in Port Elizabeth and
34,812
attended Australia v Ghana in Rustenburg. The crowd for Australia v Ghana was nonetheless significantly better than that of New Zealand Slovakia at the same ground. It´s attendance of
23,871
brought into question why FIFA demand venues of 40,000.
The IRB, in other words, operates on a system which ensures the tournament can be as cost effective as possible for the host nation. The decision of constructing a new stadium is not enforced by the sports governing body as it is in the case of soccer. Should a country seek to have better facilities and invest in a new project it is welcomed, as in the case of Tokyo in 2019, but it is the host nation that makes the decision. The money invested into Eden Park for Rugby World Cup 2011 was high but it was minute compared to that of Brasilia which is one of fourteen stadiums, all of which have been more expensive than that of Auckland. Argentina 2023 fits in well in this regard. There is no need to build new stadiums which could cost the country millions or even billions of dollars. Instead,
as argued in the book
, Argentina could host Rugby World Cup 2023 without building any new stadiums. It could use a combination of venues from the 2011 Copa America and others to host a tournament with twelve stadiums, seven of which would seat 40,000 or more.