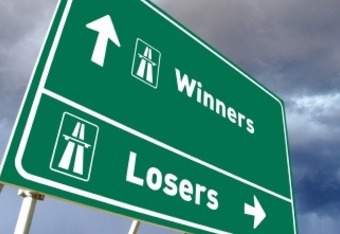 Photo: Bleach Report
Twenty-four hours after the match schedule and venue allocation was confirmed for Rugby World Cup 2015 it is evident that there is a lot of dust yet to settle. While the tournament organizers have come out declaring that the
match schedule is fair for everybody
and that the tournament
features no bias towards England´s South-East
these views have certainly not been shared by the global rugby public with journalists from England and abroad condemning the organizing committee´s decisions on which venues play host to matches and the schedules given out to the teams. Have the organizers got it right? Will all teams have an equal opportunity of winning matches? Or is the playing field to again be uneven.
The analysis of the decisions will be broken down into two sections with one being posted today and the other tomorrow. The two sections are firstly the venue winners and secondly the teams themselves.
The confirmed list of venues is in theory relatively equal as the East Midlands, South East, South West, West Midlands, the North and North West join Greater London in all being represented. Together with Cardiff it means that matches will, indeed, be spread quite evenly throughout England with Wales also confirmed as a host nation. However there has been a tremendous inequality in how the matches have infact been distributed as London and Cardiff have been allocated more than 50% of all matches to be played in the tournament including every play-off match.
London - As the home of the RFU London was always sure to be allocated a large number of matches but the final total of seventeen is simply ridiculous. Since winning the hosting rights in 2009 England has had the better part of four years to prepare and the result is three London venues hosting a total of 35.4% of the tournament´s matches. Quite clearly the time available has not seen a sufficient push outside of London to encourage the use of stadiums nation wide and, instead, there are celebrations that the Olympic Stadium has secured key matches including Ireland v Italy and the Bronze Final. Wembley has also secured two including the key match between Argentina and New Zealand while Twickenham has been allocated ten matches including the tournament´s first match which will be England v Oceania 1. Other big matches are England v Australia, England v Wales, France v Italy and Ausstralia v Wales. At least one of these could have gone to a venue outside of London as could have Argentina v New Zealand which has been allocated to Wembley. Such is the high number of London matches that Scotland is the only Tier One match not playing in the British capital at the World Cup.
Cardiff - The Welsh capital has been allocated eight matches which are a mixture of high profule games and ones that are likely to be highly difficult to sell out. thematches are well spread out in the pool phase and go on to include two Quarter Finals. Three Pool A, one Pool C and two Pool D matches will be played at the Millennium Stadium. Of high concern is that only one of the six pool fixtures can be said to be meriting a stadium seating 74,000 people. Wales v Japan and Canada v Fiji were failures in Rugby World Cup 2007 while Wales´s losses against Samoa and Argentina last November were played in front of thousands of empty seats. Wales will face the play-off winner and Oceania 1 at the Millennium Stadium while Australia will face Oceania 1, New Zealand will face Europe 1 and Ireland will play against Americas 1. Cardiff´s major pool match is the potential Pool D decider between France and Ireland.
Needless to say it is an unfortunate outcome for English rugby and for the tournament. Wales is not a part of England and Cardiff has already hosted far too many matches in Rugby World Cup´s. It hosted games in Rugby World Cup 1991, 1999 and 2007 and will set a new record by hosting for a fourth time in 2015. More alarming still is that it has been confirmed as the second most important venue after Twickenham. The Rugby World Cup is called England 2015 when clearly it is England / Wales 2015. The power wielded by the WRU on the IRB Council is clearly superior to what it should be. Moreover, if England could not secure soccer stadiums for the World Cup then should it have been awarding hosting rights in the first place? It won over both Italy and South Africa. Neither of which would require Wales as a subhost.
Gloucester - Despite the city having a low capacity stadium Kingholm has been allocated four matches making it the third most important numerically after London and Cardiff. The number of allocated matches is justifiable given the tradition of Gloucester Rugby and the city´s proximity to others such as Bath, Bristol and Worcester. The four matches being played in Gloucester arewell spread from September 9-October 11 which will ensure an opportunity to have rugby celebrated over a long period. Of the four matches two are very surprizingly and can be said to be nothing short of being a major coup as Scotland v Japan will be played at Kingholm as will Argentina v Georgia.The other matches are between Tonga and Europe 1 and Americas 2 v Asia. The latter two are understandable but Gloucester can really feel happy to face secured World Cup matches featuring Scotland and Los Pumas.
Exeter - Considering Exeter was not short-listed as one of the seventeen veneus in consideration its confirmation as a host venue is remarkable. It was included after Bristol became unavailable and due to Exeter Chiefs proving to be a competitive side in the Aviva Premiership. With the Chiefs having not only survived relegation but also qualifying for the Heineken Cup Sandy Park stadium has been confirmed for upgrading. Sandy Park is one of the big winners of the match schedule as it will host three matches - more than notable England cities Birmingham, Leeds and Manchester. The matches set to be played in Exeter are, overall, less marketable with Tonga facing Africa 1 and Africa 1 facing Europe 1. There is, however, a match featuring Italy with Europe 2 being the opposition.
Brighton - While it succeeeded in securing matches ahead of Southampton it was only awarded two matches and neither of which is likely to be decisive in determining play-off´s placings. Both matches are from Pool B with South Africa to face Asia 1 and Samoa to take on Americas 2. While they are respectable matches the organizers made a questionable decision of having the games played on consecutive days. In toehr words, the Rugby World Cup witll come and go from Brighton in one weekend.
Birmingham - England´s second largest city only gets two matches with one being a key fixture between South Africa and Samoa but the other being played between Australia and the Play-off winner. There is still a long time to determine who the play-off winner wll be but for Rugby World Cup 2011 it was Romania and for 2007 it was Portugal. On both occassions the Europeans defeated Uruguay to secure the final place at the World Cup. For 2015 it would appear likely to be a final between Russia and Uruguay and if so then a fixture at Vila Park will be hard to market for the tournament orgznizers who are needing the Wallabies alone to promote the match.
Leeds - As an important city located in the North Leeds had to host Rugby World Cup matches and ought to have been in consideration for one Quarter Final. Instead it will host only two matches with Scotland and Italy yet to face yet to qualify teams from the Americas. Exactly who they will be remains unknown but it is safe to speculate that they will be Canada and the USA. Like Brighton, the organizers have ensured the tournament will come and go from Leeds quickly as the matches are to be played on September 26 and 27.
Manchester - Initially expected to host a Quarter Final in addition to at least one Tier One v Tier One pool match Manchester has instead been handed just a single match due to the inability of the organizers to secure the use of Old Trafford or the City of Manchester Stadium for more matches. As such the only game being played in Manchester wll see England face the play-off winner its final poo match It will occur after England has already faced both Australia and Wales meaning it will have already secured a Quarter Finals spot or will have already been eliminated. The organizers really made a bad call with this considering that Australia v Wales is on the same day ad Ireland v France one day later. Surely one of these two had to be the Manchester match.
The remaining venues confirmed to host matches are stadiums in the cities of Leicester, Milton Keynes and Newcastle. All three have been allocated three matches each and considering the lack of matches in the north none of the three can be said to have been hard done by.
Leicester - The home city of English powerhouses the Leicester Tigers can consider itself unlucky to not have secured four matches but considering the quantity of matches offered to cities based further north it certainly can´t complain. Of the three matches one is a key Tier One v Tier Two encounter with Argentina facing Tonga in what many anticipate to be the deciding match of Pool C. Argentina will also play its final pool match in Leicester against Africa 1 while Americas 1 will take on Europe 2 in what is sure to be a match worth seeing. The matches could be spread over a longer time frame but it is, nonetheless, notably better than the dates handed to Brighton and Leeds.
Milton Keynes - Consideing its proximity to Greater London and to Northampton the home of Aviva Premiership powerhouses the Northampton Saints Milton Keynes was always going to be confirmed as a venue for the World Cup. After expansion it will seat up to 32,000 people making it well suited for hosting Samoa v Japan, a match that could be one of the best of the pool phase. France wll also play at Milton Keynes against either Canada or the USA while Fiji will face the play-off winner in the least marketable of the three allocated matches.
Newcastle - Considering the lack of matches in the north Newcastle should consider itself fortunate. The final number of three matches for Newcastle combined with what the specific matches are is a very good result for the Northern English city. Its three matches are similar to what many rugby players and followers in and around Leeds and Manchester could well have been hoping for. In the space of seven days Scotland will face both South Africa and Samoa at St. James Park while New Zealand will take on Tonga. All three matches are between sides entering the tournament as the first, second or third seeds in their pools.
The central question to be asked is - if a nation is going to host a rugby World Cup it ought to host it as best as possible. Does the England 2015 scedule reflect this desire? In a word, no.
Argentina 2023
can deliver differently with a nation possessing sufficient stadiums distributed around the country and them having a history o hosting international rugby. Part Two will look into the individual teams to see who has been the big winners and losers from the match schedule.