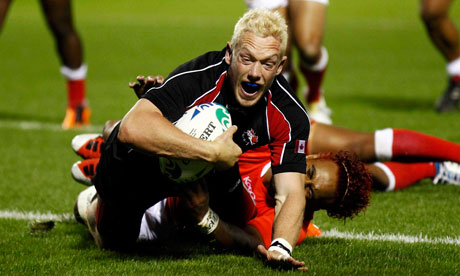 Phil MacKenzie helps Canada defeat Tonga at RWC 2011 in New Zealand
After arriving at London Welsh this season from former English second division side Esher, Canadian international
Phil MacKenzie
has been
confirmed as a new signing
for the
Sale Sharks
. The 26 year old has had a good season for London Welsh but the club has been relegated by virtue of finishing bottom of the table. Sale and London Welsh have been the two worst performers of the 2012-2013 Aviva Premiership season. It was not until the eighth round that Sale won its first Aviva Premiership match of the season. But since then the club has recovered to move ahead of London Welsh and secure it will remain in the top flight of English rugby next season.
MacKenzie´s move to Sale will help his career and greatly aid Canada as MacKenzie is set to be a key player for the North Americans in the lead up to Rugby World Cup 2015. With Canada having lost veteran backs Ryan Smith and Ander Monro the 2015 Rugby World Cup campaign will be all about the youngsters who impressed in the matches against Tonga, France and Japan. Mackenzie featured in all four of Canada´s matches at Rugby World Cup 2011 and contributed significantly to the North American´s performances. He scored a try in the win over Tonga and one in the draw against Japan. He was used as a winger for the tournament after having previously played centre for Canada in 2010. He returned to the midfield in 2012 and the position appears to be his for the taking with MacKenzie, DTH van der Merwe and Conor Trainor being the players Canada will look to in the midfield for England 2015.

MacKenzie has been capped seventeen times. He made his test debut for Canada in 2008 against Portugal in Lisbon. His most recent test appearance was Canada´s match against Samoa in Colwyn Bay, Northern Wales last November.