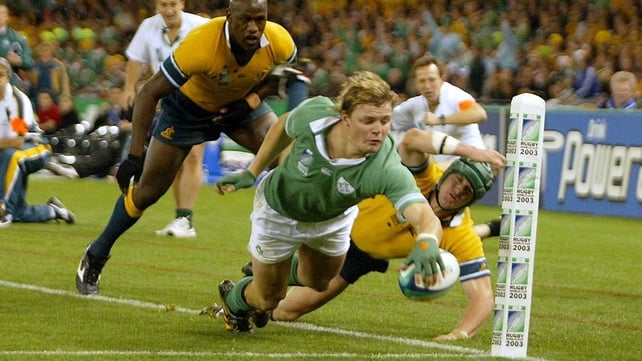 Brian O´Driscoll scores v Australia in 2003
According to the
Australian media
there are real chances of Rugby World Cup 2023 returning to Australia some two decades after the nation previously hosted it. With the Australian Rugby Union (ARU) having gone public on its substantial economic problems the unions
CEO Bill Pulver
is looking at ways to secure the future of Australian rugby. With Australia´s money coming largely from incoming test matches the need to have extra sources is increasing which means Australia is looking to host a third World Cup. As such Australia´s name can be added to an increasingly large list of interested host nations which includes previous hosts - France, Ireland and South Africa in addition to other tier one unions yet to host - Argentina and Italy.
However the tournament potentially returning to Australia was not the most notable piece of information to be revealed. Instead the Australian media is also indicating that changes in the Rugby World Cup will mean an end to the rotation system which has seen tournaments move from a Tri Nations country to a Five Nations country and back. With Japan hosting in 2019 the
Daily Telegraph claims that IRB sources told them that potential new markets are set to see the tradition abandoned
. This being the case then the desire of Argentina hosting Rugby´s show piece event in 2023 would appear to have been strengthened. It would mean that the firmly held opinion by many European rugby journalists that 2023 will return to Europe is far from being set in stone.
Above all it would open the door to the possibility of the Rugby World Cup being hosted in the Southern Hemipshere in both 2023 and 2027. With the IRB having said that
2023 is too soon for the USA to host
the new markets that exist are clearly Argentina and Italy given that a Rugby World Cup in Canada would be a joined effort with the USA. In addition to both Argentina and Italy being able to sell out matches in a range of stadiums and both participating in important Tier One competitions both are also yet to host a Rugby World Cup and certainly have as strong of a case as Australia.
The IRB will soon decide whether or not both Argentina and Italy are awarded two votes each on the IRB Council to be regarded as officially being equals with Australia, England, France, Ireland, New Zealand, Scotland, South Africa and Wales. The likely change that will, indeed, see Argentina and Italy have equal power on the IRB Council as the remaining Tier One unions, will make it harder for previous hosts to host a second or, in the case of Australia, a third Rugby World Cup.