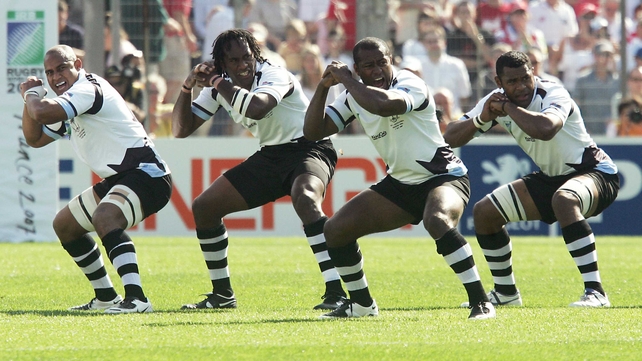 New Zealand has not played in Fiji since before the first Rugby World Cup
One of the most concerning issues facing the IRB is the Pacific Islands. The nations of Fiji, Samoa and Tonga are vital components of the global game but lack the infrastructure to be self sustainable in the professional era. This has seen significant resources poored into all three unions which has, in turn, allowed them to achieve notable on field results against Tier One opposition. Indeed in November 2012
Samoa defeated Wales
at the Millennium Stadium and Tonga backed up its Rugby World Cup 2011
win over France
in Wellington with a
win against Scotland
in the Northern Scottish city of Aberdeen. Samoa had also gotten in a
great win over Australia
in 2011. These results were highly notable with Samoa getting a better Rugby World Cup 2015 draw than Wales as a result. It means Wales´s chances of making the Quarter Finals have not been so tough since 1995 when Wales faced New Zealand, Ireland and Japan in a pool. In 2007 with an easier task of getting three wins against Australia, Canada, Japan and Fiji the Dragons came unstuck as
Fiji won one of the greatest matches of all time
.
All these results had something in common with Argentina - they were against sides who are run on much larger budgets and have teams playing at the elite level in professional leagues. Like Argentina the Pacific Island teams leading players were exposed to professional rugby mainly through the European club game. The players who stared in the win over Wales in 2007 were overwhelmingly contracted to European or Japanese clubs. Chances for Pacific Islanders in Super Rugby are limited as the three SANZAR unions have made no secret of them viewing the places as being reserved for players elligible to play international rugby for their respective teams and thus having limited chances available to players from the Pacific Islands. As such none of the teams that won the above mentioned matches had lists of players contracted to Super Rugby teams.
With the regions powerful Tier One nations giving very few contracts out to non-eligible players Pacific Island test match players have instead been plying their trade in Europe and Japan. It is part of a policy from the Oceania giants of Australia and New Zealand that has coincided with decades of neglect as self interest has seen matches against Fiji, Samoa and Tonga cut off the agenda. Despite geography Fiji, Samoa and Tonga have never hosted an official test match against either Australia or New Zealand ever. Instead all five official tests between Fiji and New Zealand have been played in New Zealand with the 1987 match taking place during the World Cup and the four other games having been in 1997, 2002, 2005 and 2011. The two latter of the four matches were all added to New Zealand´s schedule due to the NZRU being unable to secure a different opponent. The 2005 match was a pre-British and Irish Lions test while the 2011 match was to raise money for Christchurch´s earthquake recovery.
Against Tonga and Samoa the record does not make for much better reading. Of the three All Blacks v Tonga matches three have been in World Cup´s and the fourth in New Zealand. The All Blacks have faced Samoa on five occassions, with all five being in New Zealand. The first was
at Eden Park in 1993
while the most recent test was
in New Plymouth in 2008
and played outside of the IRB international window which meant Samoa could not field most of its leading players. The result was the biggest loss in the history of Samoan rugby but the real question needing to be asked was never answered. That being how could it have been allowed to go ahead? The answer is that with such little opportunities Samoa was in no position to say no to the match. It accepted it knowing that it was played at the wrong time of the year and that it may be the final chance for a long time. Just how long it would be was not known but New Zealand made it clear that
it will not be playing against Fiji, Samoa or Tonga at all before 2019
. Australia will not either and, like New Zealand, it does not have a track record of playing tests in the Pacific Islands.
There have been many heated discussions on social media surrounding the issue of the Pacific Islanders being unable to secure home test matches against Australia and New Zealand. At the heart of the issue is firstly a belief that the Pacific Islanders can make more money by transfering matches to Australia and New Zealand and secondly that the Pacific Islands do not have the facilities to host such a match. Neither argument, however is sufficient. New Zealand´s hosting of Fiji in 2002 and Samoa v Scotland in 2004 attracted crowds that neither Pacific Island union was satisfied with. Neither match was a sell out in Wellington and following both matches neither union subsequently acted to play a home match in New Zealand. Moreover both
Fiji
and
Samoa would host Scotland
in 2012 and Wales has also
confirmed a tour
of the Pacific Islands in 2017. Quite clearly it is an outrage that Scotland and Wales can play in Fiji and Samoa while Australia and New Zealand cannot.
2013 makes the 100th anniversary of Fijian rugby and to mark the occassion Fiji wrote to the NZRU and others in August 2012.
The NZRU rejected the offer
on the grounds that it could not be fit into the All Blacks´ busy schedule. Such is the controversy of New Zealand´s refusal to face Fiji on its 100th birthday that the NZRU turned it down yet scheduled
an extra test match outside of the Rugby Championship against Australia
in October. Put differently the NZRU claims it cannot find the time to face Fiji but it can play Australia three times in the same year? The pulling power of Australia is superior to that of Fiji but with New Zealand´s sacred All Blacks jersey now having the stamp of USA company AIG on the front there is extra revenue coming in that surely makes it possible for New Zealand to do the right thing and finally play a test match in Fiji.
The international calendar does not help. The match must be played in June because it is at this time that Fiji can be assured of having access to its foreign based players. New Zealand has three home tests against France on June 8, 15 and 22 while Fiji has matches in the Pacific Nations Cup on these same weekends. There is, however, still the weekend of June 29 to consider. Neither Fiji nor New Zealand will play a match which means Fiji would have been able to host a test against New Zealand. It did not eventuate as instead Fiji´s rugby birthday will be against a team titled the Classic All Blacks on June 12. There will be All Blacks involved but not current ones. Instead the flyhalf position will be taken by 37 year old Carlos Spencer who last played a test in 2004 while the 39 year old Justin Marshall has been named as the scrumhalf.
The entire situation can be well summed up by saying it has been badly handled by the NZRU. A full strength All Blacks side would ease to victory but a match against a side similar to the one New Zealand fielded to face
Italy in Rome last November
may well make for a better match. Indeed, the Pumas teams that have faced Brazil, Chile and Uruguay in the South American Championshion have been far from being the best possible sides. Instead Argentina uses the tournament to blood players due to the gulf between Argentina and its neighbors being so large. Many players go on to play for the senior side and hold down starting positions. None of Beauden Barrett, Sam Cane, Aaron Cruden, Charlie Faumuina, Hosea Gear and Ali Williams were first choice at the time but all started against Italy. Why then could a similar match not be played on June 29 in Suva this year?
A flight from Buenos Aires to Santiago is comparable to one from Auckland to Nadi. Despite Argentina having a lower budget than New Zealand rugby the UAR has nonetheless shown great leadership by playing official test matches against Chile on
fifteen occassions in the Republic of Chile
. There have also been plenty more tests as Argentina has faced Chile on a total of
thirty-five occassions
. Chile has, nonetheless, never qualified for a Rugby World Cup unlike Fiji which is a two-time Quarter Finalist and has impressive scalps such as wins over respectable opposition including Argentina, Canada, Japan and Wales. If only Fiji was a South American country then it could host a reputable neighboring country to celebrate its centenary.