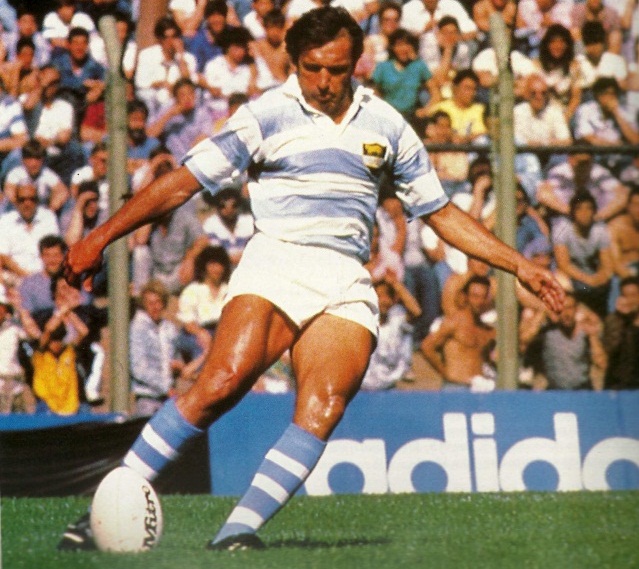 IRB Hall of Famer
Hugo Porta
After failing to impress in the first ever Rugby World Cup in May and June 1987 Argentina next played in August with a one-off home test against Spain in Mar del Plata. The South Americans won the match 40-12 in August and would then host a two-test tour against Australia to end the year. Both tests were played in Buenos Aires and despite failing to have made it out of its pool, Argentina drew the first test 19-19 against the Semi Finalist Wallabies. This set up a winner-takes-all second test seen days later. The starting lineup was one for the ages with IRB Hall of Famer, Hugo Porta playing flyhalf and being partnered by two players who would go on to be notable coaches in the centres - Marcelo Loffreda at inside centre and Fabian Turnes at outside centre. The Australian team was one packed with big name players. The side was captained by 1991 World Cup winner Michael Lynagh who played outside the winning captain from 1991, Nick Farr-Jones.
The 27-19 Argentine victory was played in front of a passionate crowd who went crazy when Cristian Mendy scored in the final minute to seal the victory. There was time for the conversion which was landed by Hugo Porta who celebrated the win with his colleagues to the delight of the 45,000 supporters. In wnning the match Argentina won the series, a phenomenal achievement considering Australia´s achievements in the years before and after 1987. The match would go down in history for being the final occassion in which Porta would win a test match. The two teams will meet again twice in 2013 in The Rugby Championship. The matches are to be played in Perth and Rosario.

The following video shows the final minutes play of the match. Not only does it show the try and conversion but it shows the crowds result and the television coverage features Australian commentators who are full of praise for the achievements of Los Pumas.