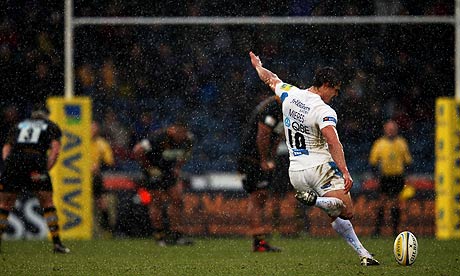 Photo: The Guardian
The Leicester Tigers sent a massive warning to Argentine players - it is either play club rugby for us or play in The Rugby Championship. It saw their player of the year, Horacio Agulla, leave to join rivals Bath. Racing Métro made similar complaints but went on to resign Juan Imhoff and Juan Martín Hernández. Two other French clubs that have emerged in opposition to the non-availability of players during The Rugby Championship are Biarritz and now Montpellier. Biarritz offered a new contract to Eusebio Guiñazú on the condition that he missed The Rugby Championship. Like Agulla, he declined. More recently the club has decided against resigning Marcelo Bosch while Montpellier is looking for alternatives to some of its six Pumas players. Earlier today one of them,
Agustín Creevy was confirmed
to have left the club for Worcester while others are expected to follow.
Creevy is the second Puma to be signed by Worcester for next season and soon after the club confirmed his arrival it confirmed the signature of another Pumas - Ignacio Mieres. The 25 year old will join the Warriors from the Exeter Chiefs, the club he has played for since 2010. While at Exeter Mieres has seen his profile increase and it has attracted the interest of Santiago Phelan who started him against Italy and France in June 2012. He missed The Rugby Championship due to Argentina´s long list of flyhalves and flyhalves who can play out of position including Marcelo Bosch, Santiago Fernández, Juan Martín Hernández, and Nicolás Sánchez. All are likely to play in the 2013 Rugby Championship which implies that Mieres will again be in the frame to represent Argentina in June against England and Georgia.
Mieres´s move will see him play for his fifth club after previously playing for the Exeter Chiefs, Stade Français, Perpignan and the Leicester Tigers. He had his greatest success at Exeter with whom he has played 51 games, scoring 395 points. His move is an effort to get more game time after Ireland´s Gareth Steenson has taken over Mieres as the clubs starting flyhalf this season. Mieres wil see out the season with Exeter before moving to Worcester for the 2013-2014 season. It could see him recieve more opportunities for Los Pumas. He has represented Argentina on six occassions, scoring 32 points.