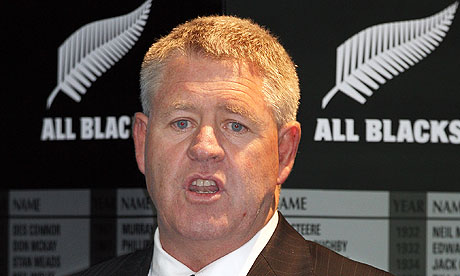 Photo: The Guardian

NZRU CEO Steve Tew
Comments made from the head of the most successful rugby union on the planet should come as grave concern to rugby fans. The NZRU CEO has made it clear that New Zealand has no intention of facing Fiji, Samoa or Tonga at any time in the next seven years. This means that the tradition of the All Blacks being the regional powerhouse in the South Pacific but never playing test rugby in the Pacific Islands will continue. The added money available to the union through the multi-million dollar deal with AIG will not see New Zealand take the historical move to play a test match in Fiji, Samoa or Tonga. It is understandable from an economic standpoint as test rugby in these countries cannot guarantee revenue at all. In fact tests there are likely to operate on a loss, unlike tests against other competitive teams. But it nevertheless brings about a question that needs to be asked - Does the IRB lack the means to actively encourage New Zealand (and Australia) to play away matches in Fiji, Samoa and Tonga

?
New Zealand´s recent tour of Europe featured matches in Italy, Wales and Scotland - three teams ranked lower than Samoa. This raises another question - a

re the IRB World Rankings to be taken seriously

?

No doubt the answer is yes but how can nations grow without opportunities

? Samoa´s win over Wales last month was a reminder of what is at stake for the global game should the authorities not find a way to encourage growth and award achievements. It took Argentina finishing third in Rugby World Cup 2007 for it to recieve an invitation into The Rugby Championship. Samoa, it seems, will only be added by achieving the same or better at Rugby World Cup 2015. It is a tough ask and an unnecessary one. Samoa´s future, or not, participation in a Tier One competition can be realized by having more tests against Tier One nations in June and November Internationals. Samoa should be hosting matches in June but, sadly for Samoa, Steve Tew has prevented the possibility.
As it stands Samoa´s 2012 June test against Scotland looms as the only home test against a Tier One nation in a decade. The previous match was in 2003 against Ireland with the only other home tests since then being against Fiji, Japan, Papua New Guinea and Tonga. The match against Scotland was highly competitive with Scotland scoring late to win 17-16. Future tours are a must and Wales are confirmed visitors in 2017. Tew was vocal in defending the lack of opportunities for the Pacific Islanders.
"We don't like perceptions that are not a fair reflection of the commitment we've made.
" Tew also shared his, and the NZRU´s view that New Zealand is being a global leader. He said
"One thing that's forgotten in this debate is we were very strong supporters of getting Argentina into the Rugby Championship. That took a lot of arranging and we're now seeing the benefits of that. But we can't fit everything that needs to be done into our diary.
We have a very clear conscience in terms of our commitment to island rugby. We know there's a strong desire for the All Blacks to play there and, look, at some point we may well but it's just very hard right now to know how we could fit that in and realistically make it work commercially.
"
Without question it is a complex problem but central to the role of any leader is how one contributes to the less fortunate. Argentina plays in the South American Championship each year and Japan plays in the Asian Five Nations. These are examples of being a regional leader. In order to be a global one there is a need to firstly be a regional one. Argentina looms as a strong candidate to host Rugby World Cup 2023 and its history of playing rugby against its neighbors is something that others should, arguably, take notice of. The UAR does not make any money off games against Brazil, Chile or Uruguay but the relations between the unions are very strong. New Zealand has certainly had a significant impact on the Pacific Islands with players playing in New Zealand and many New Zealand born players representing all three Island nations. But what does Samoa, in particular need to do to warrant hosting the All Blacks
? The last time the teams faced was in August when Samoa could not get access to virtually all its European based players and as a result it fielded an amateur team and lost by a record score. The same nation is now ranked 7th in the world after climbing the IRB World Rankings due to defeating Tier One teams including Australia and Wales. It won these matches with players available and with the tests being played in June or November.