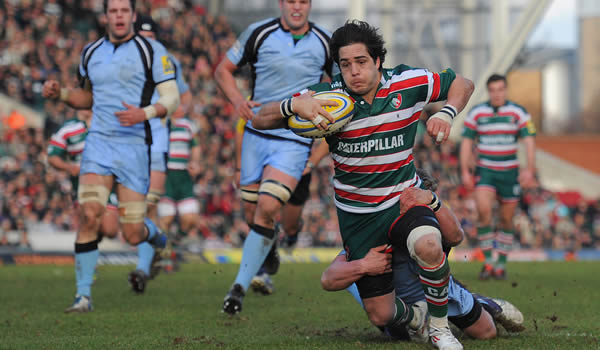 Horacio Agulla scoring for Leicester
The form of Horacio Agulla for the Leicester Tigers last season was quite special. The Argentine international winger scored some outstanding tries for the English club and went on to be named Leicester Tigers Player of the Year. Agulla started for the Tigers throughout his two seasons in the position on right wing. Due to concerns raised from the club managament he was not resigned and instead linked up with rivals Bath. He has also since gone on to be Argentina´s starting left winger throughout The Rugby Championship. He started all six matches and was a solid defender and overall played well. He was not, however, able to score a try and for a winger at international level this is not good enough. Alternatives are needed and in Juan Imhoff Santiago Phelan has a solid option. Imhoff scored two tries, one against Australia and one against Wales. He started the three test tour of Europe in November and enhanced his reputation. The Pumas 11 shirt now appears to be his.
This is good news for Argentina and for Horacio Agulla. What Agulla lacks Imhoff has - lightening speed but Agulla is the much bigger man. He has an appropriate frame to be used as an international outside centre and since May those of us at Rugby World Cup Argentina 2023
have been calling for Agulla to play 13
. Argentina have had Gonzalo Tiesi as the only specialist outside centre for quite some time. When he was forced out of Rugby World Cup 2011 Marcelo Bosch took over and impressed. Bosch is a flyhalf who has been used in other positions by Biarritz and this caught the attention of Phelan and it worked to good effect. But with a similar built player playing inside centre in the form of Santiago Fernández, Martín Rodríguez Gurruchaga or even Juan Martín Hernández Argentina do not have a balanced attacking platform in the midfield. Agulla replaced Hernández in Cardiff in June and played outsie centre impressively. He was used to gain metres by running at players rather than being a passer or trying to run around players. Agulla does not have the size of Jamie Roberts but he does have the style and this weekend´s match against his former club is key to the potential beginning of Horacio Agulla in the 13 shirt at Rugby World Cup 2015.