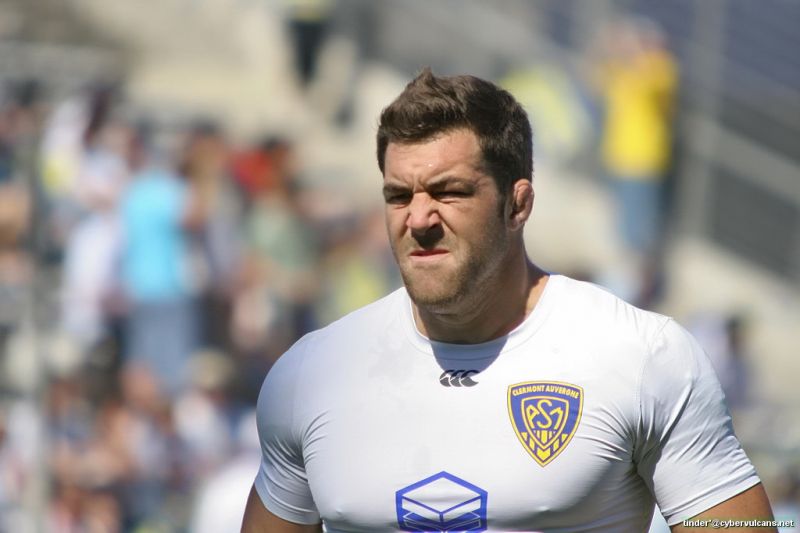 Canada & Clermont´s Jamie Cudmore
After seven rounds of Top 14 action there are a number of surprizes in the performances of teams. Grenoble is proving to be competitive and is in the Top 6. Conversely 2007 Champions, Stade Français Paris are one point outside of the relegation zone and 2009 Champions, Perpignan are similarly struggling. The leading three teams are looking significantly better than the rest with Toulon, Clermont and Toulouse having already opened up a gap over the remaining clubs. Round seven featured players from the Americas. There were international players from Argentina, Canada, Uruguay and the United States of America.
Clermont 28-25 Stade Français Paris
Clermont just avoided a rare home defeat due to some late magic from Brock James. Canada´s Jamie Cudmore started in the secondrow for Clermont and USA backrower Scott LaValla started for Paris. No Pumas featured in the match. Felipe Contepomi was in La Plata watching the test match. Martín Rodríguez Gurruchaga was on the bench.
Perpignan 15-6 Mont de Marsan
Perpignan need reinforcements while Mont de Marsan´s lack of off-season signings has seen the team unable to win so far in the Top 14.
Agen 19-15 Bordeaux-Begles
An important win for Agen changes the Top 14 standings dramatically and puts pressure on Bordeaux-Begles. Pumas secondrower
Esteban Lozada
started for Agen while winger
Belisario Agulla
came off the bench in the 67th minute. Rafael Carballo is back with Bordeaux-Begles after being released from the Pumas squad. He did not feature v Agen.
Montpellier 19-12 Castres
Even without five Pumas, Montpellier managed the win. The club welcomed back Maximilano Bustos from Pumas duty and he came on as a replacement in the 55th minute. Fellow Argentine frontrower, Nahuel Lobo made his Top 14 debut starting at loosehead prop for Montpellier. Uruguayan international forward Rodrigo Capó Ortega started in the secondrow for Castres.
Grenoble 27-13 Racing Métro
An unthinkable result happened in the Alps as last seasons Pro d2 champions toppled powerhouses, Racing Métro. Racing Métro was without a number of players including four on Argentine duty. The Argentine-Italian Santiago Dellapé started in the secondrow for Racing Métro while Joaquin Tuculet came on in the 53rd minute for Grenoble.
Top of the table Toulon were smashed at Le Stadium in Toulouse as the reigning champions were far too strong for a Toulon side that was experimental. No Pumas players featured in this match due to Argentina´s involvement in The Rugby Championship.
The Basque battle was played in Spain and was another success story. Biaritz´s good early season form was not present however as strugglers Bayonne managed to win. Pumas prop Francisco Goméz Kodela came off the bench in the 37th minute while USA Eagles winger Taku Ngwenya entered in the 54th minute. Marcelo Bosch missed out due to the match in La Plata.
7 Racing Métro 18
8 Castres 16
9 Perpignan 15
10 Agen 14
11 Bayonne 11
12 Paris 11
Clermont v Stade Français