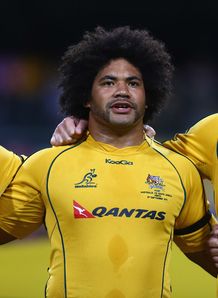 Tatafu Polota-Nau created
the Wallabies match
winning try in the Gold
Coast, even though Nick
Phipps is credited with
the assist.
Argentina were leading 19-13 in Gold Coast with 12 minutes to go when Digby Ioane scored what turned out to be the match winning try for the Wallabies.
Something that has not had much of a mention in the press since that match was the legality of that try. Although the stats show that the Aussie scrum half Nick Phipps is credited with an assist, on closer inspection (with analysis from Will Greenwood) the Australian hooker Tatafu Polota-Nau appears to grab the Argentine centre Marcelo Bosch's leg in the ruck preventing him from getting up and making the tackle on scrum half Nick Phipps. So the assist for the try should really be credited to Tatafu Polota-Nau.
This should have been a penalty to the Pumas for obstruction but it was not seen by the touch judge Nigel Owens who allowed the try. Of course, the Pumas had their own bit of luck in the match with a toe in touch not being spotted as they set up a try for Julio Farías Cabello.
But if this sneaky piece of cheating had been spotted then in all likelihood, the Pumas would have won the match. But then some say it is just part of the game and it's fine if you get away with it.
In reality though, given the lead the Pumas had they should have won this game anyway. With better goal kicking they would have won, and they probably could have stopped this try despite Bosch being obstructed. However is Bosch wasn't obstructed there would have been no way this would have been a try.
Although the Pumas finished their first Rugby Championship campaign winless, they had great opportunities for two wins. But they will be kicking themselves for missed chances such as the goal kicking from Rodríguez and Hernández, the missed drop goal by Fernández and also be frustrated by this foul play not being spotted which cost them the match.