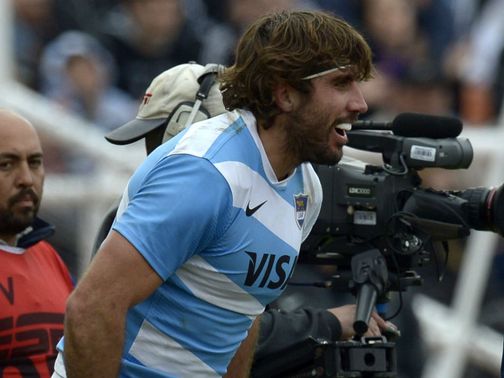 Juan Martín Fernández Lobbe - 9 (Pumas player of the tournament)
Had phenomenal work rate for the entire tournament, and was the Pumas best player. Despite only recently coming back from a long term injury, he didn't look to be off the pace at all. He was a vital component of so much of the Pumas play, lineout, tackling, rucking, ball carrying he did it all. Alongside Kieran Read and Sergio Parisse he cemented himself as one of the top number 8's in world rugby.
Juan Imhoff - 8
The fact he made only 3 substitute appearances in the tournament was absurd selection by Phelan. In those three bench appearances he helped set up a try for Farías Cabello (although had a little luck) in Gold Coast and scored one showing good strength to score in his home town of Rosario. That is more impact than some of the other Pumas backline players had the entire tournament. His impact was not a surprise to those who have watched him play over the past years, but Phelan didn't want the most prolific try scoring Argentine in the side, and it even took until later in the tournament to be even used of the bench, that despite him scoring twice against Stade Français in the warm up matches. The only negative from him was a missed tackle against Australia in the Gold Coast for a try that shouldn't have been allowed. Surely Phelan has to realise that Imhoff must start in November as Argentina's most potent winger and leaving him out is like a football team playing without a striker.
Rodrigo Roncero - 8
Was sensibly persuaded to keep going for this tournament after initially planning to retire after the June matches. Roncero improved in lowering his high penalty count which has been a notable weakness in his game these past couple of years, and put in some very handy performances in the early tournament. However he tired later on, and wasn't so effective in the last couple of matches and didn't get the dominance in the scrum against the Wallabies that Roncero in his prime would have got. He now hands over to Marcos Ayerza who was underused in this tournament.
Patricio Albacete - 7
Along with Fernández Lobbe was a large part of the rescuing of the Pumas lineout which was a mess without them in June. Albacete was as per usual good in off the ball areas such as tackles, rucks, maul and scrums, and he is so consistent in these areas. However despite his strong lineout, rucking and tackling stats he had an rare off match in Rosario, conceding 4 penalties against Australia and a yellow card.
Gonzalo Camacho - 7
Outplayed his wing partner Agulla throughout the tournament and had a decent tournament. Defensively he is one of the best for a winger, and in attack he managed to wriggle metres here and there and had a good work rate but although he works hard he lacks that spark of magic which can change a game, and generally didn't scare opposition defences. Also despite his strong defence saving tries on a couple of ocaissions, he was also at fault for tries in matches against New Zealand and South Africa.
Manuel Carizza - 7
A player who despite not standing out, will never let the side down. Carizza does a lot of the donkey work for this side, and although not the most visible member of the side he is a key part of it. A strong part of Carizza's game is his tackling, and he made some solid hits throughout the tournament. His fitness should also be praised as he was an 80 minute player for most of the tournament and unlike some other Pumas didn't fade so much.
Juan Figallo - 7
A player who I felt didn't really get the praise he deserved in this tournament, the media focused a lot more on the established Roncero and praised him, but Figallo largely went unnoticed. But despite lack of praise, Figallo continued on his good World Cup and looks set to be the a mainstay of the Pumas pack for many years to come. A complete prop, he is very capable in both scrum and around the field, it was his offload which set up Fernández for the Pumas first try in the tournament. And his value in the scrum was shown when he went off against New Zealand and it struggled.
Eusebio Guiñazu - 7
The versatile front rower was absolutely terrible in the June matches, the lineout and scrum both not functioning well. But after coming in for the injured Agustín Creevy he upped his game for this tournament compared to those performances and the lineout was solid throughout the tournament and he even went on a good run in the set up of the try against South Africa and kept his place when Creevy returned. Although an improvement on his previous performances for the Pumas, he was not remarkable though (with the exception of that run) and doesn't have the work rate and offer as much as Creevy around the pitch. Creevy should take over in November, but Guiñazu looks an okay option for reserve hooker.
Tomás Leonardi - 7
Tended to come on around 50 minutes throughout the tournament and nearly always made a positive impact and brought more energy to the pitch than some other back rowers such as Galindo, the highlight of his tournament was against Australia where he charged down Quade Cooper to score. He has done enough to ensure that he will get more opportunities in the future.
Nicolás Sanchez - 7
Despite missing most of his first season with Bordeaux due to injury, Sanchez was preferred to Ignacio Mieres who guided Exeter to reach their first Heineken Cup campaign last season. But for an inexperienced player with little rugby behind his back, Sanchez was surprisingly good. He did not melt under the pressure in Mendoza at all and was an assured presence at fly half as the Pumas came close to their first win against South Africa. He also impressed after coming on against Australia in the last match. It will be interesting to see how he progresses over the season in the Top 14. Bafflingly he didn't goal kick for the Pumas in the tournament, surprising given some of the other kickers were hardly very convincing, and Sanchez helped kick the Pampas XV to Vodacom Cup glory last year and also got a 100% kicking record including some hard kicks when he played the French Barbarians last year.
Marcelo Bosch - 6
His kick being charged down ultimately cost the Pumas their first win over South Africa so he loses a mark for that, but other than that he was reliable for Argentina and his performances were satisfactory. His covering defence was impressive, and whilst he didn't offer an awful lot in attack he offered more than his centre partner Fernández. His performances for the Pumas was generally better than how he played for Biarritz last season.
Julio Farías Cabello - 6
The 34 year old flanker had a decent World Cup for the Pumas, and although there were concerns about whether he would be able to keep up with the pace of the Championship he by and large did a decent job he can be satisfied with.
Martín Landajo - 6
Brings a lot more energy to the side than Vergallo for sure, and the nippy scrum half was more dangerous in attack. However like Vergallo's game is not rounded and he lacks in attack, Landajo lacks in other areas, his tackling needs to improve and also some game management. For the future, young Argentina Jaguars captain Tomás Cubelli offers a more rounded game than either the other scrum halves and should be selected for the Pumas sooner rather than later.
Lucas González Amorosino - 5
Had a shocker in the opening match which led to him being dropped after just forcing his way into the side after saving Phelan's job at the World Cup and a good consistent season with Montpellier. On his return into the side after Rodríguez was injured he created Argentina's best try of the tournament. He is a very exciting player, you never know what is going to happen when he gets the ball and he is capable of some magic runs and with the risks he takes equally some errors are inevitable. But it is that same unpredictably which is either a good thing or bad thing depending on how you see it, either he is a player capable of magic who should be given patience to the odd error due to that ability or he is unreliable as a full back which is how some other see it.
Santiago Fernández - 5
In defence he fared well, but offers between little and nothing in attack, and too often just shovels the ball aimlessly down the line giving the wingers little space to work with. Phelan's strategy of playing two fly halves in the centres isn't working and hasn't been for some time, alternatives should have been experimented in June and against Stade but the opportunity was ridiculously declined by Phelan.
Juan Martín Hernández - 5
Hernández has probably the game's finest up and under, and a good punt kick. But there are times when sometimes he lacked variety in his attack in this tournament, he didn't have the attacking form of his great year of 2007 where he could make attack the line and make more incisive passes. His defence was barring the second New Zealand match impressive. With Argentina possessing good distributing fly halves such as Ignacio Mieres and Sanchez, there is an argument for Hernández to move to full back where he started his career, there he can still make use of his great up and unders, but a fly half with more variation to keep the opponent guessing can be tried at 10. Hernández's goal kicking also wasn't really up to international standard.
Juan Manuel Leguizamón - 5
Leguizamón had an average time on the field, whilst he was hardly poor, it's hard to argue he played to his best potential which we have seen previously. Whilst in the last match against Australia he was an effective tackler, he had less success earlier in the tournament and missed more tackles than he made in the Pumas thrashing by the All Blacks in Buenos Aires. Curiously he was constantly hauled off reasonably early into the second half throughout the tournament, the longest he played in any match was 52 minutes in all the others he didn't make it past 50 minutes.
Nicolás Vergallo - 5
Was unremarkable in his stints on the pitch, he is the opposite to Landajo and offers a calmer option, but lacks spark and doesn't possess anything really special. He had a good World Cup but hardly played at all for Toulouse last season, so perhaps getting some regular game time with the Southern Kings (if that move goes ahead) will help him get establish a challenge to become first choice again.
Juan Pablo Orlandi - 4
The international level seems to remain just a step above Juan Pablo Orlandi and has done for most of his career. He missed out on World Cup selection behind Martín Scelzo and Maximiliano Bustos, but surprisingly leapfrogged Bustos who seems to have spent a long time in the Pumas squad without being capped. However Orlandi wasn't impressive when he came on, the scrum nearly always weakened with his presence in particular in the first New Zealand match where they dominated that area late on. The stronger scrummaging Maximiliano Bustos should be promoted to reserve tighthead in November in my opinion.
Martín Rodríguez - 4
Rodríguez's best position is clearly centre, Stade Français have realised that, so have others, but clearly not Phelan who continued to play him at full back like he did at the World Cup, despite him playing centre all season for his club. Whilst Rodríguez isn't a bad full back, he offers nothing other than rather average up and unders from there, and isn't effective compared to his form at centre. Rodríguez also could have kicked the Pumas to victory in Mendoza against South Africa, but he proved an unreliable kicker throughout the tournament, something which we already knew from the World Cup.
Horacio Agulla - 3
The rating may seem a bit harsh as he didn't do an awful lot wrong, but it is low because of what we know he is capable of. He was invisible in attack the entire tournament, and in the last match even was conceding penalties. Considering he came into the tournament on the back of his best season of club rugby in his career with Leicester where he was named in the Premiership Dream Team, he was highly disappointing. Questions need to be asked about whether the Pumas coaches did enough to get the best out of him, Leicester managed to get the best out of him but not Argentina. Maybe playing on his less preferred wing also didn't help.
Alvaro Galindo - No mark
Only played for 42 minutes in the first match against South Africa, and didn't really standout before an injury struck and ended his tournament. He should move aside in future for a player like Tomás de la Vega or Tomás Leonardi in the future. He also seems to be injury prone and perhaps wasn't up to full fitness in the first place, which further reinforces why this was a poor selection by Phelan who should have selected the younger more match fit players.
Tomás Vallejos - No mark
Came on for 23 minutes in Buenos Aires against New Zealand but didn't have a chance to make much impact.
Ratings guide:
10 - Legendary performance that will go down in the history books
9 - Outstanding
8 - Great
7 - Good
6 - Solid
5 - Average
4 - Below par
3 - Poor
2 - Abysmal
1 - Shocking