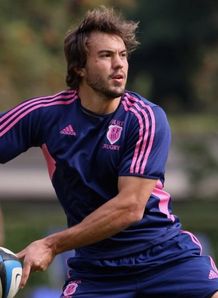 Juan Martín Hernández
Argentina has played six internationals already in 2012 but the true Los Pumas are yet to play. The first three tests were in the South American Championship featuring fringe players and a handful of players from the 34 man senior squad. While the home tests against Italy and France were a combination of players from Los Pampas XV and European based players who are not a part of the squad for The Rugby Championship. All players from these tests who are a part of the senior squad are based in Argentina and not abroad. As such Argentina has, in effect, yet to play a match this year. This will change this coming Saturday with Argentina hosting Stade Français at Vélez Sarsfeld in Buenos Aires.
The match may seem like a thrown away. Just a training run for the players and a comericial stint from the UAR but this could not be further from the truth. For the players rugby is more than just a game. Playing for Argentina is why the players put on their boots and train the endless hours. The opportunities to play for Argentina are not as common as what others recieve. Juan Martín Hernández, for instance has not played for his country since June 2009. Injuries have kept him out of the team but so have limited opportunities given Argentina´ lack of international competition compared to its pairs. He made his international debut two months before New Zealand´ Dan Carter. Both players have missed perfiods due to injury but Carter has played 87 tests for the All Blacks compared to Hernández who has played 32 for Los Pumas. They have faced each other on one occassion - Stade Français vs Perpignan in January 2009.
Hernández played for Stade Français for five years and has played the past two seasons for rivals Racing Métro. Stade Français was his first professional club and helped make him into a rugby super star. The opportunity to play against Stade Français in his country´ colors are not the theme of the warm up in his eyes, however. He told the UAR that
"Its very beautiful to play in the country"
. What matters most to him is the chance of playing in front of home fans, something rarely afforded to him. In fact since 2006 he has only played two home tests in Argentina - vs Italy in 2008 and England in 2009. His other home match during this period was against the French Barbarians in 2009 in a game played at Vélez Sarsfeld the site of this Saturday´ match against his former Top 14 club. He is likely to face Felipe Contepomi this Saturday but, again, the real point of interest in his view is not the encounter now preperation for the clas agaisnt South Africa on August 18 but rather its playing at home.