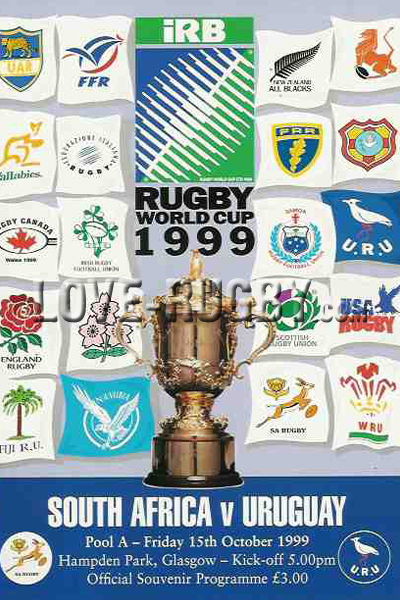 Uruguay´ debut Rugby World Cup appearance in 1999 was successful. The team did not qualify for the knock-out stages of the tournament but it did win a match. Uruguay´ first ever match featured two debutants with Los Teros facing Spain in Galadshiels and winning 27-15. The team then faced the Pool´s host nation, Scotland in Edinburgh and were defeated 43-12.
Having played two matches for one win and a loss, Uruguay´ third and final match at Rugby World Cup 1999 was against the reigning World Champions, South Africa. The Springboks were undefeated in the pool and needed a win or a draw to advance to the Quarter Finals.
The South Americans were unable to score a try but the side did very well in defence compared to a number of other sides in the same tournament. In Pool B Italy had lost 101-03 against New Zealand and Tonga had lost 101-10 against England. Canada had defeated Namibia 72-11 in Pool C and
Wales had beaten Japan 64-15 in Pool D
. These results were similar to what was expected of South Africa against Uruguay. The Africans indeed won the match but the
39-3 score was a reflection of a good performance from Los Teros.
The match was played at Hampden Park in Glasgow. It was the only match of the tournament to be lpayed at the venue. The Springboks scored five tries to zero with Uruguay´ points coming from a penalty goal kicked by Diego Aguirre of Carrasco Polo Club in Montevideo. He went on to play in France for
Union Sportive Tours rugby
in the Fédérale 1 in 2004-2005. He was Uruguay´ leading points scorer with 19 points at Rugby World Cup 1999. He went on to captain Uruguay in Australia 2003.