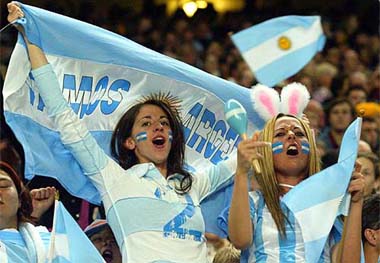 Despite there being no place in the Tier One competitions for Los Pumas, Australia 2003 was the second Rugby World Cup in a row in which Los Pumas played in the first match of the tournament. Four years on from
pushing Wales very far
and coming close to winning at the Millenium Stadium, Argentina were facing the Wallabies at the Olympic Stadium in Sydney. Los Pumas were selected for the encounter ahead of Ireland, Namibia and Romania who were the three other teams in Pool A. Argentina entered the Pool officialy as the number two team behind Australia who were World Cup winners in 1999. Argentina had had no international competition at all aside from friendly internationals every June and November while Australia had played in the Tri Nations and Ireland in the Six Nations every year. Los Pumas, nonetheless, had proven to be a team on the rise in 1999 with a win over the Irish, which saw Ireland eliminated before the Quarter Finals phase and saw the South Americans qualify for the Quarter Finals and face France in the Irish capital of Dublin.
The stadium then known as Lansdown Road was expected to host an Ireland vs France Quarter Final but Argentina had other ideas and left a mark on Irish rugby which started off a great rivalry between the two in the professional era. The team that faced France on October 24, 1999 featured nine players in the starting lineup who would take the field in Sydney to open Rugby World Cup 2003. Returning was Ignacio Corleto at fullback, accompanied by Diego Albanese on the left wing and Agustín Pichot was scrumhalf and by now Argentina´s leader. Roberto Grau and Mario Ledesma started in the frontrow, Ignacio Fernández Lobbe in the secondrow and the same combination of Rolando Martín, Gonzalo Longo and now Pumas coach, Santiago Phelan formed the backrow. There were also young players in the team with Felipe Contepomi having taken over from ace goalkicker, Gonzalo Quesada, a young Patricio Albacete having, in his first season of test rugby earned a starting spot and Juan Martín Hernández, at age 21 on the bench.
Neading Treatment: Ignacio Corleto
Argentina came out all guns blazing, looking to make a mark that could change the fortunes of Argentine rugby on the global scale but it was not to be as the little things did not click and it turned out to harm Argentina badly. Mario Ledesma had a bad night with his lineout throwing and seemed to be unfairly called on some occassions for not throwing straight by New Zealand referee, Paul Honiss. Felipe Contpeomi was not able to take his goalkicking opportunities unlike his Wallaby counterpart, Elton Flatley. The loss was a big won, by a whopping 16 points as Australia started the tournament with a 24-8 victory. It was a fair result with the Wallabies team at the time being far more complete than Los Pumas who, in 2003, were lacking the ability to do much more than play 10 man rugby. It was known, however, and Headcoach Marcelo Loffreda was attempting to change this by having Felipe Contepomi play flyhalf in place of Gonzalo Quesada.
Australia, in winning, scored two tries to one. Australia were well out in front midway through the secondhalf and it looked like being game over before Argentina scored a quality try with fullback, Ignacio Corleto scoring in the left corner. His try came after he had returned to the field bandaged up after having been cut open. The games first try came in the first half with Australia´ massive winger, Wendall Sailor using his size and speed to score in the right corner. The games third and final try came from Joe Roff who scored the perfect reply to Corleto´ try to shit out the match.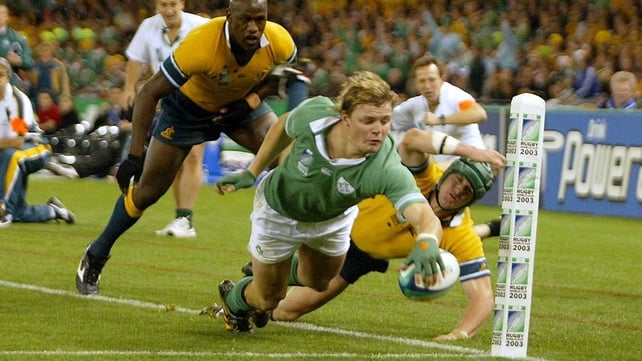 Brian O´Driscoll scores for Ireland in
Pool A, six Days after Argentina´s
final Pool Game
The tournament went down in history as the most poorly organized event with Australian Rugby CEO,
John O´Neill
setting up a fixtures list which virtually destroyed the chances of Argentina and Italy of advancing to the Quarter Finals as both sides, remarkably, had played all four Pool matches with one week of Pool play still remaining. Australia vs Ireland occured six days after Los Pumas had been eliminated from the tournament, yet it was a Pool match not a Quarter Final. England had not even played its third match but Argentina had been eliminated. The John O´Neill led administration was looking to tap into Melbourne. The city, which is the home of Australian Rules football hosted an International Rules series match between Australia and Ireland on the same weekend as the Australia vs Ireland World Cup match and in the same city. The intention being for fans attending the International Rules Match to make it a double event to ensure a packed stadium for Australia´ home World Cup match in Melbourne.
The scheduling of the rugby match proved to be terrible for the World Cup as in chasing maximum profits it forced a series of poor decisions in scheduling the World Cup dates. Argentina were big loses in this as were Italy who faced Wales and were eliminated from the tournament eight days before Wales faced New Zealand in the final pool match of the World Cup.
At the time Italian coach and former World Cup winning All Black,
John Kirwan was highly critical of the draw
suggesting that it unfairly advantaged the wrong teams rather than serving to help bridge the gap between the world powers and all others.
The IRB latter admitted to having green lighted an unfair draw
. It was too little too late as Australia 2003 remains the worst World Cup of all time with no upsets at all in the 40 Pool matches. In contrast Tonga, with sufficient preperation defeated France in 2011 just like Fiji did to Wales in 2007, Samoa did vs Wales in 1999 and Argentina against France in 2007. Indeed two of the teams in Pool D alongside Wales and New Zealand had to play their four matches in just 14 days. This all but destroyed the Pool, preventing it from reaching any such heights as it should have, in theory been highly competitive with Canada, Italy, Tonga and Wales all having genuine reasons to believe they could qualify second, behind New Zealand.
Thankfully for the sake of the sport of rugby both France and New Zealand did far better jobs in organizing Rugby World Cup 2007 and 2011. Argentina´s unfair treatment in 2003 provided extra motivation for Los Pumas to stand and deliver in Paris on that famous evening of September 07, 2007. The win at the Stade de France has proven to be the turning point in Argentine rugby as it was a massive wake up call to the global rugby order. Argentina cuold no longer be shelved aside.