After waiting for the greater part of a decade it is almost upon us. Los Pumas´ long awaited debut in the Southern Hemiphere´s premier rugby event, The Rugby Championship is now about to enter its final stages of preperation. While Argentina defeated Australia in Buenos Aires in 1997 and made the Quarter Finals of Rugby World Cup 1999 it was Argentina´s results in 2004 and 2005 which really counted. Home wins over France in 2002 and 2003 were largely ignored as were away wins over Scotland and Wales in 2001. Argentina´s win in Marseilles vs France in 2004 was the start of real change and was followed by a draw vs the British and Irish Lions in 2005 as well as a win over England in London in 2006. At this time the global rugby public tended to agree that Argentina could no longer be cast aside. It, however, took Los Pumas´ bronze medal winning performance at Rugby World Cup 2007 to make the difference and actually be invited into an expanded Tri Nations competition.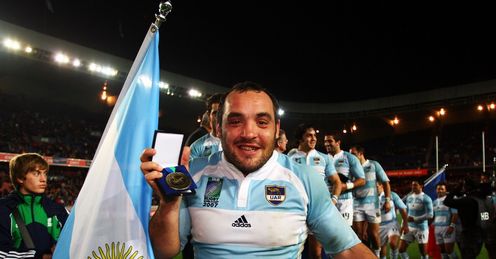 Rodrigo Roncero to go out in style
When Argentina debut vs South Africa in Cape Town it will have virtually been five years since Los Pumas gave the rugby world the biggest wakeup call, possibly of all time, in defeating hosts France to open Rugby World Cup 2007. So much time has passed that of the twenty-two players representing Argentina at the Stade de France that evening only six players have been named in Santiago Phelan´ thirty-three man squad to travel to Pensacola, Florida, USA this coming Sunday. The survivors are Horacio Agulla, Patricio Albacete, Juan Martín Hernández, Juan Fernández Lobbe, Juan Leguizamón and Rodrigo Roncero. The squad features one other player from Rugby World Cup 2007, Marcos Ayerza who has been kept on the Pumas bench for most of his test career due to Roncero holding down the tighthead prop position permanently. The inclusion of Roncero, now aged 35, is not down to letting him end his career playing in The Rugby Championship. No doubt, he deserves it but, rather, he has simply been selected as he still has it in him as he showed for Stade Français this past season and for Argentina vs Italy earlier this month.
Secondrower Patricio Albacete
Roncero and Ayerza head the front row selections with
long time serving Pumas tighthead prop, Martín Scelzo having retired from international duty. He was replaced in 2011 by Juan Figallo who went on to be a key player at Rugby World Cup 2011, winning the award for being
the best player in Pool B
. There is a return for Racing Métro prop, Juan Orlandi and also a place for the uncapped Maximilano Bustos who went ot New Zealand 2011 but recieved no game time. The three other frontrowers in the thirty-three man squad are all hookers - Agustín Creevy, Bruno Postiglioni and Eusebio Guiñazú. The latter of the two are also props with one of them set to be Creevy´ deputy in The Rugby Championship and the other likely to miss out on selection when the squad is cut to thirty players. Patricio Albacete leads the secondrow and is line to quite likely lead the team with either him or Juan Fernández Lobbe to be given the honor. Albacete is joiend by Manuel Carizza and Tomás Vallejos as the specialist secondrowers while Julio Farías Cabello has been selected for both the second and backrow positions. Joining Fernández Lobbe and Farías Cabello in the backrow are four players - Juan Leguizamón, Tomás De La Vega, Tomás Leonardí and Leonardo Senatore. Leguizamón and Senatore featured in the World Cup Quarter Final vs New Zealand.
Hernández is ready to fire
A fully fit Juan Martín Hernández leads the backs in what is a very exciting time for global rugby fans following his long term injury problems which have kept him out nof international rugby since June 2009. Now, however, he is back and 100%. he will be joined by Santiago Fernández and Nicolás Sánchez as the specialist flyhalves with Exeter´ Ignacio Mieres having missed out on selection. Four scrumhalves have been named with Nicolás Vergallo to be joined by Agustín Figuerola of Brive and Argentina´two promising young scrumhalves from Los Pampas XV, Tomás Cubelli and Martín Landajo. Lucas González Amorosino and Martín Rodríguez Gurruchaga are the specilist fullbacks, with Rodríguez Gurruchaga wuite likely to play in the centres. He is one of two players who appears set to be converted into a centre to join Marcelo Bosch as the squads players for the 13 shirt. The two others being Horacio Agulla and Rafael Carballo. The three remaining squad members are speicialist wingers - Martín Bustos Moyano, Juan Imhoff and Gonzalo Camacho. All have come off superb seasons in Europe with no clear indication of who will start. Bustos Moyano is Argentina´ best goalkicker.
The team, featuring 15 backs and 18 forwards, will travel to the United States of America on July 1 to train for two weeks at the state of the art facilities in Pensacola, Florida. Thirty of the players will go on July 1 with Patricio Albacete and Juan Fernández Lobbe leaving seven days latter as they are still on vacations due to their participation in the Top 14 Semi Finals in France. Similarly, Rodrigo Roncero will join the greater squad several days latter. Upon returning, Los Pumas will train in Buenos Aires at the San Isidro Club. where the team will prepare not only for The Rugby Championship but also two warmup matches against Stade Français at yet to be confirmed locations. The matches will take place on August 4 and 10.
| | | | |
| --- | --- | --- | --- |
| | | | |
| | | | |
| | | | |
| | | | |
| | | | |
| | | | |
| | | | |
| | | | |
| | | | |
| | | | |
| | | | |
| | | | |
| | | | |
| | | | |
| | | | |
| | | | |
| | | | |
| | | | |
| | | | |
| | | | |
| | | | |
| | | | |
| | | | |
| | | | |
| | | | |
| | | | |
| | | | |
| | | | |
| | | | |
| | | | |
| | | | |
| | | | |
| | | | |
| | | | |