While Rodrigo Roncero ahs been terrorizing scrums in the French Top 14 for years Marcos Ayerza has been doing similar things in England´s Aviva Premiership. A player of the callibre of Roncero is not easy to replace but in the case of Marcos Ayerza, the man they call Toro (Bull) is an excellent alternative. Ayerza has been a Puma for a long, long time having made bit debut in 2004 vs South Africa as a 21 year old. He emerged as a player to replace the old guard of Roberto Grau and Mauricio Reggiardo who left international rugby following Rugby World Cup 2003. Roncero became Argentina´s leading loosehead prop with Ayerza his replacement while Omar Hasan and Martín Scelzo were the two leading players for the tighthead position. Coach Marcelo Loffreda maintained it this way and selected these four props and Santiago González Bonorino for Rugby World Cup 2007.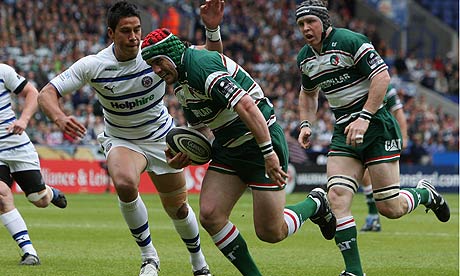 Ayerza for Leicester
While it has been hard for Ayerza to break into the starting XV he has constantly been an outstanding player for the Leicester Tigers in England. He joined the club in 2006 and is a three time champion having won the English championship in 2007, 2009 and 2010. Such has been the importance of Ayerza for Leicester that he has played 150 matches for the club, having picked up his 150th appearance in the final round of the regular season on May 5th vs Bath at Welford Road. Ayerza has not only played plenty of rugby but has dominated the tighthead position, having started in 125 of his 150 appearances for what is the most successful club in the history of English rugby. He has been recognized as one of the best around winning nominations and official awards such as being included in the 2009 Sky Sports Dream Teat for being the best loosehead prop in England. The club also wants a lot more from Ayerza and signed him on a new deal earlier this season with will see him playing for the Leicester Tigers until Rugby World Cup 2015.
Ayerza vs Georgia, RWC 2011
Since debuting in 2004, Ayerza has played 34 tests for Argentina with 15 being in the starting lineup and 19 as a replacement, due to Rodrigo Roncero´s long term hold on the position fo tighthead prop. It is, however, misleading to say that he has been surplus to requirements. Ayerza started in some key wins for Argentina, including the history making 25-18
win over England at Twickenham in 2006
and Argentina´s win vs England three years latter
in Salta
. The two matches showcase his attributes as he started in his normal position of loosehead prop in the 2006 match while in 2009 he started at tighthead. Ayerza has also started in wins against Chile, Ireland, Italy Japan, Scotland and Uruguay as well as having started vs Georgia in Rugby World Cup 2007 and again in 2011. During his career as a Puma he has scored one test try, vs Japan in 2005.
Ayerza is going to be a key player for Argentina in The Rugby Championship and is set to form a new look frontrow alongside hooker Agustín Creevy and tighthead prop Juan Figallo. Both players, like Ayerza, are having solid seasons. The trio could very well be the same combination to take on the world at Rugby World Cup 2015 in England. With over three years of international competition between now and then they will be able to combine their individual talents to work together. As such they have a long time and could certainly be the best frontrow going into England 2015. It all starts in less than a month from now with Argentina taking on Italy in San Juan. Ayerza is certain to be Argentina´s starting loosehead prop this season and could, indeed, be a star performer in The Rugby Championship.
Week Eight: Rodrigo Roncero
Week Nine: Gonzalo Camacho
Week Ten: Patricio Albacete
Week Eleven: Horacio Agulla
Week Twelve: Juan Figallo
Week Thirteen: Santiago Fernández
Week Fifteen: Marcos Ayerza
Week Sixteen: Manuel Carizza