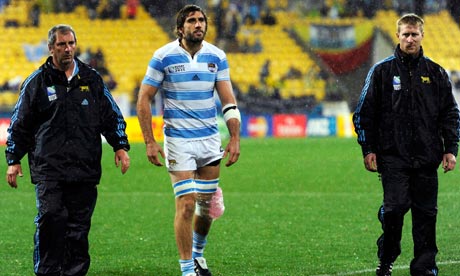 Fernández Lobbe leaves Wellington injured
For the first time since September,
Juan Martín Fernández Lobbe
willl start a rugby match. The Pumas World Cup exited the tournament early due to a major knee injury suffered in the first half of the crunch pool match
against Scotland in Wellington
. His rehabiliation was handled correctly to ensure he returned at 100% and he has been used by Toulon on two occassions from the bench in Top 14 matches vs Agen and Castres. His return to face Toulouse is great timing for both Toulon and Argentina as there is one month to go in the French season and Argentina have a challenging set of matches next month which will see Los Pumas host Italy in San Juan for a one off match before tacking on France in Córdoba and Tucumán.
Fernández Lobbe is the leading contender forthe Pumas captaincy now that Felipe Contepomi is set to retire from international duty. The other player seemingly in the running to lead Los Pumas is Patricio Albacete who will be playing secondrow in this match.
Toulon
15 Lapeyre
14 Palisson
13 Messina
12 Giteau
11 Smith
10 Wilkinson
9 Tillous-Borde
8 Fernández Lobbe
7 Armitage
6 van Niekerk
5 Samson
4 Botha
3 Hayman
2 Bruno
1 Lewis-Roberts