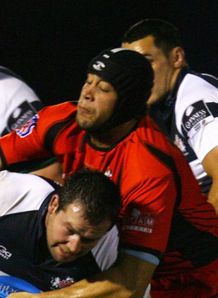 As pointed out
previously
on Argentina2023, former Pumas secondrower
Esteban Lozada
will be playing his rugby in France next season following the end of his two year contract with
Edinburgh
. While playing in Scotland, Lozada fell out of favor with Pumas selectors despite making 34 appearances for Edinburgh in Celtic-Italian League (Rabo Direct Pro 12) and Heineken Cup matches. Lozada now has the chance to play his way back into Los Pumas playing for his new club,
Agen
. His contract with the Southwestern French club is for two years and marks a return to the Top 14 after he had previously played for Toulon from 2007-2010.

His return to France comes on the back of his performances vs Top 14 side Racing Métro in the Heineken Cup in which the Scottish side defeated the Parisians both home and away. Talks with Agen started in January with the club liking what they saw from the former Puma. Now aged 30, Lozada, it would seem, has one final chance of representing his country as Argentina are set to play a record twelve tests in 2012. Should he not return it would be a tough road making the squad considering 2013 will officially be the start of preperation for Rugby World Cup 2015. He is the same age as Argentina´s leading secondrwoer, Patricio Albacete, and older than the three others who went to Rugby World Cup 2011.