Perpignan 25-10 Toulouse
Patricio Albacete
With USAP being threatened with relegation the club had to get a win to guarantee its survival in the French Top 14. Despite the urgency the club was given little chance of a win over Toulouse even though it was playing at its home fortress of the Stade Aime Giral. Toulouse´s embarrassing performance in the Heineken Cup last weekend which saw the giants fall to Scotland´s Edinburgh resulted in Lionel Beauxis being benched. It enabled Toulouse to actually play some rugby as the young French scrumhalf, Jean-Marc Doussain played in the 10 shirt. At halftime the visitors were leading 7-6 thanks to a try to Argentine secondrower
Patricio Albacete
, his first of the season. After the break, Perpignan went on to win with Wales´ James Hook kicking 20 points. Argentina´s World Cup scrumhalf,
Nicolás Vergallo
came on for Toulouse to play the final 11 minutes.
Agen 22-13 Toulon
JM Fernández Lobbe
The match, for Pumas fans, was the most important of the weekend as it featured the return of the worldclass
Juan Martín Fernández Lobbe
from injury. The Argentine backrower last played
vs Scotland in the World Cup
and had to leave the field in the first half of the do-or-die encounter. he came on for Toulon from the bench as a secondhalf replacement in the 53rd minute. Toulon´s surprizingly poor performance featured former Wallaby, Matt iteau playing in place of Jonny Wilkinson at flyhalf. The team fielded a star-studded lineup with notable players from Australia, England, France, Fiji, Georgia and South Africa all joining Giteau in the starting lineup.Agen fielded a team lacking big name players but got the result. Former Pumas centre,
Miguel Avramovic
played two minutes from the bench.
Clermont Auvergne 25-9 Stade Français
Martín Rodríguez Gurrruchaga
The hot-and-cold form of Stade Français continued as did the home record of Clermont. In winning, Clermont has confirmed its place in the Top 14 Orange Semi Finals alongside Toulouse. The teams a re tied at the top of the table and neither team can finish below second. They will not, therefore, play in the barrage round of the Top 14 play-off´s in May. The loss means Stade Français´ chances of making the barrage play-offs are complicated as the team is now six points behind fellow Parisians, Racing Métro. The club remains on target for a place in the Heineken Cup, however as it appears to be well placed for a Heineken Cup victory, assuming Toulon give preference to the Top 14. Canada´s Jamie Cudmore missed the match for Clermont due to injury while Stade Français fielded its Argentine 10-12 combination of Felipe Contepomi and Martín Rodríguez Gurruchaga. Pumas veteran loosehead prop, Rodrigo Roncero came on for the Parisians in the 47th minute.
Agustín Creevy
Montpellier 43-12 Lyon OU
A massive home win sees Montpellier continue to look like a team that could win this seasons title. With five Argentine players in the starting lineup, Montpellier ran riot against the bottom of the table Lyon OU. Two of the six tries were scored by Argentine players with hooker Agustín Creevy scoring a tryin the 40th minute and centre Santi Fernández going over in the 55th minute. The star of the show, however, was Georgian backrower Mamuka Gorgodze who scored three tries. Creevy played 53 minutes while Fernández played the full match for Montpellier. Creevy was joined in the frontrow by Argentine props Juan Figallo and Maximilano Bustos. Figallo played 50 minutes and Bustos 60 with both being replaced. Lucas González Amorosino continued his mortage on the 15 shirt while Martín Bustos Moyano was a late withdrawl having been named to start as such François Trinh-Duc was the teams goalkicker for the first time this season. Juan Manuel Leguizamón missed the match for Lyon due to a minor injury. While Lyon are going down to the Pro d2, neighbouring city, Grenoble are on the way back as after seven years in the second division the Alps city has won promotion back to France´s top flight.
Racing Métro 40-19 Brive
Juan Martín Hernández
Racign Métro look close to being confirmed in the play-off´s after hjaving come right followign an extremely up and down season. Brive, in contrast, will not be breathing easily as the club may not be safwe afterall as Perpignan and Biarritz have both gone clear while Bayonne are only four points behind Brive on 38 points. Brive cannot take anything for granted and need to win some of its remaining matches. A tough task given the opposition of Toulouse, Bordeaux-Begles and Clermont Auvergne. Racing Métro´s win featured three Pumas in the starting lineup with Juan Orlandi playing 49 minutes at tighthead prop, Juan Imhoff playing 75 minutes on the left wing and el Mago, Juan Martín Hernández playing 65 minutes at flyhalf. Juan Martín Hernández is looking increasingly like being Argentina´s flyhalf again as he continues to put together some regular game time for Racing Métro and put hisn players in spaces. His playmaking had the Parisians leading 33-12 when he was substituted. One of the Parisians four tries was scored by Imhoff who continues to cement the Pumas 11 shirt in a likerly partnership with Leicester´s Horacio Agulla at 14. Another player likely to feature extensively for Argentina is Agustín Figuerola who started at scrumhalf for Brive, playing 74 minutes.


Bayonne 24-19 Biarritz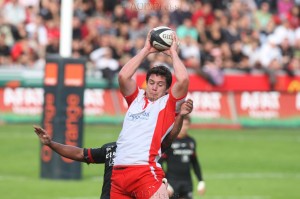 Manuel Carizza
Another upset took place on the Spanish border as Bayonne scored a vital win as it tries to stay in the Top 14. Biarritz were missing a number of players to injury including Taku Ngwenya and Marcelo Bosch. This worked out to the advantage of Bayonne who are doing nothing other than fighting for survival in the Top 14. The teams victory was a tryless performance and came with a bit of luck as Biarritz were very close to scoring a try from a lineup with time up on the clock. The lineout was won by
Manuel Carizza
who had come on for Biarritz in the 64th minute. He may be heading for a return to Heineken Cup rugby as he is being lined up by Racing Métro who have lost Sebastien Chabal and will soon lose Lionel Nallet who is aged 35.
Francisco Gomez Kodela
also recieved game time for Biarritz, coming on in the 54th minute to play tighthead prop.
Castres 44-20 Bordeaux-Begles
Rafael Carballo
A massive win, and a rare bonus point one, for Castres sees the club continue to be impressive at home while failing to match this on the road. The home team had a one man advantage for twenty minutes as Bordeaux received two yellow cards for indiscipline. An outcome which ultimately ruined the teams chances in htis contest. The four tries to two victory features Uruguay´s
Rodrigo Capó Ortega
in the secondrow. The 2003 World Cup player started and was replaced in the 73rd minute. Bordeaux-Begles had one of its two Argentine players in the match with
Rafael Carballo
playing 90 minutes on the wing.
Top 14 Orange Standings
1 Toulouse 78
2 Clermont 78
3 Toulon 63
4 Montpellier 62
5 Castres 59
6 Racing Métro 59
7 Stade Français 53
8 Agen 48
9 Perpignan 44
10 Biarritz 44
11 Brive 42
12 Bordeaux-Begles 41
13 Bayonne 38
14 Lyon 30
* Play-offs zone
* Relegation
Perpignan vs Toulouse
Agen vs Toulon
Résumé Agen-Toulon
por rctoulon
Clermont Auvergne vs Stade Français
ASM-Stade Français : Le résumé
por asm
Montpellier vs Lyon OU
Montpellier/LOU (43-12) : le résumé vidéo
por LOURugby1896
Racing Métro vs Brive
Bayonne vs Biarritz Olympique
Castres Olympique vs Bordeaux-Begles