Imhoff certain to be the Pumas 11
Racing Métro 27-16 Castres
Racing Métro put in a strong performance in Paris in Friday´s only match to move back into the play-off´s zone and see Castres fall from 4th to 5th in the standings. With no Heineken Cup matches remaining this season, Racing Métro´s chances of a place in the play-off´s are all that much better as the club will be able to have fresh legs for its remaining Top 14 season matches. Moreover, all four remaining matches are against teams lower in the standings. The win over Castres featured four Pumas players as Juan Martin Hernández pulled the strings from flyhalf in playing an open brand of rugby. He succeeded in putting players into space, something that will be key for Argentine rugby this year in The Rugby Championship. The impressive Juan Imhoff again had a solid match on the left wing, scoring a secondhalf try and regularly getting past his man. Both players played the full 80 minutes while Juan Orlandi started at at tighthead prop, playing the first hour. As he left Alvaro Galindo entered as he played in the backrow for the final quarter of the match. His return to Los Pumas will be key this season with Argentina have a packed schedule which includes a record twelve test matches.
Figuerola looking like a Puma again
Brive 14-9 Toulon
A major upset sees Brive´s chances of relegation have all but vanish entirely while Toulon´s impressive secondhalf performance from last weekend vs Racing Métro was nowhere to be seen. Brive are now eight points clear of 13th place and should the club win its home match vs Bordeaux-Begles on May 04th the club will all but certainly remain in France´s Top Flight. Scrumhalf, Agustín Figuerola started and played 75 minutes as he continues his push for Argentina´s 9 shirt despite not being selected for Rugby World Cup 2011. Former Pumas prop, Pablo Henn came on for Brive as a replacement in the 58th minute. Leonardo Senatore played the fullmatch in the backrow for the visitors.
Perpignan 47-9 Bayonne
Two teams fighting it out for survival saw Welsh international, James Hook find good form as he scored 25 points to destory Bayonne who are now walking a tight rope with relegation increasingly looking certain. The visitors were totally outclassed and lacked ideas as the teams high profile players including All Blacks Joe Rokocoko, Neemia Tialata and Troy Flavell, Wales´ Mike Phillips and France´ Cedric Heymans are yet to gel and the chance of it happening is highly remote.
Leguizamón maturing by the year
Lyon 24-13 Bordeaux
A vital in keeps Lyon´s dream of surviving in the Top 14 Orange alive. It is a tough challenge as, despite winning, Lyon are ten points behind Perpignan, eleven behind Biarritz and Bordeaux and twelve behind Agen and Brive. Lyon need to get ahead of one of these teams and hope Bayoone continue to lose matches. It is, however, certainly a possibility as Lyon has games against Montpellier, Bayonne, Perpignan and Toulon remaining. It needs to target three wins and should be strong for both home matches - Bayonne and Toulon. The match vs Toulon could well see a weak Toulon side as it is in the final round of the Top 14 and, Toulon will have already secured its place in the play-offs. In Lyon OU´s win over Bordeaux-Begles, Santiago del Estero´s most famous product, Juan Manuel Leguizamón played the full 80 minutes in the backrow while Rafael Carballo continued his push for a recall to Los Pumas as he played the full match on the wing for Bordeaux-Begles. Flyhalf Nicolás Sánchez remains on the sidelines injured.
Montpellier 44-18 Agen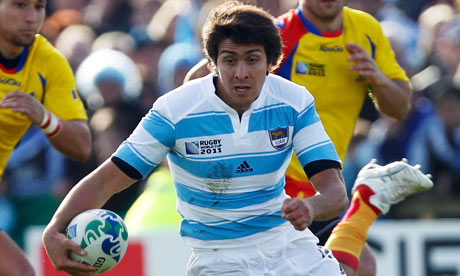 L.G.A now Argentina´s leading fullback
The fantastic form of Lucas González Amorosino just continues as the man used so poorly by the Leicester Tigers scored another good try for Montpellier. Playing the full match at fullback, González Amorosino continued his outstanding combination with Martín Bustos Moyano in the back-three. Bustos Moyano had another good day himself to show his crentials as possibly Argentina´s best goalkicker. He converted all five of Montpellier´s tries and landed three penalties and scored a try of his own in scoring 24 points. The man charged wtih replacing Mario Ledesma, Agustín Creevy started and played 74 minutes at hooker. Maxiliano Bustos played the final seven minutes at prop while inside centre, Santiago Fernández came on in the 46th minute. Agen´s Belisario Agulla played on the right wing.
Guiñazú could yet be a Puma in 2012
No longer in danger of being relegated, Biarritz completed a major coup d´ tat in defeating the second placed Clermont Auvergne by a single point. The win puts Biarritz seven points clear of the relegation zone and with Biarritz playing Bayonne next round, on April 14th, a win would all but confirm Biarritz´s survival regardless of how it goes in the other remaining Top 14 Orange matches. Surprizingly, Eusebio Guiñazú was Biarritz´s starting hooker and got plenty of game time. He was joined in the frontrow by uncapped tighthead prop, Francisco Gomez Kodela who played 24 minutes. Centre Marcelo Bosch was also on the bench and came on in the 65th minute. Secondrower Manuel Carizza did not feature. Clermont´s Canadian enforcer, Jamie Cudmore featured for the visitors from the bench.
Stade Français 18-22 Toulouse
Vergallo´s 9 position is under threat
Toulouse go clear of Clermont to hold a four point lead in the competition with their away win at the Stade de France. The result also means Stade Français fall outside of the barrage zone, but just a sinlge point behind Paris rivals, Racing Métro and a further point behind Castres. On form both Paris teams should make the play-off´s with Castres missing out. Stade Français´ 10-12 Pumas combination of Felipe Contepomi and Martín Rodríguez Gurruchaga remains intact with the players former the playing combination for the full 80 minutes and Contepomi landing 12 points. Veteran Pumas loosehead prop Rodrigo Roncero started in the number 1 shirt and played 75 minutes. A potential Pumas prop of the future, Francisco Nahuel Tetaz, entered the match with 12 minutes remaining while Sergio Parrise played the full match in the backrow and scored a disallowed try. The USA´s Scott LaValla was unsued from the bench. Pumas scrumhalf, Nicolás Vergallo played 15 minutes as a replacement for Toulouse and looked solid despite lacking game time. Secondrower, Patricio Albacete was rested by Toulouse while Gonzalo Tiesi is expected to return shortly for the Parisians.
Racing Métro vs Castres
RM 92 v CO - Le résumé en vidéo
por racingmetro92
Brive vs Toulon
Perpignan vs Bayonne
Résumé du match USAP Bayonne Avril 2012
por USAP_Communication
Montpellier vs Agen
Interviews d'après match : MHR-Agen
por MontpellierRugby
Biarritz vs Clermont
BO-ASM : Le Résumé
por asm
Top 14 Orange Standings
1 Toulouse 78
2 Clermont 74
3 Toulon 63
4 Montpellier 57
5 Castres 55
6 Racing Métro 54
7 Stade Français 53
8 Agen 42
9 Brive 42
10 Biarritz 41
11 Bordeaux 41
12 Perpignan 40
13 Bayonne 34
14 Lyon 30
* Play-offs and Heineken Cup Qualification
* Facing relegation