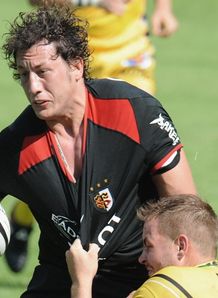 Patricio Albacete
Bordeaux-Begles 18-17 Toulouse
The Stade Chaban-Delmas has hosted Rugby World Cup matches, French internationals, Top 14 play-off´s and, on occassion, regular season matches. With Bordeaux-Begels winning promotion from the Pro d2 this season the venue has been used even more and has delivered some shocking results, such as a win over Stade Français earler this season. Nobody, however, could have predicted a win over reigning champions and tournament leaders, Toulouse. The team expected to finish last defeated the number one seed by a single point to make it all that much more harder for the relegated threatened teams. Rafael Carballo played the final 18 minutes for Bordeaux-Begles with the team still without flyhalf Nicolás Sánchez due to injury. A contender to captain Argentina, Patricio Albacete played the full match for the visitors while scrumhalf Nicolás Vergallo was unused from Toulouse´s bench.
Castres 27-18 Montpellier
M.B Moyano and L.G Amorosino
Castres´ home win sees the team go back ahead of Montpellier in the standings. The Scotland of French rugby again counted on goalkicking to win it the match as both teams went in for two tries each. Montpellier´s first try was scored by the in-form
Lucas González Amorosino
who surely has a mortgage on the Pumas 15 shirt. He was joined in the startign lineup by three other Argentine internationals with
Martín Bustos Moyano
playing on the left wing and scoring eight points, all in the secondhalf. Pumas World Cup flyhalf,
Santiago Fernández
continues to play at outside centre with François Trinh-Duc pulling the strings from flyhalf. In good news for Los Pumas,
Agustín Creevy
continues to get through a mountain of work at hooker and
Juan Figallo
started alongside him in the frontrow. A sixth Argentine player,
Maximilano Bustos
played the final 16 minutes for Montpellier. Uruguay´s Rodrigo Capó Ortega did not play for Castres.
Lyon 17-34 Biarritz
Taku Ngwenya
Bottom places Lyon had a home match vs the former bottom of the table Biarritz but failed to put in a performance that could help save the team from the seemingly guaranteed relegation back to the second division. The scores had been tied at 10-10 at the interval before French internationals Dimitri Yachvili and Imanol Harinordoquey turned it on in the secondhalf. Both were try scoreres as was the USA´s
Taku Ngwenya
who went over for Biarritz in the 26th minute. Young
Francisco Gomez Kodela
started at tighthead prop while Los Pumas´ World Cup secondrower
Manuel Carizza
and former international frontrower
Eusebio Guiñazú
both joined the match from the bench in the secondhalf for the Basque side. Outside centre Marcelo Bosch was rested due to a minor injury but his Pumas World Cup teammate,
Juan Manuel Leguizamón
played the full 80 minutes for Lyon.
Clermont Auvergne 29-23 Perpignan
Jamie Cudmore
The home fortress that is the Stade Marcel-Michelin saw another victim as Clermont´s run approaches 40 consecutive home wins. Perpignan´s loss piles on the pressure for the 2009 French Champions as the club faces the real prospect of being relegated to the Pro d2. With Bayonne winning at home over Brive, perpignan are now only one point outside of the relegation zone. If the club cannot find a way to string some wins together it could indeed find itself in 13th position quickly. With Toulouse losing, Clermont are now just one point behind the leaders in the standings. Canada´s
Jamie Cudmore
started for Clermont in the secondrow .
Stade Français 53-27 Agen
Felipe Contepomi
Stade Français´quality performance all but guarantees the club a return to the play-offs and the Heineken Cup. The massive home win was orchestrated by
Felipe Contepomi
with the Pumas skipper returning to form to score two tries and score a total of 26 points. He again formed a 10-12 combination with fellow Puma,
Martín Rodriguez Gurruchaga
who also kicked one conversion. The Argentine-Italian, Sergio Parisse was also a try scorer and was joined in the starting pack with
Rodrigo Roncero
at loosehead prop while the USA Eagles´ World Cup secondrower,
Scott LaValla
was on the bench for the Parisians. Of Agen´s three Argentine players, one started and scored the first of the teams three tries. The competition for a place in Los Pumas is tough but
Belisario Agulla
may well be in consideration for national honors this year, particularly with players from the Top Six French clubs likely to miss the match vs Italy in San Juan.
Toulon 32-20 Racing Metro
Juan Martín Hernández
Former English flyhalf, Jonny Wilkinson kicked 22 points as Toulon came from behind to complete a solid win over Racing Métro. The Parisians had been leading 20-19 at the interval but were unable to score any points in the secondhalf. With Contepomi on form there is no guarantee that a fully fit and ready
Juan Martín Hernández
will start for Los Pumas in the 10 shirt. El Mago played the full match vs Toulon at flyhalf and created opportunities he was joined by three other Pumas players with the speedy
Juan Imhoff
playing on the left wing. Both prop
Juan Orlandi
and backrower
Alvaro Galindo
featured as secondhalf replacements while the Argentine-Italian secondrower, Santiago Dellapé started in the secondrow. Leonardo Senatore was unused by Toulon while Juan Fernández Lobbe is yet to play all season following his World Cup ending knee injury suffered vs Scotland.
Bayonne 19-12 Brive
Agustín Figuerola
Lyon are still in with a chance of staying in the Top 14 Orange next season but the clubs chances of surviving are increasingly looking unlikely as the other relegation threatened teams are fighting it out hard to stay above 13th position. Bayonne´s win vs Brive was not enough to get the club outside of the relegation zone but it means both Perpignan and Brive can be caught and overtaken with one more victory. Like all other matches this weekend in France, players from the Americas were on show. Brive had
Agustín Figuerola
starting again at scrumhalf as he continues his push for Argentina´s 9 shirt held by Nicolás Vergallo who Toulouse are giving very little game time to him. Former Los Pumas frontrower,
Pablo Henn
joined Figuerola in the starting lineup for Brive. Both players were replaced in the secondhalf. Star winger Yoann Huget is set to leave the club for Toulouse which means that even if the club survives relegation it has some massive recruitment to do and it needs to be done smartly.
Bordeaux vs Toulouse
Lyon vs Biarritz
Toulon vs Racing Métro
Clermont vs Perpignan
Résumé du match ASM vs USAP - Mars 2012
por USAP_Communication
Bayonne vs Brive
Top 14 Orange Standings
1 Toulouse 74
2 Clermont 73
3 Toulon 62
4 Castres 55
5 Montpellier 52
6 Stade Français 52
7 Racing Métro 49
8 Agen 44
9 Bordeaux 41
10 Biarritz 38
11 Brive 37
12 Perpignan 35
13 Bayonne 34
14 Lyon 26
* Currently would qualify for play-off´s and 2012-2013 Heineken Cup
* Currently facing relegation