Three teams have now confirmed themselves in next seasons Heineken Cup and in this seasons Top 14 Orange play-off´s. The already guaranteed teams of Toulouse and Clermont Auvergne have been joined by Toulon. As such, the remaining eleven teams in the top 14 Orange have to fight it out for three remaining places. For many, however, survival is the name of the game. A gap has become clearer on the points table in recent rounds with Biarritz and Lyon in big trouble as they both went into Round 19 with a handicap of one league match victory. Round 19 saw the reurn of Nicolás Vergallo and Felipe Contepomi. Vergallo has been on the sidelines due to Toulouse´s vast depth whcih has seen Australia´s Luke Burgess prefered. Contepomi, in contrast, has been unavaliable due to a minor injury. It also saw Juan Martín Hernández showing signs of being el Mago as he improved in Racing´s win in Paris.
Toulon 19-6 Montpellier
Santiago Fernández
A dour match kicked-off the round with the home side getting a win thanks to scoring the games only try - a penalty try.The teams went into halftime at 3-3 with action not being on the menu at all. Toulon´s penalty try came in the final ten minutes but was certainly enough to keep the locals happy as now Toulon have guaranteed themselves a place in the barrage as they cannot finish below sixth place. This also means Toulon will return to the Heineken Cup next season. Montpellier had two pumas inb the starting lineup with
Santiago Fernández
playing 80 minutes at flyhalf and
Lucas González Amorosino
playing fullback. Monpellier´s team was some what experimental which meant the likes of
Juan Figallo
,
Martín Bustos Moyano
and
Agustín Creevy
were all on the bench rather than starting. A sixth Puma was also on the bench with the three usual starters -
Maximilano Bustos
. Pumas vice-captain, Juan Martín Fernández Lobbe is expcted to return in the coming weeks for Toulon.
Agen 22-17 Perpignan
Miguel Avramovic
Agen´s unlikely success at the Stade Armandie continued with another big scalp, 2009 French Champions, Perpignan. Perpignan left with a bonus poitn but were lucky as Agen were well in control at 19-6 with fifteen minutes remaining. Former Pumas centre,
Miguel Avramovic
featured for the hosts, playing the full match at outside centre. Avramovic has been out of favor with Santiago Phelan for quite some time, but his considerable amount of gametime for a winning team in France may well workout in his favor. Neither Martín Scelzo nor Belisario Agulla made the match day 23.
Biarritz 38-13 Bordeaux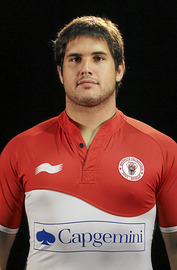 Francisco Gomez Kodela
The match was played at Dax rather than Biarritz. Dax was in the Top 14 Orange a few seasons back and is in serious contention for a return next season - possible joining Grenoble. The win was one of Biarritz´s best of the season and with the bonus point Biarritz can now breathe easier. The team was fortunate to have the services of Dimitri Yachvili who was not playing for France after being unfit at the time that team was named. He scored two tries and kicked six goals for the Basque´s. USA winger,
Taku Ngwenya
was also a try scorer with the American being joined by
Marcelo Bosch
in the backs. Both played the full 80 minutes. F
rancisco Gomez Kodela
started at tighthead prop while
secondrower
Manuel Carizza
received 25 minutes playing time. Former Pumas winger,
Rafael Carballo
played opposite Ngwenya.
Brive 25-9 Stade Français
Agustín Figuerola
Two rounds ago Brive were looking like facing the drop to the relegation zone but the team has turned around its season in just two weeks with wins over teams representing France´s two largest city´s, Lyon and Paris. All of Stade Français´ points came from first half penalities from the boot of
Felipe Contepomi
. The Pumas skipper joined
Martín Rodríguez Gurruchaga
in a 10-12 Parisian combination. At the interval Brive held a two point lead and with fourteen secondhalf points victory was secure. Stade Français started with two Argentine props -
Rodrigo Roncero
and loosehead prop and
Francisco Nahul Tetaz Chaparro
at tighthead. All four players are in contention to play for Argentina in 2012. Another in contention is
Agustín Figuerola
who came on as a replacement in the 53rd minute for Brive. The USA´s Woerld Cup secondrower,
Scott LaValla
was on the bench for Stade Français. Gonzalo Tiesi continues rebab and is expected to return to training shortly.
Juan Martín Hernández
Racing Métro 22-21 Bayonne
A one point victory for the Parisians puts the pressure on Bayonne as the teams being relegated remains far from being clear. Racing Métro, with the win, move into the Top Six while their Parisian rivals fall to eighth. Bayonne are even with Biarritz on 30 points. El Mago, playing at flyhalf
Juan Martín Hernández
slotted a first half dropgoal while Italy´s Mirco Bergamasco returned to land two late goals which proved decisive. Fiji´s Sireli Bobo scored the games only try. Bayonne scored all its points from the boot. Hernández played the full match while Argentine backrower,
Alvaro Galindo
made his playing return from the bench, coming on at the interval. Juan Imhoff was unused from the bench.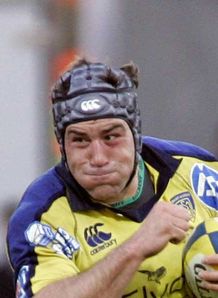 Canada´s Jamie Cudmore
Clermont Auvergne 35-5 Toulouse
A huge win for Clermont sees the central French side continue its dominance at home. The two teams were the most depleted due to the France vs Ireland match but Toulouse could hardly use it as an excuse despite benching some regular starters. The teams remain in the top two and well ahead of Toulon in third. A rare thing of beauty dominated the match with the uhnreliable boot of David Skrela landing seven penalties and a conversion. The huge win only featured two tries, the first going to the Argentine-Italian, Gonzalo Canale. Canada´s
Jamie Cudmore
joined him in the starting lineup
Nicolás Vergallo
returned for Toulouse, playing the full match. Secondrower,
Patricio Albacete
played the final 28 minutes. Vetrgallo will need more game time or he could lose the Argentine 9 shirt to Figuerola.
Uruguay´s Rodrigo Capó Ortega
Castres 6-6 Lyon
Castres lack of a playmaker has been evident all season long as the team continues to sit well up the standings but lacks any creativity at all which has seen the side continuously fail to score tries. The teams dour home draw vs the bottom placed Lyon was a victory for the visitors who will return home very happy having collected two competition points. Lyon is already recruiting heavy for next season so it the club can move ahead of two others it could well be a relevation in 2012-2013. Lyon´s two points put it one win behind Bayonne and Biarritz who are tied on 30 points while Perpignan is only two further points ahead. Uruguay´s
Rodrigo Capó Ortega
played the full match for Castres while Lyon rested Argentina´s Juan Manuel Leguizamón due to a minor injury.
Top 14 Orange Standings
7 Agen 44
8 Stade Français 42
9 Bordeaux-Begles 37
10 Brive 37
11 Perpignan 32
12 Biarritz 30
* Currently in line for Top 14 Play-offs and Heineken Cup Qualification
* Facing Relegation
Toulon vs Montpellier
Clermont vs Toulouse