Canada celebrate beating Tonga. Could Canada make the Top Ten?
Following the completion of Europe´s premier international competition, the Six Nations the IRB World Rankings of its participants tell a tale of two cities. There is a clear split between the top four and the bottom two. Champions Wales were undefeated and deserved the title but the teams wins over England and France were Ireland were by small margins and all could have been loses. Results against Italy and Scotland were clearer with bigger wins not only from Wales but from the other three teams. It is a continuation of a long term trend in which Scotland have been falling behind while Ireland and Wales have been eliminating the gap between themselves and that of England and Scotland. Italy, in contrast to Scotland, have been improving and the evidence on the international stage as well as within Italian rugby seems to underline the progress of the sport in the country. Scotland, like Italy, are seemingly now a far different prospect at home than in away matches. While the other four are able to perform well home and away.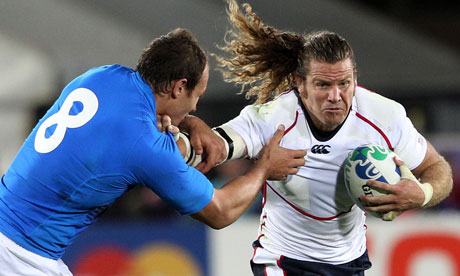 Could the USA topple Italy in 2012?
The IRB World Rankings have neither Italy nor Scotland in the World´s Top Ten. Both teams are in fact ranked much closer to Canada than they are to Argentina. Canada ranked 13th in the world with Italy and Scotland in 11th and 12th. The points difference sees Canada less than one point behind Scotland and less than two behind Italy. Scotland are more than six points behind Argentina. The European team ranked closed to both Italy and Scotland (besides eachother) is not a Six Nations participant, but rather, Georgia. Similar to Argentina entering The Rugby Championship, Georgia needs to be integrated into the Six Nations. One thing that the current shape of the World Rankings does show is that the June 2012 tours are set up well with Italy to play
Argentina in San Juan
, the
USA in Houston
and
Canada in Toronto
. Scotland will face Australia, Fiji and Samoa. But these tours are not common, rather a rare thing. Scotland will also host Tonga in November, giving it a good chance of rising in rankings.
Rupeni Caucau vs Scotland in 2003
Should Scotland end the year outside of the Top Ten then Georgia´s case for a place in the Six Nations would be greatly amplified. The matches against Tier Two sides will enable them to pick up IRB Rankings points, especially because the teams they will face are ranked closely. The lowest ranked side that Scotland will face is Fiji in 17th, the same team that ran riot vs the Scot´s at Rugby World Cup 2003 with Rupeni Caucau breaking the line at will. It took the boot of Chris Paterson to rescue Scotland that day. He has now gone to retirement, however, and Scotland´s goalkicking has suffered. Fiji and Samoa will be no easy games for the Scot´s and it could see the Scot´s appear more like a Tier Two than a Tier One side. Italy, in contrast, have a tough first match in San Juan and then head north to Toronto and Houston. If Italy´s ambition is to be ranked as highly as possible than Jacques Brunel may well opt to field his strongest team in North America, especially given the schedule of facing Canada on Friday evening, having played Argentina on the previous Saturday some 8,380KM away.
Both Canada and the USA will also play host to Georgia. Any slip ups from either Scotland or Italy would therefore sink the sides lower than their present rankings. Should Canada replicate the form it showed at Rugby World Cup 2011 it could well win all four tests this June. Such a scenario would see the Canadians move towards the Top Ten and if Scotland fail to win in Fiji and Samoa then Canada could be ranked even higher. The USA´s position of 17th could also change greatly. Should the USA Eagles have success in June then it will rise and further put into dispute the IRB´s distribution of qualification places for Rugby World Cup 2015. The USA is ranked behind all of its opponents for the June internationals which means that wins will be more significant for the Eagles than the Canadians. Curiously, the USA is ranked closer to Chile than it is to Canada. This is a sign of the lack of matches the USA has against lower ranked sides. The opposite is true of Namibia, which explains the Africans position in World Rankings.
The World´s Top 25 also features five countries from the Americas. In other words the Americas make up for 20% of the World´s top 25 teams. Three come from South America and two from North America. South America is the only region to not have automatic qualification granted to the winner of its phase of World Cup qualification. Not only does it go against performances at World Cup´s but it also goes against World Rankings. Rather than
solving the issue of African participants
, other than South Africa struggling, the IRB opted to continue giving Africa an automatic place with Africa one going directly to in Rugby World Cup 2015 while South America 1 will have to face North America 1 and the loser enter repercharge. The IRB, whether intentional or not, continues to fail to address its special treatment of gifting Africa 1 a place at World Cups. Unlike other regions, it is not a system based on merit. Japan, for instance, are clearly a team who should always be at World Cup´s despite not having won many matches. Both the USA and Canada have won more as has Uruguay yet Namibia has played 24 for zero wins, sits behind Spain in World Rankings and does not have a good record against sides from outside of Africa.
Current IRB World Rankings

| | | |
| --- | --- | --- |
| 1(1) | New Zealand | 91.43 |
| 2(2) | Australia | 87.99 |
| 3(3) | South Africa | 84.34 |
| 4(4) | England | 83.62 |
| 5(5) | Wales | 83.32 |
| 6(6) | France | 81.91 |
| 7(8) | Argentina | 80.28 |
| 8(7) | Ireland | 79.85 |
| 9(9) | Tonga | 76.63 |
| 10(10) | Samoa | 75.81 |
| 11(12) | Italy | 74.17 |
| 12(11) | Scotland | 73.86 |
| 13(13) | Canada | 72.92 |
| 14(14) | Japan | 70.45 |
| 15(15) | Georgia | 70.26 |
| 16(16) | Fiji | 68.78 |
| 17(17) | United States | 65.63 |
| 18(18) | Romania | 63.81 |
| 19(19) | Spain | 62.57 |
| 20(20) | Namibia | 61.24 |
| 21(21) | Uruguay | 60.47 |
| 22(22) | Russia | 60.12 |
| 23(23) | Chile | 59.52 |
| 24(25) | Belgium | 58.88 |
| 25(24) | Portugal | 57.75 |
For a complete list of IRB World Rankings
click here
.