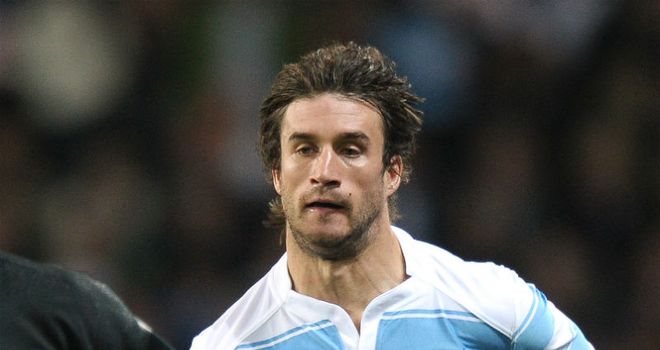 Marcelo Bosch vs England
Having been a flyhalf all his career in Argentina and having made his mark in this position for Biarritz, Marcelo Bosch was unable to make Argentina´s squad for Rugby World Cup 2007. He was too young and had only debuted that year vs Italy in June and was a part of a very experimental side featuring few first choice Pumas. With Federico Todeschini not getting any younger and new coach, Santiago Phelan, looking to build a team for New Zealand 2011, Bosch was selected for the second time, this time at inside centre to face Italy in June 2008. It would, however, be his last appearance for his country for over two years as he was badly injured twice and required shoulder and knee surgery. He returned to international duty in November 2010 and was now seen as a centre rather than a flyhalf.
His selection as a centre came after Biarritz had moved him to 13 to cover what had turned out to be a weakness for the Basque side. As the season continued Bosch was not only keeping the Biarritz 13 shirt but was also overshadowing Stade Français Pumas´ centre, Gonzalo Tiesi. With Rugby World Cup 2011 approaching Bosch´s move to outside centre for Biarritz worked well for Los Pumas as there was no genuine player to cover for Tiesi. Flyhalf was taken care of, even with Juan Martín Hernández having been ruled out of the tournament with Felipe Contepomi, Santiago Fernández and Nicólas Sánchez all being used in the lead up to the tournament. This worked well for Bosch as it gave him the chance to be considered in the starting lineup as an outside centre. Before 2011 his four tests had been at flyhalf or inside centre but this changed when Tiesi was unfit to play in Argentina´s Rugby World Cup warm-up match vs
Wales at the Millenium Stadium
. It was Argentina´s only match of 2011 before the World Cup and Bosch started at 13.
Bosch breaks the English defence
Tiesi returned to full fitness in time for the teams first World Cup match, vs England in Dunedin and this meant Bosch was named on the bench as cover for both flyhalf and centre. Tiesi´s World Cup ended after less than 30 minutes after he had to leave the field injured. Contepomi also left injured which meant Bosch had to cover both with the help of Horacio Agulla as another winger, Juan Imhoff was also now on the field. Rather than fall apart in defence or lack options in attack, Argentina held firm and Bosch was one of the teams best players as he made multiple linebreaks and linked well with his teammates. He had a duel role of flyhalf and outside centre. His performance
vs England underlined his qualities
despite only having previously played 5 test matches. Argentinaps remaining three pool matches and Quarter Final vs New Zealand were plaeyd with Bosch at outside centre. He got through the tournament with his reputation enhanced as a genuine outside centre of international standard. He also surprized many with his boot as he landed a sensational
55 metre penalty goal in the Quarter Final
.

Bosch being tackled by Chris Wyles

Since returning to club rugby with Biarritz, Bosch has been playing at both outside centre and flyhalf and performing well. He has proven his capabilities in both positions but has arguably looked best at outside centre. Neither of the clubs former French internationals Julien Peyrelongue or Benoît Baby has been able to impress for the club in these positions which has had a lot to do with the clubs struggles in the Top 14 Orange this season. Bosch, in contrast, has
scored some good tries
in both the Top 14 Orange and the Heineken Cup and has looked like a good player in an underperforming team.
On form the Pumas 13 shirt is his for The Rugby Championship and he is likely to be one of the older players in the backline. Aged 28, Bosch is older than the likes of Horacio Agulla, Martín Bustos Moyano, Lucas González Amorosino, Gonzalo Camacho, Santiago Fernández, Juan Imhoff, Gonzalo Tiesi and Martín Rodríguez Gurruchaga. Of these players all are probable players for the international season. It is precisely the youth of these players which puts Los Pumas in a great position to not only achieve results on the field this year but also have a better team at Rugby World Cup 2015 that what played in New Zealand 2011. Bosch will be 31 come England 2015 and has the opportunity to permanently be a standout player for his country starting in June.
Week One: Juan Manuel Leguizamón
Week Two: Lucas González Amorosino
Week Three: Marcelo Bosch
Week Four: Agustín Creevy