Round 18 of the French Top 14 featured the best French players alongside many leading players from across the world. The region of the Americas was well represented with players from Argentina, Canada, Uruguay and the USA all playing. It is not only a case of quantity but also quality as many of the players from these countries are regular starters for their clubs and are able to impress against some of the best in not only France but also Europe as a whole - which includes players from every World Cup team. This past weekend saw the return to form of Argentina´s World Cup 2007 hero as Juan Martín Hernández was instrumental in Racing Métro knocking over Lyon. His positional play at flyhalf was better than it has been this season. He could well be partnered for Argentina by Lucas González Amorosino at fullback. The former Leicester player again showed what he has to offer with a try for Montpellier.
Perpignan 25-6 Biarritz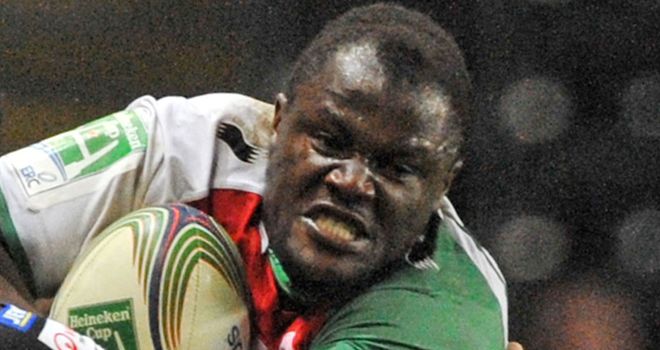 USA Eagle Taku Ngwenya
The round kicked off on Friday with a vital match for both Perpignan and Biarritz at Aime Giral. Both sides entered the fixture needing a win to avoid falling into the relegation zone. The firsthalf was very even with all points coming from the boot but Perpignan managed to turn it on in the second 40. In winning, Perpignan can be ahappy in not only going clear of the bottom two but denying Biarritz a bonus point. The match featured three players from the Americas with Taku Ngwenya playing on the right wing and Francisco Gomez Kodela playing tighthead prop. Manuel Carizza was on the bench and came on in the 62nd minute. Biarritz suffered from the loss of Marcelo Bosch and Dimitri Yachvilli.

Canadian Jamie Cudmore

Bayonne 22-22 Clermont
The great escape occured at the Stade Jean Dauger in Bayonne as strugglers got out of the relegation zone after claiming a late draw with a converted try one minute from fuilltime. Clermont´s choice of fielding an understrength side helped Bayonne greatly. Canada´s Jamie Cudmore started in the secondrow for the visitors and was replaced in the 47th minute.
Bordeaux Begles 26-30 Montpellier
Argentine Martín Bustos Moyano
The Stade Andre Moga played host to the came of the round as a tug of war battle was won by the visitors and featrured key performances from Argentine international players. Martín Bustos Moyano came on in the 65th minute and converted Montpellier´s final try four minutes from the end of the match to secure the win. Lucas González Amorosino had a solid match at fullback and went over for his sides first try in the 32nd minute. Argentine international flyhalf, Santiago Fernández started at inside centre, Juan Figallo started at loosehead prop and Agustín Creevy started at hooker. Former Pumas winger, Rafael Carballo played the full match for Bordeaux-Begles. Nicolás Sánchez missed the match through injury while Maximilano Bustos was unused for Montpellier from the bench.
Brive 13-15 Castres
Uruguay´s Rodrigo Capó Ortega
Castres did it again as the team got another win despite failing to score tries. The Scotland of French rugby are looking like being in the Top 14 Orange Barrage and alongside Montpellier are just one win behind Toulon in third place. Agustín Figuerola was not selected by Santiago Phelan for the World Cup but the scrumhalf started the match for Brive. Former Pumas prop Pablo Henn came on in the 53rd minute as a replacement while fellow former Pumas prop, Pablo Cardinali came on in the 64th minute. Uruguay´s Rodrigo Capó Ortega played 72 minutes for Castres before leaving the fuield yellow carded. Brive picked up a bonus point for losing by less than seven points but the side will be scratching its head as to how it lost as it scored two tries to zero.
Lyon 22-33 Racing Metro
Hitting Form Juan Martín Hernández
An excellent performance from Juan Martín Hernández saw Racing Métro return to form with an away victory at Matmut Stadium in Lyon. El mago scored a second half try and had a good day with the boot as he scored a personal haul of 18 points thanks to landing three penalties and two conversions. Juan Imhoff joined him in the starting lineup as he played fullback while Juan Orlandi came on in the 49th minute and Alvaro Galindo in the 60th. The pair will need to recieve more game time if they are to break back into Argentina´s squad ahead of the historical introduction of Los Pumas into The Rugby Championship. One player certain to feature alongside Hernández and Imhoff is Juan Manuel Leguizamón who played the full 80 minutes for Lyon.
Toulouse 21-10 Agen
Patricio Albacete
Toulouse got a win but not a pretty won as the teams lack of a quality playmaker was highly apparent against Agen. The two tries to one win at the Stade Ernest Wallon keeps Toulouse well clear of Clermont at the top of the standings. The French powerhouses look certain to end the regular season at the top of the table and are the favorites to take out the championship. Los Pumas´secondrower Patricio Albacete had a stereotypical match in the secondrow for the winners while former Los Pumas inside centre, Miguel Avramovic started for Agen and winger Belisario Agulla played the final ten minutes. USA Eagels winger, Kevin Swiryn continues to recover from injury while Pumas scrumhalf, Nicolás Vergallo continues to be used as third chocie for Toulouse.
Stade Français 19-19 Toulon
Martín Rodríguez Gurruchaga
Stade Français improved significantly from form in recent matches but were very unlucky as Toulon secured a last minute draw at the Stade de France. With Racing Métro having won it means that Stade Français only now hold onto its top six position by two championship points. Argentine players were very active in this match with Felipe Contepomi returning from a minor injury to come on in the 44th minute. Rodrigo Roncero started and impressed at loosehead prop while Martín Rodríguez Gurruchaga had a solid match at inside centre..Prop Francisco Nahuel Tetaz was unused from the bench as was the USA´s Scott LaValla. The Argentine-Italian, Sergio Parisse captained Stade Français from number 8. Leonardo Senatore did not play for Toulon while Juan Martín Fernández Lobbe is likely to return from injury shortly.
Top 14 Orange Standings
1 Toulouse 69
2 Clermont 61
3 Toulon 52
4 Montpellier 48
5 Castres 48
6 Stade Français 42
7 Racing Métro 41
8 Bordeaux-Begles 37
9 Agen 36
10 Perpignan 31
11 Brive 29
12 Bayonne 29
13 Biarritz 25
14 Lyon 24
* In the Play-offs zone and in line for places in next seasons Heineken Cup
Résumé Stade Français - Toulon
por rctoulon