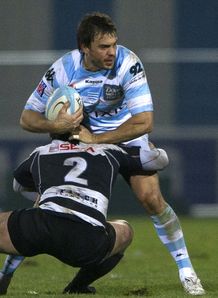 Hernández to remain at Racing Métro?
The sixteenth round of the Top 14 Orange was interesting for Pumas players and fans of Argentine rugby due to the decision earlier in the week of English side, the Leicester Tigers to not renew the contract of in-form winger, Horacio Agulla due to the late finish to The Rugby Championship. With the bulk of Argentina´s current test players being based in France the future of a larger number of players remains under a question mark. It would be hard to imagine a Top 14 Orange without Pumas players and a number of clubs will, indeed, see reason and likely hang onto their Argentine men. One such example being Racing Métro who despite having earlier said that they won´t be signing any more Argentine players are now
looking to resign Juan Martín Hernández for three aditional years
. The results of round 16 see a number of changes to the competition standings with Lyon now not only off the bottom of the table but now outside of the relegation zone, with a game in hand. Two of France´s most traditional clubs may now be the ones dropping to the Pro d2 after all of Bayonne, Biarritz, Brive and Perpignan lost and the four sides are in the bottom five of the Top 14 Orange.
Montpellier 38-6 Stade Français

Martín Bustos Moyano
Friday kicked off the round with a bang as Montpellier made Stade Français look like a Pro d2 side at the Stade Yves-du-Manoir. It featured ten players from Argentina with winger,
Martin Bustos Moyano
creating history by scoring 26 points, including two of Montpellier´s four tries. He was joined in the back three by
Lucas González Amorosino
who played the entire match at fullback.
Agustín Creevy
started at hooker while fellow frontrowers,
Maximilano Bustos
and
Juan Figallo
were on the bench. Bustos entered in the 57th minute and Figallo three minutes earlier. Pumas inside centre, Santiago Fernández was unused from the bench. François Trinh-Duc had a great match at flyhalf and totally outplayed
Felipe Contepomi
. Argentina´s captain was replaced in the 68th minute.
Martín Rodríguez Gurruchaga
started at 12 and played 65 minutes while
Rodrigo Roncero
left at the same time as Contepomi. USA Eagle, Scott LaValla did not play for the Parisians who were captained by Argentine-Italian Sergio Parisse.
Brive 17-9 Perpignan
Agustín Figuerola
With the fight to avoid relegation heating up, Brive´s win over France´s 2009 Champions, Perpignan at the Stade Amedee-Domenech was crucial. It sees Brive go one win clear of the relegation zone and one point ahead of the Catalans. Former English flyhalf, Shane Geraghty returned for Brive and faced off against Welsh international, James Hook. Since arriving at Perpignan, Hook has been solid but unable to spark Perpignan´s backs. In good news for Los Pumas, scrumhalf Agustín Figuerola started for Brive and played 68 minutes. Pablo Henn started at loosehead prop and recieved a firsthalf yellowcard. He played until the 50th minute before being replaced by fellow former Puma, Pablo Cardinali.
Castres 29-23 Biarritz
Marcelo Bosch
Castres won at home and again did so without threatening much in attack. The teams ability to win from goalkicking is legendary and continues to see the side succeed despite having fewer international players than other leading teams and being a small city. Biarritz will, nonetheless, be happy to go home with a bonus point despite returning to the relegation zone, albeit only just. Marcelo Bosch played the first 60 minutes at outside centre with USA Eagles flyer, Taku Ngwenya playing one man outside him and playing the full 80 minutes. Francisco Gomez Kodela started at tighthead prop while secondrower Manuel Carizza and frontrower Eusebio Guiñazú both entered in the 69th minute. Uruguay´s Rodrigo Capó Ortega had been named to start in the secondrow for Castres but was a late withdraw from the team.

Lyon 19-6 Agen

Juan Manuel Leguizamón
France´s second largest city can dream of staying in the Top 14 Orange after Lyon OU completed an important win at the Matmut Stadium to officially get out of the relegation zone.
Juan Manuel Leguizamón
played the full 80 minutes in the backrow for Lyon and former Pumas inside centre,
Miguel Avramovic
played the full match for Agen and
Martín Scelzo
came on in the 64th minute at tighthead prop. Leguizamón is certain to retain the Pumas 7 shirt for the international season while Avramovic is an outside chance of returning but Scelzo has officially retired. USA international winger, Kevin Swiryn did not play for Agen nor did Belisario Agulla. Agen were denied a bonus point due to failing to convert Silvere Tian´s 78th minute try. The team now faces a tough and unlikely battle to get back into the top six to claim a place in nest seasons Heineken Cup.

Toulon 50-10 Bayonne
Toulon´s demolition job of Bayonne at the Stade Félix-Mayol sees the Basque side fall to rock bottom. Bayonne´s crisis of changing coaches has proven to be a failure and the side´s signings of former All Blacks and Welsh scrumhalf, Mike Phillips has been unable to bring in the results. French test winger, Yoann Huget had another set back, this time being red carded in the 26th minute after striking an opponent on the forehead. Toulon, in contrast are sitting pretty in third place having overtaken Castres. Pumas backrower, Leonardo Senatore did not play.
Racing Métro 13-19 Toulouse
Patricio Albacete
Paris based Racing Métro moved the match to the Stade de France but did not field its strongest team due to injury complications. Juan Martín Hernández was one of the missing players. The match was a cliffhanger, with Toulouse getting the win thanks to a late try.
Juan Imhoff
started at fullback but had to leave the field after 32 minutes as he was in discomfort and Argentine site
scrum confirmed he left due to a sore calf
. Argentine prop
Juan Orlandi
entered for Racing Métro in the 63rd minute while secondrower
Patricio Albacete
played the full match for Toulouse. Neither Alvaro Galindo or Racing nor Nicolás Vergallo of Toulouse featured. The result means Racing Métro sit two points outside of the barrage zone.
Bordeaux Begles 10-17 Clermont Auvergne
Rafael Carballo
The team considered the weakest in the competition is looking increasingly safe to stay in the Top 14 Orange and despite hosting heavyweights, Clermont, Bordeaux still came away with a bonus point in losing. The match was relocated to the Stade Chaban-Delmas, the same venue which hosted France vs Ireland in the lead up to Rugby World Cup 2011 and hosted four matches at France 2007. Argentine winger, Rafael Carballo played the full match on the wing for Bordeaux while Canada´s Jamie Cudmore lasted the 80 muinutes for the visitors. Argentine-Italian Gonzalo Canale also started for Clermont. Nicolás Sánchez missed the match due to injury.
Top 14 Orange Standings
1 Toulouse 60
2 Clermont 54
3 Toulon 45
4 Castres 44
7 Racing Métro 37
8 Agen 36
9 Bordeaux 31 *
10 Brive 28
11 Perpignan 27
12 Lyon 24 *
13 Biarritz 24
14 Bayonne 21
* One game in hand.
Montpellier vs Stade Français
Brive vs Perpignan
Bordeaux vs Clermont
Bègles-Bordeaux - ASM : Le Résumé
por asm
Toulon vs Bayonne

Résumé Toulon-Bayonne por rctoulon