Despite both Canada and Scotland having competed at every Rugby World Cup the teams have never faced each other in a World Cup match. The history of matches between the two is very low at a total of four matches. The first match was played in Canada in 1991 with the North Americans completing a 24-19 victory. That same year Scotland finished fourth in the World after making the Semi Finals of Rugby World Cup 1991, only to lose to England in a match that Scotland should have won and then lose the Bronze Final to New Zealand. Canada made the Quarter Finals of the same tournament - also losing to New Zealand. At the time Canada was a significantly more competitive side than it is today as Canada enjoyed wins over big name sides such as Scotland and Wales in the first half of the 1990´s. When Scotland hosted Canada in 1995 the Europeans got revenge for the 1991 loss in winning 22-16 at Murrayfield but when the Scot´s played vs Canada in Vancouver seven years latter it was the North Americans who were victorious.
This short history of matches between Canada and Scotland meant that when Scotland hosted Canada for the most recent match between the sides, Canada entered with a better win-loss record than the host side. The most recent match was played in November 2008 in the Scottish city of Aberdeen as the third and final match of the month for both teams. Canada had come off two bad loses vs fellow Celtic sides Ireland and Wales while Scotland had been unsuccessful in its matches vs New Zealand and South Africa. Taking the game away from the home of Scottish rugby, Murrayfield, was a move intended to take the sport to the people and it worked as the people of Aberdeen responded with over 17,000 attending the match. The match was played in cold conditions and ended with snow falling.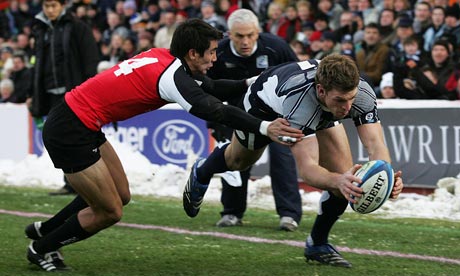 Nikki Walker
The game itself was a tremendous chance for both sides to develop with work already underway with Rugby World Cup 2011 in mind. Canada fielded ten players who would go on to feature at New Zealand 2011 as did Scotland. Canada took a quick 5-0 lead with an unconverted try to winger Nikki Walker. Canada was able to fight back and prevent Scotland from taking its chances but neither side was able to score any points for the enxt thirty minutes. Canada then went 8-0 ahead with a Phil Godman penalty which started a rush of points as Scotland went into halftime 22-0 ahead and with it the game in the bag. Canada were unable to offer much at all in the secondhalf as Scotland found its feet in scoring four tries to complete a comprehensive win that questioned Canada´s future. Coach Kieran Crowley used the time he had avaliable to build a much improved team as evidenced at Rugby World Cup 2011 and in lead up matches in 2011 and also in both 2009 and 2010.
Scotland vs Canada Full record
1991 Canada 24-19 Scotland, Saint Johns
1995 Scotland 22-16 Canada, Edinburgh
2002 Canada 26-23 Scotland, Vancouver
2008 Scotland 41-0 Canada, Aberdeen