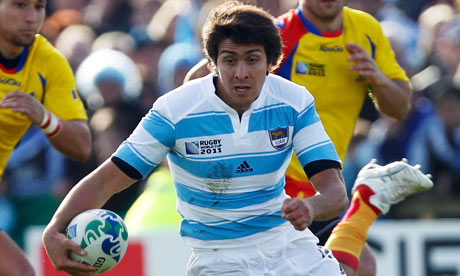 At the start of the 2009/10 season Leicester gave Argentine winger/full back
Lucas González Amorosino
a trial,
he impressed enough for his first professional contract
, being preferred to French international
Nicolas Jeanjean who was also given a trial at the time but there was only enough funds for one of them
. Amorosino was an unknown player at the time but he initially impressed after being given an opportunity, scoring 2 tries in his first 2 starts in the opening rounds of the Heineken Cup against the Ospreys and Viadana, he then scored in his second Premiership start against Northampton and again against as Leicester defeated a South African XV. But two days later he suffered a stress fracture in his leg just before the 2009 November internationals in a LV Cup match (
Argentina got annoyed at Leicester ironically for overplaying him
), after he recovered from that injury he was bizarrely sparsely seen again in a Leicester shirt.
(

video:

in his few appearances for Leicester Amorosino was hardly a disaster, he scored 6 tries in 11 starts, here is his try in the Heineken Cup against the Ospreys and a great side stepping finish against South Africa)
Despite that good start to his Leicester career, after he returned from his injury at the start of 2010 he was ignored right up until he left the Tigers, he only played 2 LV Cup matches and 2 substitute appearences in the Premiership for the rest of that season. During the following 2010/11 season he played even less than his first season, just 2 LV Cup matches (1 try) and 1 Premiership match against Saracens (1 try).
Leicester did have some good wingers and full backs ahead of him, Scott Hamilton, Alesana Tuilagi and Geordan Murphy were the preferred back three choice. But even as a bench player or when injuries and 6 Nations call ups occurred Amorosino wasn't selected. Horacio Agulla, Matt Smith, and even Lee Robinson a 30 year old journeyman got more game time. Amorosino,
who was the second leading line breaker at the World Cup
, is capable of producing magic from nowhere and penetrating defences far more than Agulla, Smith, Robinson and the current ageing version of Murphy.
Amorosino unsurprisingly departed Leicester at the end of the season to join Top 14 runners up Montpellier and Leicester head coach Richard Cockerill commented
"Unfortunately, he has not developed and come on as well as we would have both liked."
I have no clue what exactly what he was doing wrong at Leicester and how he didn't "develop", he was hardly a disaster,
he scored 6 tries in his 11 senior starts
, which is actually a very good strike rate and surely at least merited more of a chance. I suppose he could have been on catastrophic form for the Leicester second XV, but on the evidence I saw of him playing for Argentina in 2010 he didn't really look terribly out of form, in fact he went on some good runs in what was a bad year for the Pumas.
(

video:

Amorosino could have been playing dreadfully for the Leicester second XV, but he didn't seem to be terribly out of form and did some good runs when I saw him playing for Argentina in 2010)
note:

on the first clip the commentator calls him "Carballo" and in the second "Camacho" but ignore them as it's definitely Amorosino in both
And he certainly didn't look out of form for Argentina in the World Cup either, despite losing his starting position probably due to his lack of game time, he scored the crucial match winning try against Scotland and was the best player on the pitch against Romania. I cannot think of any more possible reasons for him not even being played as a reserve other than Cockerill simply wasn't a fan of his.
(

video:

Amorosino certainly didn't look out of form at the World Cup either as he was one of the Pumas best players, making his lack of game time at Leicester even more confusing)
Anyway, fortunately as mentioned above he left Leicester and did well at the World Cup. Amorosino has settled quickly with Montpellier playing superbly from his first match and last weekend
was named by French rugby newspaper Midi Olympique as the "player of the week"
his form was praised by the article and
on the paper's website rugbyrama.fr it stated "watch out, he could be the new star of the Championship"
. The man sometimes known as "speedy Gonzalez" is now the first choice full back and has already played more for Montpellier than he did last season with Leicester. Amorosino's main attribute is his counter attacking, he has a Shane Williams like side step (as shown at the World Cup against Scotland) but also he isn't a greedy ball carrier and is adept at drawing in defenders and creating space for other attackers with neat offloads.
(

video:

Amorosino has hit the ground running for Montpellier since arriving from the World Cup in New Zealand)
For the Pumas, he is perhaps a more risky option to play full back because like with any attacking player such as Amorosino they are prone to more mistakes (he gave away two penalties holding onto the ball after getting caught attempting a counter attack against Clermont the other week), his tactical kicking game isn't as good as some of the other options either but it is a risk v reward situation he is capable of runs which others can't do and always makes something happen when he has the ball. With the current 15 jersey holder Marrtín Rodríguez impressing more in midfield, on form right now Amorosino is definitely the leading candidate to start at 15 for the Pumas in 2012.